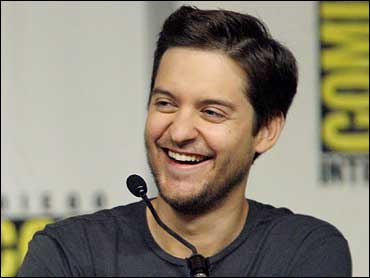 Maguire: "I Have An Addictive Nature"
In a new interview with Men's Journal, Tobey Maguire, star of "Spider-Man 3," says he began attending Alcoholics Anonymous meetings at 19 because his life had become oddly predictable.
"I have an addictive nature," he says, "an obsessive-compulsive nature — well, I don't know that's what it is clinically. But I go to addictive extremes, and before I got sober, that became routine."
Maguire is engaged to Jennifer Meyer, a 29-year-old jewelry designer. They have a 5-month-old daughter, Ruby Sweetheart.
"When she smiles, it's the most fantastic thing ever," he says. "But it's not like I didn't expect that. I expected to fall completely in love with my child."
He tells the magazine he isn't sure he'd play the superhero a fourth time.
"I appreciate movies from a standpoint of entertainment and distraction, and I also love when people make movies that help raise awareness," says the 31-year-old actor, whose films also include "The Cider House Rules" and "Seabiscuit."
"I don't really have a lot of formed ideas. It's more just thoughts," he tells Men's Journal in its May issue, on newsstands Tuesday. "I might do another 'Spider-Man' movie — I don't know."
Maguire says "Spider-Man 3" has a "fresh story" for his character.
"The public is adoring him, and it goes to his head. He's behaving arrogantly and is self-involved, which changes the feeling of the character for me. And it just gets darker from there," he says.
Maguire says he talks to the media to publicize his movies — "I don't feel compelled to share anything."
"I used to prepare to go to battle with journalists," he tells the magazine. "Now I don't have my feet planted. I won't talk about what I won't talk about, but I'm more relaxed about it."
Columbia Pictures' "Spider-Man 3" opens May 4.
Thanks for reading CBS NEWS.
Create your free account or log in
for more features.