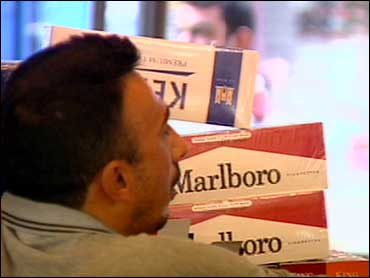 Military operations against Saddam Hussein could begin any time now. But the United States has been waging war against Iraq - economic war – for more than ten years. In 1991, President Bush Senior imposed a trade ban on Saddam, making it illegal for any American company to do business with Iraq.
That ban is still in force. But somehow, American products keep turning up in Baghdad. Do American companies know this is happening? It might be hard to deny, if the sales amount to millions, if not billions of dollars. But RJ Reynolds, America's second largest tobacco manufacturer, denies violating any ban. Correspondent Bob Simon investigates.
You've heard of all the shortages sanctions have brought to Iraq: Food, medicine, spare parts. But cigarettes? No problem. The best-known American brands are piled high in every marketplace. How do Winstons wind their way to Iraq? RJ Reynolds says it doesn't know. But the company is being taken to court right now by people who say RJR knows perfectly well and is totally complicit.
"We've learned that their fingerprints are all over it. Up until the border with Iraq," says Jack Toal, who used to chase down drug dealers for the DEA. Now, as a private investigator, he's putting together evidence for a lawsuit against RJR.
"We've documented that in a, less than two-year period they've sent 8 billion cigarettes into Iraq," he says.
No one is claiming that RJ Reynolds ships cigarettes directly to Iraq. That would not only be implausible. It would be impossible. According to Toal and other investigators, the route is circuitous, and purposely so.
According to Toal, the trail begins in Puerto Rico, where the cigarettes are made. When RJR ships them out of the country, U.S. Customs attaches a clear warning to each shipping bill. "not for sale to Iraq."
And they are not shipped to Iraq - not directly. The cigarettes, packed into standard shipping containers like these, arrive in Valencia, Spain, where they are loaded onto other ships which sail on to Cyprus. So far, nothing suspicious. But, according to Toal, when the cigarettes hit the Cyprus docks, their journey has just begun.
"From there, a few days later they are loaded onto another ship which touches base in Beirut, Lebanon," says Toal.
Beirut is where the plot takes a Middle Eastern turn. Investigators found that here the cigarettes are issued brand new shipping papers with a brand new destination: the port of Mersin in Turkey. Mersin is a tax-free harbour, which means that products that arrive here cannot be sold in Turkey.
"From the Mersin free zone the cigarettes by the billions are then trucked south through a 12 to 14 hour route ending up at the northern border of Iraq," says Toal.
Habur Gate is the name of the border crossing. For the last 11 years, it has been the gateway into the Iraqi black market. Hundreds of trucks pass through here every day. And even though RJR denies it, Toal found witnesses who say that the tobacco company closely monitored the cross-border trade.
"Not only that but we have government people and other business people that state that RJR people also show up on the border with Iraq," says Toal.
"You can prove this as well, that RJR people were at the border?" Simon asked him.
"Yes," Toal said.
"These guys could be in a hot water couldn't they?" said Simon.
"The penalty, I believe, is 10 years per occurrence and a million dollar fine," says Toal.
So far, RJR executives have had little reason to worry about the criminal penalty. Somehow, the U.S. government has never questioned RJR about its business in the Middle East. European governments, on the other hand, accuse RJR of coordinating and directing the entire operation. Foreign governments can't prosecute a criminal case, so instead the Europeans filed a civil lawsuit in New York.
"This complaint very well could have been written by the law firm of Ludlum, Clancy and Grisham. It's very creative writing. It's an interesting read. But at the end of the day, it's still 150 pages of fiction," says Tommy Payne, RJR's vice president of external relations. He says that if there was any truth to the allegations made in the lawsuit every law enforcement agency in the land would have been on the case.
Says Payne: "Reynolds Tobacco manufactures cigarettes. No disagreement with that. But then there's this huge leap that says, because cigarettes are smuggled, and they manufacture them, therefore they're complicit and engaged and participating in this smuggling activity. On that point there's strong disagreement. And the EC is dead wrong."
Payne admits that RJR may have manufactured the cigarettes, but he says that a sister company in Switzerland, RJ Reynolds International, was in charge of all foreign sales.
"They're separate, they've always been separate and independently operated companies. They have separate budgets, separate management, separate brands. And in this case, very important, separate customers," says Payne.
Separate customers, separate companies. Mr. Payne says he simply doesn't know how RJR cigarettes ended up in Iraq.
One man who says he knows exactly how RJR cigarettes got to Iraq is the man who used to be their exclusive distributor in Baghdad, Abdul Hamid Damirji.
"He built the business there. He created single-handedly a market for RJR cigarettes in Iraq," says Andy Kerman, a British lawyer representing Damirji. Damirji is not being accused of any illegal activity. According to Kerman, his client never had anything to hide.
According to Kerman, Damirji started importing RJR cigarettes in 1989. "And that went on until the Gulf War started," Kerman says.
After the Gulf War and the trade ban, importing goods into Iraq became a tricky business. So Damirji moved his distribution company to Turkey. And the cigarettes went from the U.S. to Spain to Cyprus to Turkey to Iraq. According to Toal, who gathered the evidence for the lawsuit, the money from the sales in Baghdad moved back up the same exact route.
"They're acting in unison and the money comes from the consumer back up the chain, back to RJR," says Toal.
But RJR claims the money never reached its bank accounts, and that Reynolds executives in the United States didn't even know what RJR International was doing. Which is interesting, considering the fact that the both the domestic company and the Swiss subsidiary were run out of the same building in Winston-Salem, North Carolina.
"What you have to understand," says Kerman, "there was really no secret about this Iraqi involvement, because, they were so, Reynolds were so pleased with my client that they invited him on a goodwill trip to North Carolina."
With Damirji selling around 750 million cigarettes a month in Iraq, corporate culture called for a celebration. Three years after the president announced the trade ban, RJR International invited Damirji, the Iraqi distributor, for a visit to Winston-Salem.
Kerman showed Simon some photos from the trip: "There's the company plane, and that's a meeting at the RJR boardroom, another meeting at an RJR boardroom. Then that's outside Reynolds offices, tobacco farm, tobacco farmer. This is at the house of Anthony Butterworth, the president of Reynolds International, at his house."
"How would you explain this visit?" Simon asked Payne.
"Well he's not invited by Reynolds Tobacco. And again, what the plaintiff's lawyers in this case want to do is they want to use the term RJR as if it's all one big company. Mr. Damirji is not a customer of Reynolds Tobacco. I don't know, he may have been a customer of Reynolds Tobacco International," says Payne.
"Somebody gave him a grand tour down in North Carolina," says Simon.
"I'm not saying that he didn't come to North Carolina," says Payne.
Following Payne's advice, we tried to direct some of our questions to the international unit. But in 1999 RJR International was sold to a company called Japan Tobacco, which now runs the business from Switzerland. In response to our questions the new owners said that they would not discuss the ways in which the company operated when it was still under American ownership, which is when Damirji says he was one of the company's best distributors.
In less than three years, Damirji says he bought over $200 million worth of RJR cigarettes and sold them in Iraq. But starting in 1995, he says he was slowly pushed out of the market by other Iraqi distributors, distributors who had a very powerful, partner. Udai Hussein, Saddam Hussein's eldest son, muscled in on the trade.
"He controlled the trade completely. All the Iraqi businessmen, all know that this is Udai's area now, this is Udai's field, nobody can come and put himself in, in a dangerous situation," says Abas Al-Janabi, who was Udai's personal secretary, the man Udai sent to collect his share of the profits from the illegal trade.
"You know, in the sense of sanctions it is illegal, but in the sense of business it's legal," he says.
"You'd have thought that they wouldn't want to deal with people - with anybody to do with Saddam's family," says Kerman.
"It seems to me that you are accusing America's second largest tobacco manufacturer of doing business with the enemy," Simon asked him.
"Yes. They certainly, RJ Reynolds, certainly knew where all their cigarettes were going," Kerman said.
Kerman is suing RJR International on behalf of his client, Damirji. It's a very different lawsuit from the one the European community filed. Damirji is simply looking for compensation for the very profitable business he lost. And he wasn't breaking any law. It is not illegal for an Iraqi businessman to move cigarettes from Turkey to Iraq. But that would not be the case if an American company was breaking the trade ban.
"The crime is committed in the United States. By the United States companies that are sending it into, knowingly sending it into Iraq," says Toal.
"World-famous RJR products, Camel and Winston, are in Baghdad in plentiful quantity. They've been there for ten years and I'd like you to tell me how they got there," Simon asked Payne.
"Well, I don't know how they got there," said Payne.
Americans might have a really hard time accepting the argument that RJR wasn't aware of and looking into the fact that its cigarettes were all over the place in Baghdad.
"Well, I would disagree with that," Payne replied. "What I say most Americans would think is how stupid would you have to be to have a business plan that says let's go smuggle some cigarettes and let's smuggle it into the axis of evil, Iraq no less."
Thanks for reading CBS NEWS.
Create your free account or log in
for more features.