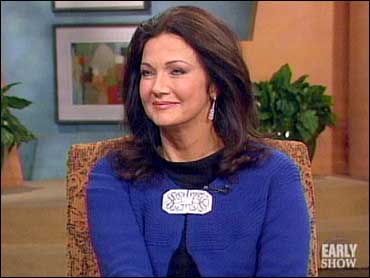 Lynda Carter's Second Act
Former "Wonder Woman" star Lynda Carter may have played a character of incredible strength, but she has had to battle her own villain: alcohol.
After 10years of sobriety, she is back on top of her game and is starring in her own cabaret show.
It wasn't easy for her to arrive to this point. She said she turned to drinking because she was unhappy in her first marriage. At first, she didn't even realize she had a problem.
"Some people think they're not alcoholics if they drink after 5 or they don't do it every day or, for me, I didn't think I was because I would quit for two years, had children, just quit, not even care about it, and then drink for the same reason anybody else did," she told The Early Show co-anchor Hannah Storm.
One of the biggest problems with alcoholism is that those who have it don't want to admit it, and it's not the kind of thing that gets diagnosed by a doctor, Carter said.
"It's a long time of drinking differently than other people and being in denial about it, and it's mostly denial because of the shame," she said. "You're embarrassed if you don't remember what happened that night."
So with the support of her husband, Robert Altman, she got help and realized that she is actually as "wonderful" as the character she is famous for playing. She opens her new cabaret act, "An Intimate Evening with Lynda Carter" in New York City this week. Fans might be surprised to see her embrace her first love: singing.
When she was just a teenager, she said she tried to be both a singer and an actress but was told that she couldn't be both.
"I went to be an actress and they told me I couldn't because I was a singer. So I didn't tell anybody," Carter said. "Singers don't act and actors don't sing. You just have to say one thing."
So finally, she went back to singing after she became famous enough to do what she wanted. She performed in "Chicago" in the West end of London.
"I've missed this so much," Carter said. "So, I do it, not to be more famous. It's not to make a lot of money. It's really because it's thrilling to me. Thrilling in that there's a part of me that I give in those moments that I'm unable to show in any other way except with my very, very best friends."
When her act debuted in San Francisco, she received rave reviews and but even still, she gets nervous on stage. But the difference between a young Lynda Carter and the woman she is today is that she is able to take that nervous energy and make it work for her on stage.
"I'm better now," she said. "I think because I've lived life."

Thanks for reading CBS NEWS.
Create your free account or log in
for more features.