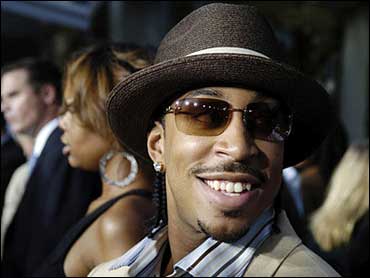 Ludacris & Kanye West Sued Over Song
Rappers Ludacris and Kanye West found their originality under attack Tuesday when a lawyer said they stole the essence of another song to create the popular 2003 tune "Stand Up."
"The benefits are reaped by those who have celebrity status," lawyer Mel Sachs charged as he urged a jury in U.S. District Court in Manhattan to conclude that co-writers Ludacris and West stole the lyrics and beat of a song produced by a New Jersey company.
He asked the jurors not to be "blinded by celebrity," alluding to the growing popularity of Ludacris, an Atlanta-based rapper who has been praised for his music and his acting roles in the Oscar-winning "Crash" and "Hustle and Flow."
Ludacris, whose real name is Chris Bridges, is scheduled to testify. He declined to comment outside court.
West, who also is expected to testify but was not in court Tuesday, has won six Grammy Awards for his two multi-platinum albums, "The College Dropout" and "Late Registration." He is known for his outspoken nature, including when he said George Bush "doesn't care about black people" during a telethon for Hurricane Katrina victims.
Sachs played snippets of the song "Straight Like That," by the East Orange, N.J., group I.O.F., to show the jury that it was similar enough to "Stand Up" for Ludacris, West and the music companies for which they work to be held accountable.
A lawyer for the rappers and EMI April Music Inc., Christine Lepera, played both songs and urged the jury to reject the claims of BMS Entertainment/Heat Music LLC. Two of the 10 jurors nodded their heads to the beat of Ludacris' song but did not move to the beat of "Straight Like That."
"The first time they ever heard of the song 'Straight Like That' was when this lawsuit was filed," Lepera said of Ludacris and West.
At issue in the trial are the words "like that," repeated more than 80 times in each song, though one song precedes the phrase with "straight" while the other precedes it with "just," Sachs said.
He said he will prove that Ludacris heard the song before he made his breakthrough hit even though "Straight Like That" never made it beyond some air time on college radio after copies of it were released in September 2001.
"The defendant had access to the song on numerous occasions," Sachs said, noting that "Stand Up" was released in the fall of 2003 on Ludacris' album "Chicken and Beer."
He said hundreds of promotional copies of "Straight Like That" were distributed, a common practice by musicians seeking to land record deals, and BMS Entertainment was contacted by one of Ludacris' record companies.
Lepera criticized the case, saying the plaintiffs were trying to claim rights to the words "like that." She said she had earlier in the day stopped Sachs during a conversation with him outside court to note that he had said "like that."
"None of you can monopolize certain expressions," she said.
She said the case was about "common expressions used all over the planet."
She said the beat of each song was simple and, to emphasize her point, clapped her hands to demonstrate it.
"Do you think your 3-year-old can do that?" she asked jurors.
Lepera told jurors they should not hold the fame of Ludacris against him and added this was not "a David and Goliath" situation.
The trial, expected to last a week, will determine liability. If liability is found, a second phase of the trial will assess damages.
By Larry Neumeister
Thanks for reading CBS NEWS.
Create your free account or log in
for more features.