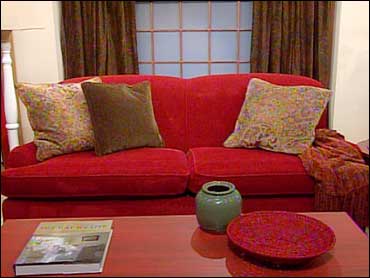 Low On Cash? Crash On A Couch
Forget hotels and youth hostels - travelers across the globe are using the Web to find a couch to crash on for free.
CouchSurfing, an international nonprofit organization, connects hosts with travelers through its Web site, www.couchsurfing.com.
People can search there for a prospective host in the country they'd like to visit. Hosts display pictures, interests and information about their accommodations on their Web profile.
However, the organization "is about much more than the couch," said Charish Badzinski, 35, a CouchSurfing host and traveler from La Crosse, Wis.
Badzinski first tried CouchSurfing during a month-long trip to Europe in 2006. She was writing about it for a magazine and thought she would try it.
She recalls walking up to the first home in London with a can of pepper spray in her pocket.
Then the host, a 60-year-old woman, gave her a welcoming hug, and her fears melted away, she said.
"It was that instant that I knew this was the best way to travel," she said.
Her host gave her sightseeing tips, she met other travelers at the house, and had an experience she couldn't have planned from a travel guide, Badzinski said.
"It is about so much more than having a free place to stay," she said.
When she returned, Badzinski thought she should return the favor and become a host. She has since had 11 groups or individuals at her home, including a traveler who pulled into La Crosse on his canoe and others trekking through on their bikes.
CouchSurfing also chose Badzinski from among 200 applicants for 11 positions to go to Thailand for two months to work on the group's public relations and marketing needs.
Badzinski is not the only one CouchSurfing in La Crosse. The site lists about 25 other members from La Crosse, more than 300 in Wisconsin and more than 415,000 worldwide.
"I think there is a lot of interest in developing relationships with people from other cultures," said Dan Hoffer, who lives in Silicon Valley in California and was among CouchSurfing's four founders. "CouchSurfing is a more intimate experience than being a guest in the hostel, because you are a guest in someone's home, and at a hostel you meet other travelers, not the residence of that area."
Kyle Westbrook, 23, of La Crosse, signed up for CouchSurfing because he thought it would be a good, cheap way to travel. He CouchSurfed on a trip to Boston.
"I'd never been there before, and I thought this would be a way to see the city and get a tour from people that lived there," he said "Someone that lives there knows where all the off-the-path places are, like small concert venues, beaches and parks that you don't hear about."
But how can you feel safe sleeping on a stranger's couch?
The Web site has many icons with its host profiles, indicating references, friend links and testimonials that can help surfers decide where to stay. Members can be vouched for by an established CouchSurfing.com members. In addition, the organization checks to make sure a new member's name and address are valid.
Hoffer said he believes the organization is safe, pointing to the 99.9 percent of CouchSurfers who report having positive experiences.
"Sometimes you have to suspend your fears. It opens you up to develop deeper relationships," said Badzinski. "Through CouchSurfing, I know I have friends in foreign countries, and I'll always have a place to stay."

Thanks for reading CBS NEWS.
Create your free account or log in
for more features.