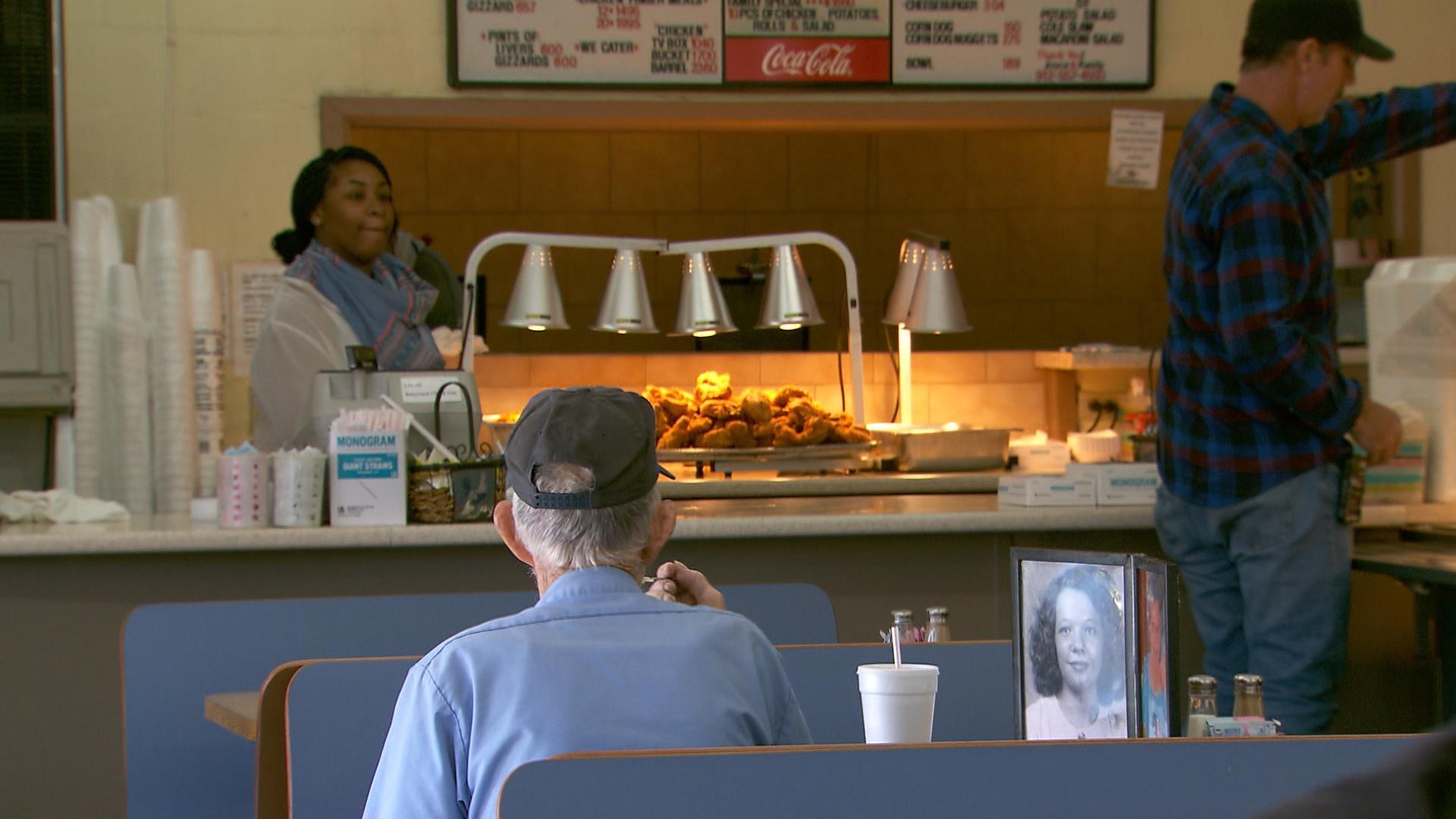 Love won't die for 93-year-old widower
REIDSVILLE, Ga. -- Six days a week, for years, retired mechanic Clarence Purvis had lunch with his wife at Smith's restaurant in Reidsville, Georgia. Although Carolyn died four years ago, she remains his lunch date and sole focus.
"She's a perfect wife if ever been one," Clarence said. "Ain't nobody loved one another more than we loved one another. Everybody said that."
"They were unbelievable," said Joyce James, the restaurant's owner. "I mean you could tell that they adored each other."
That's why Joyce said she wasn't surprised in the least when Clarence started showing up with a picture of his late wife, which is just a small part of a day-long devotion.
Each morning begins with a trip to the cemetery, where at the ripe old age of 93, Clarence gets down on bended knee to give his wife her morning kiss.
"Baby, I wish you could go home with me. I'd trade places with you," he said while he was there.
Before the sun sets, he will be back there again, four or five more times, just to check on her. In between visits, he basks in the memories of their 64-year marriage. His house, like a monument to their love, is complete with an eternal flame, of sorts.
"That light was turned on and it ain't never been turned off," he explained, showing us a lamp. "It never will be."
Outside of the Taj Mahal, you won't find a more convincing testament to true love than Clarence's home. Outside of a Shakespeare sonnet, you won't find a more eloquent love poem than her picture on her pillow.
It may be hard to tell if this love story is a sad or happy one, but Joyce believes it's happy.
"How many people in this world have that much love this day and time," she said.
She's got a point. This is a celebration, a joy, which Clarence absolutely loves to share. If you can't make it to the shrine, he brings the shrine to you.
"It ain't never been turned off since my wife died," Clarence said to customers. "You all keep that, OK."
Today there's not a resident in Reidsville who hasn't been offered a picture of the lamp or the tombstone -- not a passerby who doesn't know what they missed.
"We had a good life. There ain't no other girl for me but her," Clarence said.
Obviously, no one ever wants to suffer a loss like his, but Clarence Purvis does offer us something to strive for: the ability to love this deeply.
---
To contact On the Road, or to send us a story idea, email us: OnTheRoad@cbsnews.com.
Thanks for reading CBS NEWS.
Create your free account or log in
for more features.