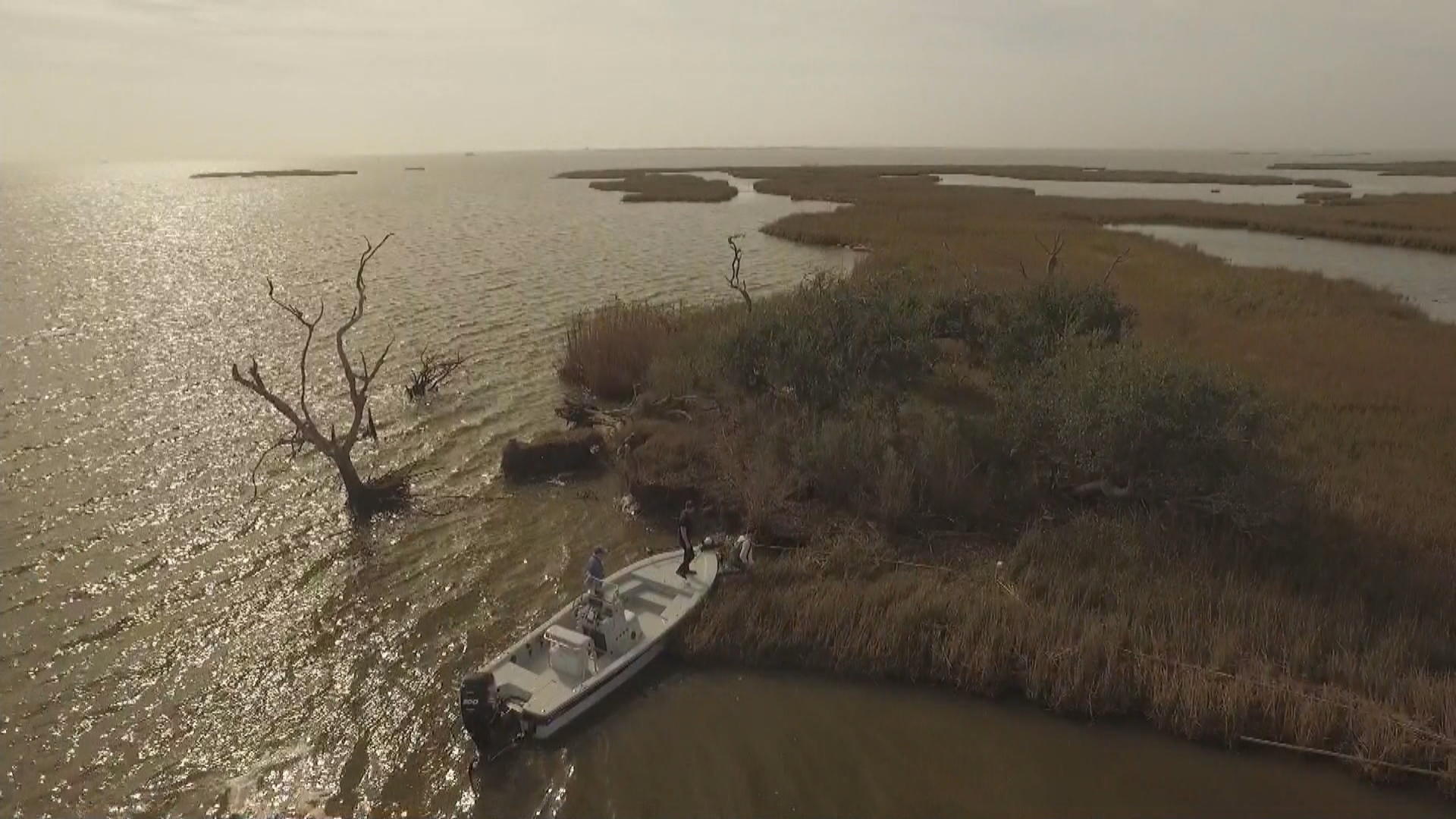 Rising water is swallowing up the Louisiana coastline
The geography of the Louisiana coastline is quickly changing. A state-commissioned report predicts rising water could swallow more land along the Gulf of Mexico, if nothing is done to address damage caused by climate change and commercial activity.
The landscape and history of Plaquemines Parish are becoming overrun by rising water, reports CBS News correspondent Jeff Glor. This area was hard-hit by Hurricane Katrina more than a decade ago, but the loss here continues to this day.

That loss -- which on average amounts to a football field per hour -- affects just about every way of life: business, tourism, cultural history, and perhaps most importantly, housing. Protecting much of it are the estuaries and islands, and they are rapidly disappearing.
If you want to see what's happening to the coast of Louisiana, it's hard to find a better spot than Adams Bay, about 50 miles southeast of New Orleans.
We rode on water that was once lush with marshland, and arrived on a small piece of land that will soon be submerged.
"I mean it's -- it's terrible. It's being eaten away and it's being eaten away fast," said Brian Ostahowski, an archaeologist with the Louisiana Archaeological Society.
Ostahowski showed us Lemon Tree Island, which was inhabited from prehistoric times through the 1800s. Pieces of pottery, glass and other ancient artifacts are everywhere, but not for long.
"We are not doing excavations out here; we're doing like emergency documentation. Within the next two years, all these sites are going to be gone," Ostahowski said.
Time is running out. Rising sea levels and commercial development have led to massive erosion threatening not just Lemon Tree Island, but much of the coast.
A new master plan released by the Coastal Protection and Restoration Authority shows what's happened to Louisiana over the past 85 years. From 1932 to 2010, Louisiana lost 1,900 square miles -- an area the size of Delaware.
Another map shows what may be lost over the next 50 years due to erosion, if nothing is done. It's not just artifacts that will be washed away.
"Coastal communities that are really important to the offshore or the gas industry essentially become islands out there in the middle of nowhere, in the Gulf of Mexico essentially," said Denise Reed, chief scientist of the Water Institute of the Gulf, an organization that consults with state agencies and private enterprise on where restoration is needed and how much that restoration will cost.
"That means storm surge comes further in, water levels are deeper. That means coastal communities are flooded. This has real impacts for people," Reed said. "Most of it is sea-level rise. It's coming home to roost. Other systems are starting to experience increased high tides, flooding in streets. Sea-level rise is becoming real for many, many coastal communities. And so understanding what goes on here really is a great way of not just sharing the problems in other systems, but also what kind of hope they can have for the future."
The new master plan of 2017 calls for an investment of more than $50 billion over 50 years. The money would be used to build barrier islands and improve wetland habitats.
"Fifty billion dollars is a lot of money. Who pays for that?" Glor asked
"Fifty billion dollars is a lot of money – this is a really huge problem," Reed said. "This is the delta of the sixth largest river in the world. It's been a great resource for this nation for hundreds of years. Now it's kind of time for payback."
Much of the money – about $9 billion so far – has come from settlements following the Deepwater Horizon oil spill. It remains to be seen if and when the rest becomes available.
The discussions are taking place and will only get more intense in the years ahead.
Thanks for reading CBS NEWS.
Create your free account or log in
for more features.