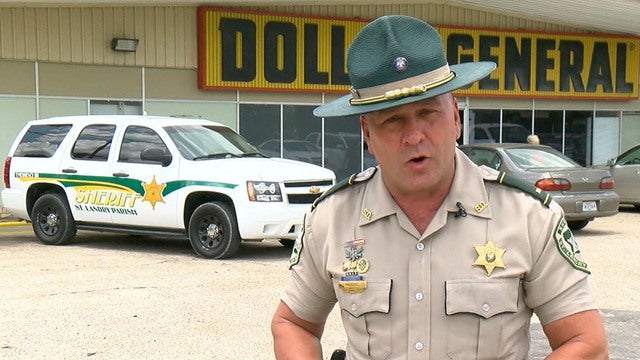 Meet the man hailed as the "John Wayne" of Cajun country
Capt. Clay Higgins from St. Landry Parish, Louisiana, is know as the "John Wayne" of Cajun country. His straight talk directly to criminals has led to arrests, and Internet fame, reports CBS News' David Begnaud.
In addition to patrolling the streets of St. Landry Parish, Higgins hosts a weekly "Crime Stoppers" segment for a local news show.
In one video, Higgins spoke directly to thieves who robbed a store for cigarettes.
"If you're one of these idiots, pay attention son, and try to focus and listen to your elder," he said in the video. "What you fellas are is the Virginia Slim gang cause you're certainly not Marlboro men."
The segments, seen regularly by an audience of 90,000, created a local folk hero.
But it was when one video about a robbery in Lebeau, Louisiana, hit YouTube in July that Higgins became an Internet star; it's been viewed by more than 5 million people.
"The sheriff likes Stelly's Restaurant and so do I," he said in that video. "We're going to identify you, arrest you and put you in a small cell. After that, I'm going to have a cheeseburger here with fries and a coke and leave a nice tip for the waitress."
Higgins' home base is in Opelousas, Louisiana, the heart of Cajun country, famous for its music, cooking and culture.
But Higgins said there's not a drop of Cajun in him.
Before he was chasing suspects, the New Orleans native was chasing money.
"I had the trapping of success. I was -- I had money," he said. "I was a very successful businessman, but wasn't fulfilled in my spirit and I knew there was another path for me."
That path, he said, led him to law enforcement.
"I went from a job making $144,000 a year to making $8 an hour as a cop," he said.
His cowboy charm is intimidating and effective.
Nine people have turned themselves in the past year, including 20-year-old Chance Carroll.
The father-of-two said he's been in jail since August 7.
Carroll surrendered after Higgins called him out on "Crime Stoppers."
"Chance, listen to Uncle Clay. Turn yourself in son," he said.
And Carroll did just that.
"So I can give my kids what they need," Carroll said.
Higgins said his message comes from the heart and his own experience as a less-than-perfect person.
"Not only did I do things wrong, but you better start early, pack a lunch and bring batteries for your flashlight if you intend to go back in my history and find everything I've done wrong," he said. "Now that I've got some kind of weird--ah-- celebrity status, people are going to dig into my past. Bring a shovel; you might need an excavator."
Whatever is in Higgins past, his future is certainly bright. His "Crime Stoppers" segments have been so effective, other departments are asking him to do segments on their crimes.
In August, Higgins was promoted from lieutenant to captain.
Thanks for reading CBS NEWS.
Create your free account or log in
for more features.