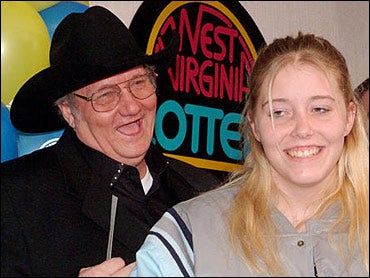 Lottery Granddaughter Found Dead
The 17-year-old granddaughter of Jack Whittaker, winner of the nation's biggest undivided lottery jackpot, was found dead Monday along a country road, more than two weeks after she disappeared.
The cause of death was under investigation. Authorities said there were no obvious signs of violence. An autopsy was planned.
Brandi Bragg's body was identified by tattoos on her neck, said State Police Sgt. Jay Powers. "The troopers had talked to her in the past and knew her," Powers said.
The body was found in a grassy area about 50 feet off a road near Scott Depot. Brandi, who lived in the nearby town of Hurricane, was last seen alive on Dec. 4 at the home of a friend on that same road.
Whittaker, a contractor who on Christmas Eve 2002 won a $314.9 million jackpot, reported her missing five days later.
Whittaker has had several brushes with the law since he won the prize. Earlier this month, a magistrate ordered him to go into rehab and surrender his driver's license after his second drunken driving arrest this year.
He has also been accused in two lawsuits of assaulting female employees of a racetrack. And his vehicle, business and home have been broken into.
In September, an 18-year-old friend of his granddaughter was found dead at Whittaker's home. That death remains under investigation. Whittaker was out of town at the time.
Lottery winners commonly regret being so public about their windfalls, said Susan Bradley, founder of the Sudden Money Institute in Palm Beach Gardens, Fla.
"You're really in an international spotlight," Bradley said. "The expectations of you are just - it never ends. It's exaggerated by anyone who feels they are entitled or have an opportunity to grab a piece of it."
As for Whittaker, "I think it's pretty sad, really," said Jerry Medley of Hurricane. "It just goes to show money can't always buy happiness." He added: "I don't have no bad feelings about the guy. I just hope he gets his life straight. I think he could do some good with the money."
Although he was already a wealthy contractor, Whittaker became an instant celebrity on Christmas Day 2002 after winning a $314.9 million Powerball jackpot. He took his winnings in a lump sum of $113 million after taxes, and at a news conference in which he came across as a jolly saint, he promised to donate one-tenth to his church and contribute to other causes.
He soon created a charity to help people find jobs, buy food or get an education; he split $7 million among three churches; and he gave money to improve a Little League park and buy playground equipment and coloring books for children.

Thanks for reading CBS NEWS.
Create your free account or log in
for more features.