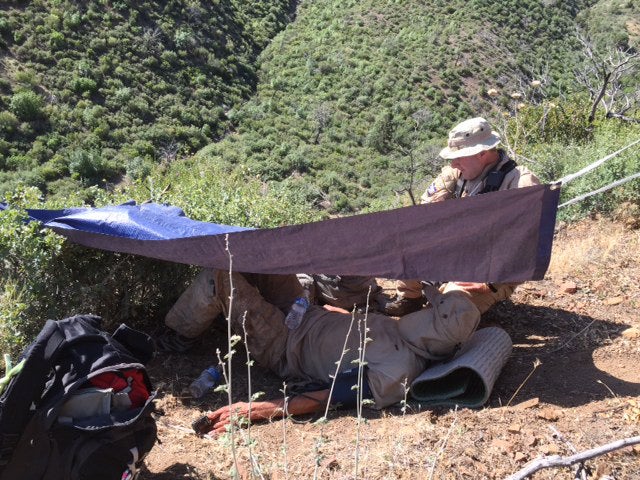 Lost hiker found near death in Arizona wilderness
PHOENIX -- A lost hiker who spent three days without food or water in the Arizona wilderness was in critical condition when rescuers found him and likely would have died if they hadn't reached him when they did, authorities said Wednesday.
"Honestly, it's one of these rescues where you say, 'This guy would be dead today,'" said Ken Twigg, a state Department of Public Safety rescue pilot. "His condition deteriorated to the point that he was unable to move."
Search and rescue crews found the 58-year-old hiker Tuesday morning in steep terrain about 12 miles west of the central Arizona town of Payson.
The Tucson man was released from a Payson hospital Wednesday, department spokesman Bart Graves said.
A Flagstaff-based Department of Public Safety helicopter spotted the man about 45 minutes into its search. He was three-quarters of the way up a canyon, Twigg said. Authorities believe he was searching for a possible water source around vegetation at the bottom of the canyon.
The helicopter landed, and paramedic Chris Hecht hiked over to the man, who had on pants and a T-shirt. Hecht said it was immediately clear the man was in critical condition.
"He couldn't sit up," Hecht said. "He was laying on the ground on the side of the canyon, essentially just raising his arm."
Another Phoenix-based Department of Public Safety copter, piloted by Twigg, was summoned to provide a second paramedic to help extract the man by sling. The man was then flown to a command post and taken to a hospital by ambulance.
According to the Department of Public Safety, the man started hiking less than two weeks ago from Roosevelt Lake, about 110 miles northeast of Phoenix. He planned to hike the Arizona Trail, which stretches from Mexico to Utah, for 10 days.
He texted his wife Monday morning that he had no water or food. When she didn't hear from him again, she called 911. The Gila County Sheriff's Office coordinated a search.
The man told authorities he had experience doing long, solo hikes.
"It sounded like he did everything right," survival expert Tim Ralston told CBS affiliate KPHO. "Go out with a plan. Let everybody know where you're going - time, dates, places where you're going."
Ralston said the human body can only survive three days without water.
"Here in the desert it's a risk," Ralston told KPHO. "Plan ahead and you gotta think you're going to be losing a lot of water during the day. You have to have at least a gallon a day."
Twigg, who has helped in four rescues in the past several months in that area, said it was good that the man shared his hiking itinerary with his family. It was unclear what led to the man running out of crucial resources.
"You're only as good as your plan," Twigg said.
Matthew Nelson, executive director of the Arizona Trail Association, said it's uncommon to see people hike the trail south of the Grand Canyon this time of the year.
"Most people doing long-distance hikes or even day trips plan their adventures around spring and fall - not just because of weather but water availability," Nelson said. "The Arizona Trail is one of the toughest because of the lack of water resources."
Thanks for reading CBS NEWS.
Create your free account or log in
for more features.