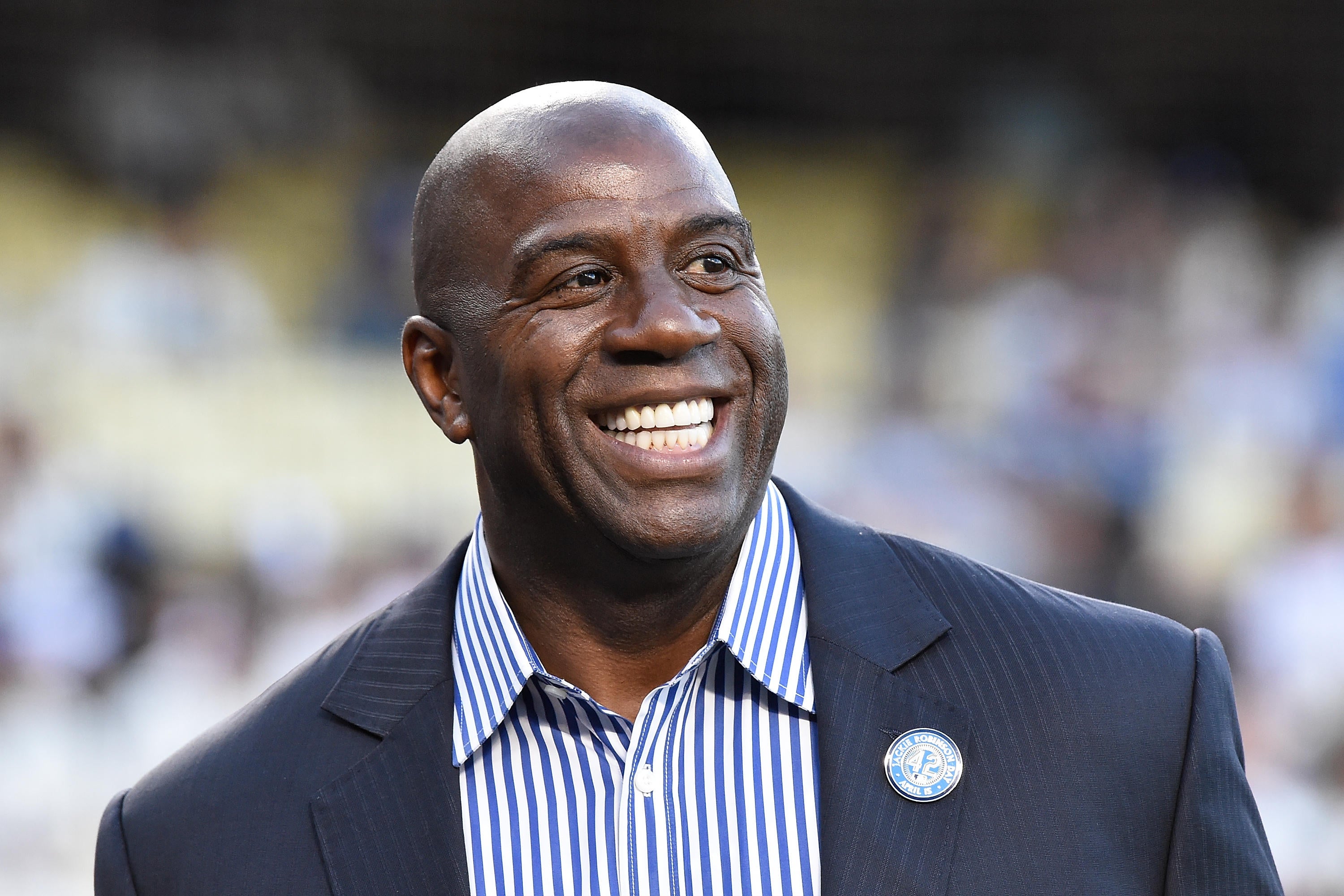 LA Lakers promote Magic Johnson to president of basketball operations
Since the Los Angeles Lakers hired Magic Johnson as the basketball and business adviser to owner Jeanie Buss, it seemed like Johnson was coming for the jobs of general manager Mitch Kupchak and vice president of basketball operations Jim Buss.
After a few weeks of Johnson dropping hints, the Lakers announced on Tuesday that Kupchak has been fired and Johnson has been promoted to president of basketball operations.
Buss is also no longer in his role with the Lakers.
From the Lakers:
Los Angeles Lakers Governor Jeanie Buss announced today that the team has named Earvin "Magic" Johnson as President of Basketball Operations. In addition, General Manager Mitch Kupchak has been relieved of his duties, effective immediately. Furthermore, Jim Buss will no longer hold his role as Lakers Executive Vice President of Basketball Operations.

"Today I took a series of actions I believe will return the Lakers to the heights Dr. Jerry Buss demanded and our fans rightly expect," Jeanie Buss said. "Effective immediately, Earvin Johnson will be in charge of all basketball operations and will report directly to me. Our search for a new General Manager to work with Earvin and Coach Luke Walton is well underway and we hope to announce a new General Manager in short order. Together, Earvin, Luke and our new General Manager will establish the foundation for the next generation of Los Angeles Lakers greatness."

"It's a dream come true to return to the Lakers as President of Basketball Operations working closely with Jeanie Buss and the Buss family," said Earvin "Magic" Johnson. "Since 1979, I've been a part of the Laker Nation and I'm passionate about this organization. I will do everything I can to build a winning culture on and off the court. We have a great coach in Luke Walton and good young players. We will work tirelessly to return our Los Angeles Lakers to NBA champions."
Basically as soon as Johnson was hired in advisory role, it looked like the Lakers would be making a change in their front office. But Jeanie Buss has allowed her brother Jim to stick to his three-to-four year timeline of making the Lakers a competitive team, so it seemed like that would still be their game plan.
Yet, apparently there was no longer time to wait, and now Johnson is in charge.
It's a stunning move for the Lakers two days before the Feb. 23 trade deadline. Johnson was a smart player who turned into a shrewd businessman and, despite his often amusing tweets, he is quite knowledgeable about basketball. Plus, Johnson is well respected around the league and he should help the Lakers woo potential free agents just by his name recognition.
Johnson, however, is not that savvy when it comes to the collective bargaining agreement and the NBA's salary cap. These are areas he is trying to learn more about. But with the trade deadline rapidly approaching, the Lakers can't fall into the same type of pitfall that the Kings have with Vlade Divac's naivety.
It should be noted that Johnson did not get promoted to be the team's GM. That role is still vacant and Johnson will obviously play a large role in the hiring process. ESPN's Ramona Shelburne reports that Rob Pelinka, who is Kobe Bryant's agent, could possibly be hired by the Lakers in a front office capacity.
With the trade deadline just days away, for better or for worse, the Lakers have drastically shaken up their front office at a potentially pivotal point of the season.
Thanks for reading CBS NEWS.
Create your free account or log in
for more features.