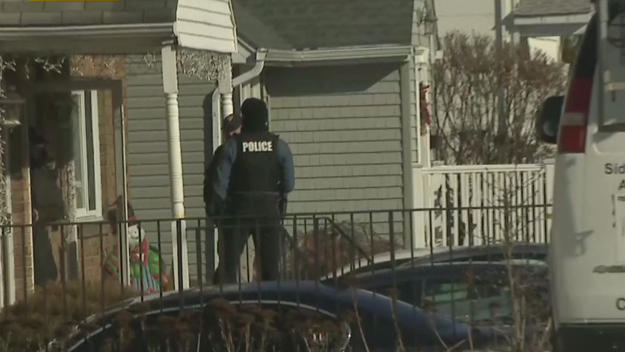 Long Branch shooting: Prosecutor says teen held in shooting death of parents, sister, family friend
LONG BRANCH, N.J. -- A 16-year-old New Jersey boy armed with a semi-automatic rifle shot and killed his parents, sister and a family friend inside the home where they lived, authorities said Monday. Monmouth County Prosecutor Chris Gramiccioni said Monday that the teen will be charged with four counts of murder and a weapons offense stemming from the shooting that occurred late Sunday night, less than 20 minutes before midnight on New Year's Eve in the shore town of Long Branch.
A possible motive for the shooting has not been disclosed. The rifle used in the shooting was legally registered to a resident of the house, Gramiccioni said.
The teen's name has not been disclosed, and it wasn't known Monday if he's retained an attorney.
The victims were identified as the boy's parents, Steven Kologi, 44, and Linda Kologi, 42; his 18-year-old sister, Brittany, and 70-year-old Mary Schultz, who lived with the family.
Gramiccioni says police responded to a 911 call of shots fired at the home just after 11:30 p.m. Sunday. He described the shooting as an isolated domestic incident and said the teen was taken into custody without issue.
The teen's grandfather and brother were not targeted and left the home unharmed.
"It's a terribly tragic incident," Gramiccioni said.
Gramiccioni says charges are expected to be filed later Monday. The teen is expected to make an initial court appearance on Tuesday.
Neighbors told CBS New York they heard gunshots from down the street.
"I came outside last night about midnight to look and see what's going on," said neighbor James Roskowinski. "I was saying, 'I'm pretty sure that was gunshots.' Looked outside, before you know it, cop down here, cop down there lined up around the street."
Walter Montelione, Linda Kologi's cousin, spoke to CBS New York's Lisa Rozner through tears by phone.
"The Kologis were very caring, loving people and always looking to do fun things with their kids," he said. "He was a good kid. He was, a little you know, slow with learning disabilities but he knows right from wrong."
Anyone with information is asked to call Detective Andrea Tozzi, of the Monmouth County Prosecutor's Office at 800-533-7443, or Detective Michael Verdadiero of the Long Branch Police Department at 732-222-1000.
Thanks for reading CBS NEWS.
Create your free account or log in
for more features.