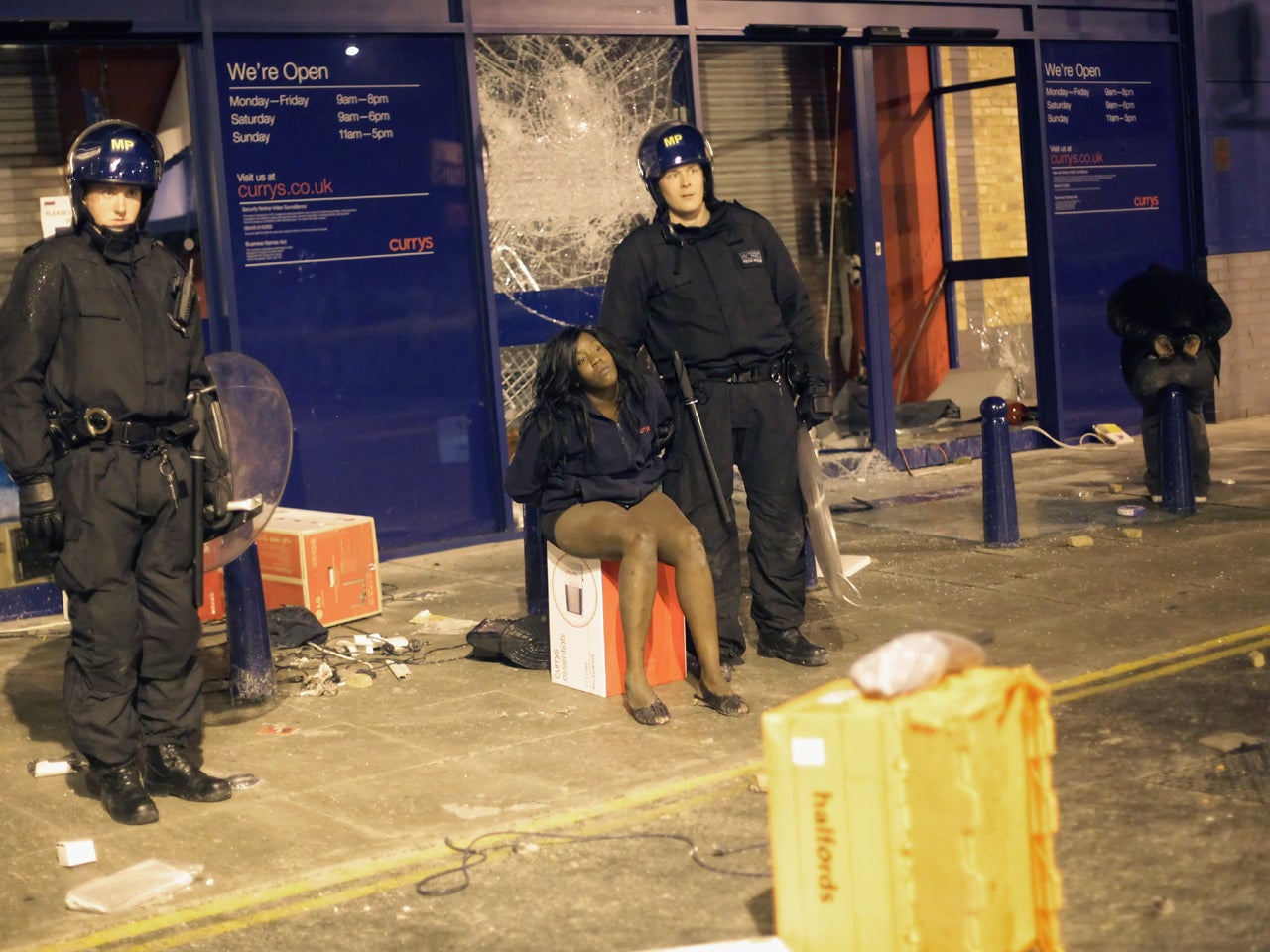 London riots leave city scarred, 160 jailed
LONDON - Police arrested 160 people during a weekend of riots and looting that erupted in a disadvantaged London neighborhood just five miles from the site of next year's Olympic Games.
Groups of masked and hooded young people looted shops, attacked police officers and set fire to vehicles in violence that has raised questions about security ahead of the 2012 Olympics and revealed pent-up anger against the city's police.
London riots raise concerns about 2012 Olympics
Around 35 police officers were injured, including three hit by a car while trying to make arrests in east London.
Police commander Christine Jones said officers were "shocked at the outrageous level of violence directed against them."
London riots rage for 2nd night
Video: Rioters set London suburb ablaze
Londoners riot after police shooting
The violence broke out in the gritty north London suburb of Tottenham on Saturday night amid community anger over a fatal police shooting of a 29-year-old father of four. Police said "copycat criminal" violence spread to other parts of the city Sunday night and early Monday, including, briefly, London's main shopping and tourist district at Oxford Circus.
The protest over the death of Mark Duggan, who was gunned down in disputed circumstances Thursday, was initially peaceful. But it turned ugly as between 300 and 500 people gathered around Tottenham's police station late Saturday. Some protesters filled bottles with gasoline to throw at police lines, others confronted officers with makeshift weapons — including baseball bats and bars — and attempted to storm the station.
Tottenham was relatively peaceful on Sunday night, but the violence spread to Walthamstow Central in east London, where police said 30 youths vandalized and looted some shops. Another 50 people damaged property in Oxford Circus.
In the south London neighborhood of Brixton — the scene of riots in the 1980s and 90s — youths smashed windows, attacked a police car, set fire to a KFC restaurant and garbage bins and stole video games, sportswear and other goods from stores.
"It's obviously stemmed from what's happened in Tottenham, but we are 10 miles away," said Williams Falade, manager of a gym that was closed Monday because the restaurant next door had been attacked. "It was like it was an excuse. Things like this will happen but they should happen for better reasons."
Tottenham has a history of unrest. It was the site of the 1985 Broadwater Farm riots, a series of clashes that led to the savage stabbing of a police officer and the wounding of nearly 60 others — brutally underscoring tensions between London police and the capital's black community.
Relations have improved but mistrust still lingers, and the shooting of Duggan — a popular figure in the community — has stirred old animosities.
Very few details of Duggan's death have been released, although police said initially an officer was briefly hospitalized after the shooting — suggesting there was an exchange of fire. Media reports said a bullet had been found lodged in the officer's radio.
In a bid to calm the swirling rumors, the Independent Police Complaints Commission, which is investigating the shooting, released a statement saying "speculation that Mark Duggan was 'assassinated' in an execution-style involving a number of shots to the head are categorically untrue." It also said a "non-police firearm" was recovered at the scene.
But the circumstances of his death remain unclear.
Although a gun was recovered from the scene, The Guardian newspaper reported that the bullet in the radio was police-issue, indicating Duggan may not have fired at the officer.
With images of buildings and vehicles in flames broadcast around the world less than a year before the city hosts the Olympic Games, London Mayor Boris Johnson and Prime Minister David Cameron, both of the Conservative party, were criticized for not returning from vacation after Saturday's riot.
Kit Malthouse, the deputy mayor for policing in London, defended his boss.
"Should he be reacting to these criminal provocateurs in that way by coming back? I think that is kind of rewarding them," he told Sky News. "Modern communications mean he can stay in touch and participate in meetings from around the globe."
The Prime Minister's office issued a statement saying he was receiving regular updates on the situation.
British Home Secretary Teresa May said she would return to London from her vacation to speak with police officers.
Thanks for reading CBS NEWS.
Create your free account or log in
for more features.