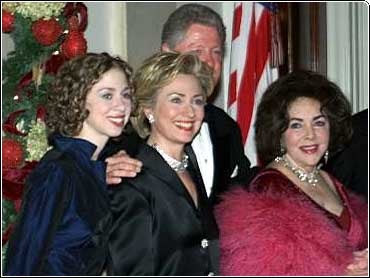 Liz: Delighted To Be A Dame
Proving once again there ain't nothing like a dame, Elizabeth Taylor didn't mince words in reacting to the honor bestowed upon her by Queen Elizabeth II. The British-born actress was on Friday designated a dame, the female equivalent of knight, on the queen's coveted New Year's list of titles and awards.
"Well, I've always been a 'broad.' Now it's a great honor to be a dame!" Taylor said in a statement issued through her publicist in Los Angeles.
Among the 2,000 other names on the list, which included sports heroes, milkmen, crossing guards and tycoons, were the new Sir Sean Connery and Dame Julie Andrews.
The list was selected by the Labor Party government to honor people in all walks of life for their contributions to their professions and to charity. It was officially bestowed by Queen Elizabeth II.
Connery, whose talents took him from the glitz and glamour of James Bond to roles of real substance that eventually won him an Oscar in 1987's The Untouchables, is one of Britain's biggest stars. He is also a fervent Scottish nationalist.
Told of his knighthood, the 69-year-old actor said, "I accept with pleasure because I consider it as much an honor for Scotland as it is for me."
Dame Elizabeth Taylor, 67, a British-born child actor, became one of Hollywood's biggest stars in 1945 with National Velvet. Considered one of the most beautiful women in the world, she became as famous for her eight marriages as for her Oscar-winning performances. She has long campaigned in the cause of AIDS sufferers.
Dame Julie Andrews, 64, who created the role of Eliza Doolittle in the Broadway production of My Fair Lady, lost the film role to Audrey Hepburn. But she went on to win an Oscar with her first film role, as the lead in Mary Poppins, and to make a huge hit in The Sound of Music and many other films.
Irish film actor Liam Neeson, star of Schindler's List and more recently the Jedi master Qui-Gon Jinn in the latest Star Wars movie, was made an OBE, or officer of the Order of British Empire. Jane Seymour, another British actress who has made a successful career in Hollywood, also became an OBE, as did actors Timothy Spall and Alison Steadman and Dire Straits guitarist Mark Knopfler.
Jayne Torvill and Christopher Dean, the skating duo who won virtually every available championship they entered, including an Olympic gold medal, each got an OBE.
Singer Shirley Bassey, who belted Hey Big Spender and Goldfinger to the top of the pops, was made a dame, and novelist Doris Lessing was made a Companion of Honor - an exclusive order for those who have done "conspicuous national service."
A knighthood went to John Tavener, Britain's foremost contemporary composer. Actor Michael Palin, once a member of Monty Python's Flying Circus and now a popular TV globetrotter, was made a CBE, or Comander of the Order of British Empire. The same honor went to leading stage and television actress Harriet Walter.
CBEs went to Anne Wood, the creator of Teletubbies, which is now screened in 46 countries and 21 languages, and to novelists Pat Barker and Ian McEwan.
Seventy-year-old Stirling Moss, the Grand Old Man of British motor racing with 222 wins, became a knight. And Sir John Birt, retiring director-general of the BBC, was elevated to the peerage as Lord Birt.
The status of these honors descends from peerage to knighthood, to CBE, MBE and OBE. Knights use the title sir, and those awarded the British Empire titles may use the letters after their names.

Thanks for reading CBS NEWS.
Create your free account or log in
for more features.