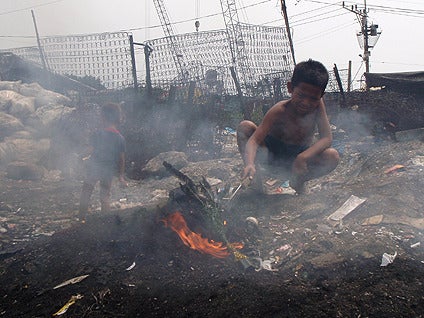 Living Off Toxic Trash in the Philippines
This story was filed by CBS News' Barnaby Lo in Manila.

For decades, "Smokey Mountain," a towering heap of trash billowing smoke in Manila, was the symbol of poverty in the Philippines. Images of women and children picking through the garbage for any salvageable scraps will remain burned into the minds of the nation for a generation.

In 1990, the Philippine government closed the infamous landfill, which once held 2 million tons of trash. Low-cost government housing sprung up on the site in the following years, and residents were given some community-based employment. It should have been a new beginning -- fresh hope for the nation's poorest.

Just across the road, however, in an area called Pier 18, a new landfill has taken Smokey Mountain's place.

The area is home to a large and growing community of slum dwellers, and Cheryl Dalisay, 30, and her son, 10-year old Chervin Enoc, are among them. Like most who live here, Chervin and his mother earn a living by picking salvageable scraps of garbage off the mound of castaway junk.

"We couldn't get any other job. Here, there are no requirements, you just come here and work, no one asks anything from you," says Dalisay.

Photos: Child Trash Pickers of the Philippines

Chervin has been tagging along with his parents for as long as he can remember. But now that he's "old enough," he goes to the dumpsite with friends of about the same age. Sometimes he goes by himself.

They collect all sorts of junk -- from plastic, glass and cardboard, to the far more prized and far more dangerous electronic waste or "e-waste". Wires pulled from used electronic devices; shattered light bulbs, circuit boards, even old Christmas lights, are the most prized commodities.

The e-waste is worth nothing as fragments of forgotten household items. It's the copper inside the trash which sells on the market. So for the children of Pier 18, the work doesn't stop at hunting and collecting, they have to somehow recover the valuable copper.
With small bare hands, they break light bulbs and pull the coiled copper from the bottoms. Then they burn clumps of electric wire. Whatever copper is left after the other metals are burned away is added to the small haul from the light bulbs, and that makes up the bulk of their day's sale.
Copper sells for about P300 (about $7) per kilogram, but the kids are usually only able to produce a tenth of that amount in a day. With P30 (about 70 cents) in his pocket, Chervin is able to buy himself food. When he was in school, it was his daily allowance money.
"I enjoy scavenging because I can earn money, and I give it to my mother," says the young boy.
He's not in school now because he's had tuberculosis. His mother also had tuberculosis, and gave birth to a stillborn infant while she had the disease.
"At first, I didn't really care much about it. But then my body started feeling weak. I kept on coughing and coughing, until I was coughing up blood," recounts Dalisay.
Renalyn Lizano, a community youth leader, says she's brought no less than 200 tuberculosis patients to a health center near Pier 18.
"Indirectly, the increasing prevalence of tuberculosis can be attributed to the smoke from burning e-waste," explains Dr. Philip Nakpil, who has been treating tuberculosis patients from the dumpsite at the Canossa Health and Social Center Foundation. He says the trash pickers' bodies can quickly lose their resistance to the toxic effects of the smoldering copper.
"Copper burning, through its fumes, dust or even mist can harm one's health," says Nakpil. "Chronic exposure can damage the liver and kidneys."
Even more dangerous is the chemical which coats much of the e-waste burned by the women and children at the dump; polyvinyl chloride plastic. Richard Gutierrez, Executive Director of Ban Toxics, of the Basel Action Network (BAN) Southeast Asia says it's one of the most widely used and toxic materials found in e-waste.
"It emits dioxins and furans, two of the most carcinogenic gases," says Gutierrez, noting the risk to anyone burning the chemical is wider than just respiratory problems.
"Lamps and LCD monitors contain mercury, so when you break them, you actually release the mercury. It can cause motor skills deficiency, language skills deficiency, and a 14-year old, for example, could be shaking like Muhammad Ali," adds Gutierrez.
Dalisay is fully aware of the dangers she and her family face.
"I think it's really damaging to our lungs," she says. "But what are we going to eat if we don't do it?"
E-Waste Invasion
One man's trash is truly another man's treasure.
Gregorio Bunagan grew up in and on the old Smokey Mountain, picking garbage for most of his young life. These days, however, he's not wading through the mud, sifting through mounds of refuse to try and eke out survival.
But Bunagan still earns a living off other people's junk; now he owns a junk shop, and he says business has never been better. He has a truck that picks up and delivers predominantly e-waste -- as much as a ton in a day, he boasts. Bunagan says the amount of e-waste he's seeing has tripled over the last decade.
"I wonder why there seems to be an endless supply? I get rid of it today, tomorrow a lot more will be coming in. Where does it come from," Bunagan ponders.
With a population of more than 90 million, the Philippines itself produces an abundance of electronic waste. But the e-waste providing a living, and the risk of an early death, to the children of Pier 18 and other dumpsites like it around the county is not just locally-generated.
Up to 1.2 million second-hand TVs, refrigerators, washing machines, and air conditioners were estimated to have entered the Philippines between 2001 and 2005, and according to a study by Japan International Cooperation Agency and the Philippine Board of Investment, 60-70 percent of it all came from Japan.
That Japan has been sending its enormous piles of e-waste to the Philippines is not a revelation, but with the enforcement of the Japan-Philippines Economic Partnership Agreement (JPEPA), a wide-ranging bilateral trade agreement, critics fear the Philippines may essentially become Japan's dumping ground. Under JPEPA, certain hazardous waste products are allowed to enter the Philippines tax-free.
"The problem is that e-waste, under JPEPA, is considered a good," explains BAN's Gutierrez. When items are treated in economic terms as goods, then can be legally traded.
The Philippine Department of Environment and Natural Resources (DENR) says it has made it clear to the negotiators of the agreement that if waste items -- not goods -- are coming in, the Department should control the materials under the terms of the Basel Convention, which aims to limit the trans-boundary movement of hazardous waste.
"We said, 'wastes are not goods,' so we don't trade waste, very simple. Electronic wastes are not goods," says Salvador Pace, of the DENR. But nowhere is the Basel Convention mentioned in the final agreement between Japan and the Philippines.
Japan's National Institute for Environmental Studies estimates that, on average, about 400,000 used cathode ray tube (CRT) television sets are exported from Japan to the Philippines annually. But government data show less than 800 used TVs arriving from Japan between 2006 and 2009, and only 10 in 2009.
"If we bring in lead CRTs, they are waste. Glass monitors are dinosaurs, nobody recycles the glass anymore," says Gutierrez, questioning the "goods" label assigned to the old sets.
The previous administration of Gloria Macapagal-Arroyo hailed JPEPA as a landmark agreement to boost the Philippine economy and bring more jobs to Filipinos, touting the hundreds of nurses who have gone to Japan for training and employment.
The current president, Benigno Aquino III, objected to JPEPA when he was a senator, but has said his administration will review the agreement.
"Is it really the national plan that we become a dumpsite? Is it sustainable development? When you're creating employment and investment, it shouldn't harm people," admonishes Gutierrez.
For Dalisay, however, it's as simple as survival. "It's very exhausting. You're back is bent all day, sometimes it's too hot, sometimes it rains really hard. There's all kinds of dirt. But it's our job, we have no choice."
Thanks for reading CBS NEWS.
Create your free account or log in
for more features.