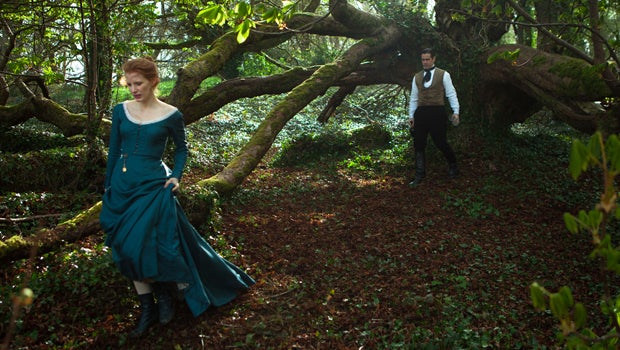 ​Liv Ullmann talks directing "Miss Julie"
NEW YORK - "She is such a lost soul," said director Liv Ullmann of the central figure in her new film, "Miss Julie." Based on August Strindberg's 1888 play (which was originally banned in Sweden for obscenity), it stars Jessica Chastain and Colin Farrell as two points in a doomed love triangle -- a man and woman engaged in seductive, domineering, even savage clashes of gender and class.
Originally set in Sweden, the play's story has been transplanted to Ireland (accommodating both an English-language cast and an environment similarly attuned to class divisions). On the occasion of a midsummer-night's revelry, a baron's daughter (Chastain) engages in a manipulative and sexual power struggle with a servant, John (Farrell). Taught by her mother never to let a man get the better of her, Miss Julie challenges and mocks John, who holds a caustic view of his superiors and dreams of raising himself up beyond polishing boots and serving drinks.
But as the power dynamic between them shifts dramatically, Miss Julie reveals more of her own neurotic needs -- and John, his capacity for deceit and treachery.
Joining Chastain and Farrell is Samantha Morton as Kathleen, a cook who finds her employer insinuating herself into her relationship with John.
Ullmann, the Oscar-nominated Norwegian actress who rose to stardom through her work with directors Ingmar Bergman and Jan Troell, has also directed several films and stage plays. She has also performed on stage in productions of Henrik Ibsen and Eugene O'Neill (she received Tony Award nominations for Best Actress for "A Doll's House" and "Anna Christie"), and has directed plays by Anton Chekhov ("Uncle Vanya") and Tennessee Williams ("A Streetcar Named Desire," starring Cate Blanchett).
But she had never worked on a production of Strindberg. When asked about pursuing a new film project, her interest in Strindberg was piqued after discovering that Williams counted him as a major influence.
Ullmann said the characters of Blanche DuBois and Miss Julie have much in common: "They both somehow pretend they are someone else than who they are -- maybe Blanche to get more sympathy, or so that people will not know that she had a wilder or worse life than they might believe.
"Miss Julie pretends to be high and mighty, but I don't think she feels it. I think she maybe even thinks, 'If I am like this, if I am controlling, he may even see me, admire me, like me.' She doesn't even understand that this is not the way to do that, [so that] people attach to you."
"I have to say, working with Strindberg for the first time in my life, I find him more interesting than Ibsen," Ullmann said. "I find it incredible. He doesn't describe situations; he describes what is really in the innermost human being. He doesn't describe the beauty necessarily, but also describes the beauty, because if you don't see beauty in these people, it's impossible to follow them."
Ullmann says that, in writing and directing this adaptation, she is approaching the character of Miss Julie far differently than she would have had she played the role herself when she was younger. "I would have gone so much more for the vulnerable person -- somebody you must love and feel sorry for -- and not for the person who is already so destroyed by her own almost negative feelings about who she is," she said.
One intriguing aspect of the film's editing -- and one not usually seen in films -- is that Ullmann frequently cuts away to the actor who is reacting, and holds the camera on them instead of on the speaker.
"On stage, when we're in the audience, we can make a choice" on whom to focus, said Ullmann. "And the person who listens is just as important as the person who is talking. On film you only see the person who is talking. You do not see the attachment or the detachment of what is happening. And I want to show that.
"I feel that film can also be theatre ... where you are as occupied by the listener as you are by the one who is talking. And film has that possibility -- and more so than in the theatre, it can come very close to the listener, to the speaker.
"Maybe [it's] because I'm an actor; maybe it's because I just think they were so good. Sometimes when I am editing I think. 'Well, they have to see Colin - he is so incredible in the way he is observing you.'" Cutting from one actor to another, she said, gives the director "too much power, and I want to use that power to get the best of them."
A fourth character in the film is the location, Castle Coole in Northern Ireland. Originally planned just for exterior shots, the castle became the setting for interiors as well, when plans to shoot on a soundstage in Germany fell through for budgetary reasons. The location forced some changes in the script, including dialogue of Miss Julie looking out the kitchen window to the world beyond, longing to be outside and free; the actual kitchen was underground, with only a white stone wall visible, heightening Miss Julie's sense of being trapped. "That house became my actor number four," said Ullmann. "They were saving us money [by shooting there], but it gave us much."
No discussion of her work as a director could ignore her decades-long relationship with Swedish director Ingmar Bergman, who cast Ullmann in his 1966 classic, "Persona." Even after their personal relationship ended the early 1970s, they continued to collaborate. She starred in 10 of his films and TV dramas, including "Hour of the Wolf," "Shame," "The Passion of Anna," "Cries & Whispers," "The Serpent's Egg," "Face to Face," "Autumn Sonata," "Scenes From a Marriage" and "Saraband." Ulmann also directed "Private Confessions" and "Faithless" from screenplays by Bergman.
She regrets turning down the opportunity to star in Bergman's Academy Award-winning classic, "Fanny and Alexander," in a role written especially for her.
"He was very, very angry at me," she recalled. "He told me when he wrote it, 'Now you'll get to do a comedy!' And when it came, of course it wasn't! And I said no. I still do not know [why]. And he said on the phone, 'You gave up your right as a first-born.' I do not know what he meant with that, but it sounded very dramatic! And we didn't speak for a year.
"And then he showed me the movie in a screening room before it came out, and I just cried and cried -- I knew I'd made a big mistake artistically."
She felt her influence on him by the kinds of films he made, and believes her characters were stand-ins for the director. "In 'Persona,' something I felt then was, I was doing him," she said, "and I believe that I didn't take the place of any other woman in the movies that came after. I took the place of Max von Sydow or Erland [Josephson] -- he would have written a movie more about a man, which they would have done, than write it and let me do it. Because I was Ingmar. I'm never me, except in 'Scenes From a Marriage' -- that's very much built on me -- but the others, I knew I am Ingmar. Because I think that we understood each other."
"Miss Julie" is currently playing in select cities.
To watch a trailer for "Miss Julie," click on the video player below.
For more info:
Thanks for reading CBS NEWS.
Create your free account or log in
for more features.