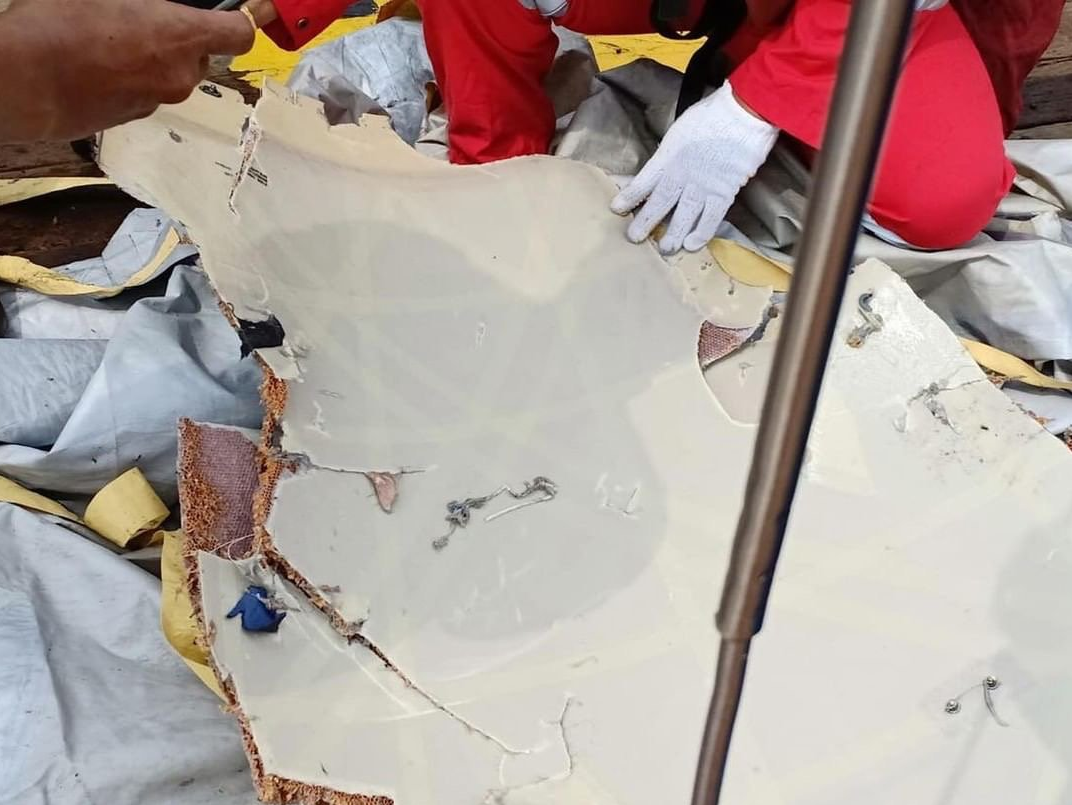 Indonesia's Lion Air Flight JT-610 crashes into the sea with 189 on board, officials say
Editor's Note: Searchers have been at the scene and investigators are looking into the fatal crash. Read the latest updates here. Monday's earlier story appears below.
---
JAKARTA, Indonesia — A Lion Air flight with 189 people on board crashed into the sea moments after taking off from Indonesia's capital early Monday. The airliner said it had lost contact with Flight JT-610 and Indonesia's search and rescue agency posted images of debris it has found from the Boeing 737 Max 8 plane that went down in the waters off West Java. There was no immediate word of any survivors and the aircraft is believed to have sunk after it crashed.
"It has been confirmed that it has crashed," Yusuf Latif, a spokesman for the agency, said by text message, when asked about the fate of the Lion Air plane, according to the Reuters news agency. Latif said the plane had lost contact 13 minutes after takeoff.
The aircraft had requested to return to base shortly before losing contact, according to Yohanes Sirait, a spokesman for Indonesia's air navigation authorities. "The (traffic) control allowed that, but then it lost contact," he added.
The crash is the worst airline disaster in Indonesia since an AirAsia flight plunged into the sea in December 2014, killing all 162 on board. It's the latest blow to the country's aviation safety record after the lifting of bans on its airlines by the European Union and U.S.
The plane had departed Jakarta about 6:20 a.m. Monday, BBC News reports. Indonesia's disaster agency spokesman Sutopo Purwo Nugroho said the plane was scheduled for a 1-hour-and-10 minute flight to Pangkal Pinang on an island chain off Sumatra.
The National Search and Rescue Agency chief Muhammad Syaugi told a news conference that divers are trying to locate the wreckage of the plane, which according to aviation website Flightradar24 was brand-new and delivered to Lion Air in August.
Officials said the plane had been carrying 178 adults, one child and two babies, as well as two pilots and six flight attendants. Next of kin have gathered at Pangkal Pinang airport, CBS News has learned, where a crisis center has been setup there and also at Jakarta's Soekarno Hatta airport.
BBC News flagged a tweet from the head of Indonesia's disaster agency that apparently shows parts of the plane and personal belongings from the flight, including a crushed smartphone, books and bags.
The Associated Press reports the Jakarta Search and Rescue Office cites the crew of a tug boat reporting a Lion Air flight falling from the sky. It said several vessels have headed to the location.
Local television coverage broadcast images of a fuel slick and debris field. The National Search and Rescue Agency said the flight ended in waters off West Java that are 98 to 115 feet deep. Divers have been dispatched to the scene.
Flight tracking website Flightradar24 tweeted "preliminary data show an increase in speed and decrease in altitude at last transmission." They posted an image of the flight track, showing JT-610 looping south on takeoff and then heading north before the flight path ended abruptly over the Java Sea, not far from the coast. The plane reportedly reached an altitude of only 5,200 feet.
BBC News said the Boeing 737 Max 8 is meant for short-haul travel and features a single-aisle that can fit a maximum of 210 passengers. The plane serving Flight JT-610 was configured to seat 189 passengers, aviation consultant Gerry Soejatman told BBC News.
Lion Air is Indonesia's largest low-cost carrier, operating flights domestically as well as a number of international routes in South East Asia, Australia and the Middle East, BBC News reports. In 2013, one of its Boeing 737-800 jets missed the runway while landing on the resort island of Bali, crashing into the sea without causing any fatalities among the 108 people on board.
Indonesian airlines were barred in 2007 from flying to Europe because of safety concerns, though several were allowed to resume services in the following decade. The ban was completely lifted in June this year. The U.S. lifted a decadelong ban in 2016.
Selvanaban Mariappen and Peter Martinez contributed to this report.
Thanks for reading CBS NEWS.
Create your free account or log in
for more features.