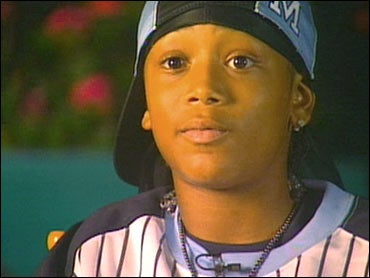 Lil' Romeo: Hip-Hop Sensation
Even in his wildest dreams, 14-year-old Percy Romeo Miller III never imagined a life like this.
"Dreams can come true. Like Martin Luther King said, 'Have a dream,'" says Lil' Romeo, a pint-sized, platinum-selling, hip-hop superstar.
In just two years, Lil' Romeo has sold an astonishing 20 million CDs. Now, he says he has $50 million in savings.
This eighth grader stars in movies, cartoons and even runs a clothing company. When he's not shooting films, he's shooting hoops as a Junior Olympic basketball player.
It must be a great life. "I mean Romeo's got cars, man," says his father, rapper Master P. "I'm, like, he can't even drive!"
Lil' Romeo gave Correspondent Harold Dow a tour of his luxurious home, his home studio and even his customized Mercedes in a story that first aired last June.
---
But beyond all the expensive stuff -the dog named "Dollar," the burly bodyguards and the limo with a fireplace - it's clear this kid's got something much more important than style. He has substance.

What does Lil' Romeo value most about his lifestyle?

"My family, I have to say. Family always gonna be there," says Lil' Romeo. "The material things, they come and go."

"It's just a blessing to see that he's so levelheaded. You know, because he's such a big star," adds father Percy Miller II. "I mean, I have girls chasing' him everywhere he goes."

"You know, I'm always teaching that the way you gonna build the muscles in your brain, you gotta read," adds Romeo's father, who promises to slam the brakes on his son's career if he doesn't do well in school.

"I always have to bring back an all-A report card. I had 13 A's this semester and one B+," says Lil' Romeo.

"I never expected Romeo to grow up and be a big superstar entertainer," says Master P. "I was just, like, 'Man, this is my child. I want him to have better things than I had.'"

---

In fact, Lil' Romeo isn't the only one in his family who's hit it big. His father's rags-to-riches journey may be the most amazing success story. Today, the family is living large in Beverly Hills, one of the wealthiest communities in the country.

But their story began 2,000 miles away, in the crime-ridden Calliope housing projects of New Orleans.

48 Hours Investigates asked Lil' Romeo and his dad to take us back to Calliope. The neighborhood, scarred by all too frequent violence, has left its mark.

"You see the shoes up on the pole," says Master P. "That's somebody that died from back here."

Lil' Romeo lived here until he was 3. Does he think he could live there now?

"Coming from where I am right now, it's a hard life right here," says Lil' Romeo. "Takes a lot of hard work. You gotta be smart. It's just a beautiful thing to see that I came from here, and who I am now."

When Romeo was just a baby, his father decided to risk a $10,000 inheritance on his lifelong passion, music. He recorded an album and gave himself a new name - Master P.

"I've been through a lot in the ghetto and I wanted to tell my side of the story," says Master P. "I wanted to let my anger go on the music that I had. That was my way of crying. Every kid can't make it through there. I've seen a lot of smart kids die in the ghetto."

It was all part of Master P's master plan: "I definitely didn't want my kids to go through what I had gone through."

He started selling music out of the trunk of his car from place to place. Several months, hundreds of towns, and thousands of miles later, his album went gold. Master P had become a nationally known rap star.

In less than 10 years, this young father from the projects found himself on the cover of Fortune magazine. Master P, just 34, is now reportedly worth over $400 million. He did it by starting a record label and retaining the rights to all of his master recordings - something most performers just don't do.

"It's a blessing, I'm just thankful," says Master P. "You know, I mean, anything is better than what we had."

Having made their millions in music, rap's first father-and-son team is now making movies. Lil' Romeo plays the lead role in their new film, "Uncle P." Dad is executive producer and co-star.

"I call it Hollyhood," says Master P. "These movies, I finance myself. It's a competitive world, but you gotta think big."

"We're gonna be billionaires in about the next eight years," says Lil' Romeo.

Despite their extraordinary wealth, despite the flash and flesh often associated with the rap lifestyle, Master P and his wife, Sonya, live a traditional, even conservative, life.

"To be honest with you, I definitely have to give it up to my wife," says Master P. "We have six kids and she definitely makes sure the family value is there."

They also make sure their kids count their blessings.

"We always go back and ride through, you know, this is where your Dad lived at, this is where we could be living right now," says Master P.

These days, they also go back to give back.

"Making sure that education is back here, making sure that kids are able to get computers," says Master P. He says it's tough to see old friends who never made it out, and to remember other friends who simply never made it.

"It definitely makes you feel bad for the people that you can't help," he says. "You can only hope that the ones you do help will help the ones you missed."

Just down the street at St. Monica's Elementary School, there's a celebration. Nearly shut down for budgetary reasons, St. Monica's is open today, thanks to a large donation from former student Master P.

True wealth, he says, is not just about money.

"It ain't about the music, it ain't about the movies," says Master P. "It's about family. It's about making a way out for them."

It's lessons like these that make Master P the master of his universe - and keeps Ll' Romeo shooting for the stars.

"We always tell them, always get your education because if you have your education, you can accomplish anything," says Lil' Romeo. "You know, stay humble. Don't change for nobody."
Thanks for reading CBS NEWS.
Create your free account or log in
for more features.