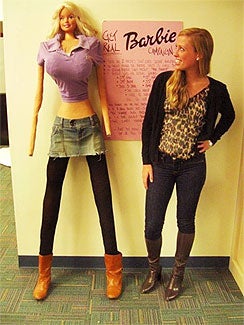 Life-size Barbie's shocking dimensions (PHOTO): Would she be anorexic?
(CBS) For generations of young women, Barbie has been larger than life. But when Galia Slayen, a Hamilton College student who once battled an eating disorder, tried to make an actual life-size Barbie, she was shocked at the result - a freakish woman with pencil-thin legs, breasts that threatened to topple her over, and a body mass index (BMI) that would put her squarely in the anorexia camp.
"If Barbie were an actual woman, she would be 5'9" tall, have a 39" bust, an 18" waist, 33" hips and a size 3 shoe," Slayen wrote in the Huffington Post. "She likely would not menstruate... she'd have to walk on all fours due to her proportions."
Slayen estimates Barbie would weigh 110 pounds and have a BMI of 16.24. She based her numbers on the book "Body Wars" by Dr. Margo Maine, and readily admits the doll's head, hands and some other features are not to scale.
"The goal of Barbie is to get just get people's attention," Slayen told CBS News. Eating disorders are "very prevalent and not talked about. It's sensationalized in the media every time a star loses weight, but this is a very internal struggle."
Slayen's own struggle started when she was 15 in Portland, Ore. She battled pressures at school to look and act a certain way and her relationship with her parents was so troubled that she obtained legal separation (emancipation) from them.
"I was living on my own and trying to figure out how I was going to survive," she said. "My life was completely out of control and it was the one thing I was able to control - the hours at the gym, the calories I was in-taking. It's a means to control your life."
"This is a young woman who has fought through this disorder and now has a voice to fight for other women," says Marisa Sherry, a registered dietitian in New York who specializes in eating disorders.
Sherry says the proportions of Slayen's life-size Barbie are cause for concern.

"A BMI of under 17 is considered underweight or anorexic," she tells CBS News. "That puts you at high risk for negative side effects like osteoporosis, amenorrhea (not being able to menstruate) and low heart rate."
As many as 10 million Americans are now struggling with eating disorders like anorexia and bulimia, according to the National Eating Disorder Association. A recent study found that teens are hit hard - as many as 500,000 have had an eating disorder. People with eating disorders are at high risk for depression, suicide and substance abuse. The condition can lead to sudden death.
"There are so many misconceptions," says Slayen. "Eating disorders are are not a choice. They are not a thing of vanity. They are disease and they are really serious."
Slayen says she's not mad at Barbie, which she played with as a child, but wasn't "obsessed" over. She says she first built the life-size Barbie as part of National Eating Disorder Awareness Week when she was in high school and is now showing her off at college where she is studying China and government. Slays says she recently raised more than $10,000 for the cause and wants insurance companies and the federal government to take notice.

"A lot of insurance companies don't cover eating disorders," she says. "They don't see this is not a choice."
Thanks for reading CBS NEWS.
Create your free account or log in
for more features.