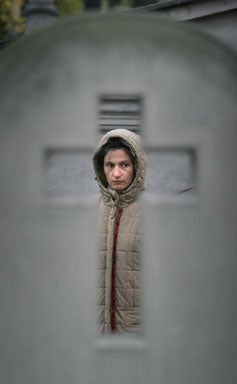 Life In Jail For Poison Doctor
A former doctor admitted Wednesday he fatally poisoned three patients in a Long Island hospital.
Michael Swango pleaded guilty to five counts of a nine-count federal indictment and was sentenced to life in prison without parole.
Swango is also suspected of poisoning patients in Zimbabwe and spent time in prison for poisoning co-workers in Illinois. The best-selling book "Blind Eye: The Story of a Doctor who Got Away with Murder" suggests Swango might have killed as many as 35 patients on two continents.
Swango, 45, fidgeted slightly but showed no emotion when U.S. District Judge Jacob Mishler imposed the sentence under a plea bargain.
Relatives of his victims were in court for the sentencing.
"I just hope Michael spends the rest of his life in a living hell," said Carol Fisher, daughter of victim Thomas Sammarco.
Swango was accused of injecting the three patients in 1993 at the Veterans Affairs Hospital in Northport. In two cases, he told hospital staff the patients' families had issued "do not resuscitate" orders, the federal indictment said.
In each case, Swango said in court, he intentionally killed the victim by "administering toxic substances which I knew were likely to cause death."
He also pleaded guilty to two counts of conspiracy to defraud for lying on his resume in order to get medical jobs. Each of those counts carried a 14-month jail term.
The federal indictment returned in July had charged Swango with three counts of murder, one count of assault, three counts of making false statements and two counts of scheming to defraud.

CBS
Swango fiancee Kristin
Kinney killed herself. Her
parents believe arsenic
poisoning caused mental
disorientation that triggered
the suicide.

---
Swango's admission will lead Ohio's Franklin County to charge him with aggravated murder in the poisoning of a woman in 1984 at Ohio State University's hospital, where Swango was an intern, Franklin County Prosecutor Ron O'Brien said Tuesday.

The Swango case has touched off a furor in the medical profession over procedures used to check the credentials and background of doctors. It's also the subject of a book, Blind Eye, by Pulitzer prize-winning journalist James B. Stewart, who reports on a number of peculiar details in Swango's life and early medical career.

Swango showed a talent for music as a teenager, expressing then an ambition to become a state trooper. Stewart says Swango wound up joining the Marines and later falsely claimed to have received both a Bronze Star for heroism and a Purple Heart for wounds received in combat. He then went on to medical school and his work as a doctor in training, at which time Stewart claims some of the other doctors nicknamed him Double-O Swango," a reference to the famous "License to Kill" held by fictional superspy James Bond.

Stewart also reports that Swango did his undergraduate chemistry thesis, at Quincy College in Illinois, on a now-eerie subject: the 1978 murder of a Bulgarian writer who had been living in exile in London. Georgi Markov died four days after being poked in the thigh by an umbrella which authorities believe injected him with a tiny capsule of a poison called ricin. There is no pathological test to detect ricin and no trace of it was found in the victim's body, although an autopsy did turn up a tiny capsule the size of the head of a pin embedded in the victim's leg.

In an interview with CBS News, Stewart said he has linked Swango to 35 deaths and 20 non-fatal poisonings, including the poisoning of his Illinois co-workers, who became sick after ingesting arsenic-laced donuts and iced tea. Asked if Swango had a favorite poisoning method, Stewart contended that the doctor seems to have preferred the injection of substances normally found in the body which are lethal if injected in certain quantities.

Stewart also said he believes Swango is responsible for the death of the woman who was his fiancee, Kristin Kinney, who killed herself after suffering numerous mysterious illnesses, including severe mental disorientation. The author contended that Kinney's "symptoms are consistent with arsenic poison" and it is "quite possible that the poisoning would have caused her to be mentally disoriented, enough to be so depressed she might take her own life."

CBS Worldwide Inc. All Rights Reserved. This material may not be published, broadcast, rewritten, or redistributed. The Associated Press contributed to this report
Thanks for reading CBS NEWS.
Create your free account or log in
for more features.