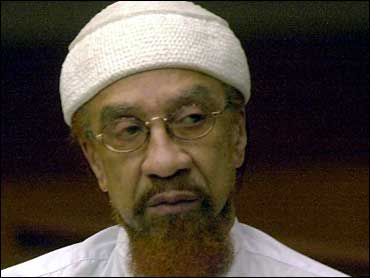 Life For '60s Radical H. Rap Brown
Rejecting the prosecution's call for a death sentence, a jury sentenced the former '60s radical known as H. Rap Brown to life in prison for killing a sheriff's deputy in a shootout two years ago.
The jury deliberated for about five hours before deciding Wednesday to spare the life of the Muslim cleric now called Jamil Abdullah Al-Amin. He will not have a chance at parole.
The 58-year-old Al-Amin, wearing the robes and hat of a cleric, showed no emotion when the sentence was read.
"He's alive — and that creates another day for us to fight," said Al-Amin's brother, Ed Brown.
Al-Amin was convicted Saturday of killing Deputy Ricky Kinchen as the officer tried to serve him with an arrest warrant. Another deputy was wounded, but survived and identified Al-Amin as the gunman.
The judge, who was bound by the jury's decision Wednesday, formally sentenced Al-Amin to life without parole plus 35 years for the other charges in the 13-count indictment.
"This is just a starting point for us to heal and go on," said the slain deputy's sister-in-law, Lisa Francis.
Al-Amin leads one of the nation's largest black Muslim groups, the National Ummah. The movement, which has formed 36 mosques around the nation, is credited with revitalizing poverty-stricken pockets such as Atlanta's West End, where he owned a grocery store.
Many Americans are familiar with Al-Amin as H. Rap Brown, a 1960s militant who served as a leader of the Student Nonviolent Coordinating Committee. In 1967, he characterized violence as a vital tool for blacks, "as American as cherry pie."
Brown changed his name when he converted to the Dar-ul Islam movement in the 1970s while serving a five-year sentence for his role in a robbery that ended in a shootout with New York police.
His trial here had been postponed after the Sept. 11 attacks because the judge feared anti-Muslim sentiment would taint the jury pool.
Defense attorneys had pleaded with the jury to spare Al-Amin, who was described by character witnesses as a peaceful religious leader.
Prosecutors portrayed Al-Amin as a deliberate killer who deprived a family of a husband, son and father. Members of Kinchen's family testified about their difficulty recovering from his death.
The surviving deputy, Aldranon English, testified that Al-Amin pulled an assault rifle and opened fire when he and Kinchen tried to serve him with a warrant on minor charges.
Al-Amin, according to testimony, then produced a 9 mm handgun and shot Kinchen three times as he lay bleeding in the street. English picked Al-Amin out of a photo lineup from his hospital bed the next day.
Defense attorneys said English was mistaken and someone else had shot the deputies. They also suggested that Al-Amin was framed as part of a government conspiracy that has dogged him since his days as a radical civil rights activist.
Al-Amin was arrested four days after the shootings in White Hall, Ala. The .223-caliber Ruger assault rifle and Browning handgun were recovered in the woods nearby. The defense suggested the weapons had been planted by federal authorities.

Thanks for reading CBS NEWS.
Create your free account or log in
for more features.