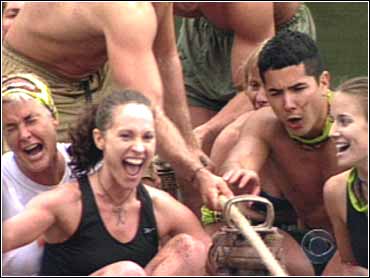 They've been kicked off the Outback and returned to real life, and while they didn't earn the $1 million prize, many of the ousted contestants from Survivor: The Australian Outback are nonetheless winners.
One has gotten a soap opera role, another has gotten an offer from Playboy magazine and one of the oldest of the group has attained a certain cachet with his younger colleagues.
CBS News recently caught up with eight members of the Kucha and Ogakor tribes to see what they've being doing since their big adventure down-under last fall and their ousters earlier this year.
CBS
Rodger Bingham
---
Rodger Bingham
Remember "Kentucky Joe," Elisabeth's Outback father-figure and fishing buddy? He's been a CEO, storeowner and schoolteacher. Now Rodger Bingham has become the one thing he never imagined: a celebrity.

When the newly shaven Rodger returned from the Outback, he went back out – to his farm in Crittendom, Ky. And now the man who was always an early riser is getting used to staying up late - he's even visited The Late Show With David Letterman.

But he's happiest being back home on the farm, speaking to church groups and looking a whole lot cooler to his students.

Watching the show at home, he knows a lot of his tribe mates tried out for Survivor to get famous. Rodger went out there to fish. And swim. (Remember his jump off the cliff?) And see whether he really could survive.

"I would have liked to do better," he said. "But at 53, I'm satisfied with the way I did and the length of time I lasted out there."

And he's a little skeptical about his how long his fame will last. "Six months from now they'll be saying Rodger? Rodger who?" he says.
---
Interview with Rodger Bingham conducted by CBS News Correspondent Chris Lawrence
---
CBS
Jerri Manthey
---
Jerri Manthey
Jerri - the survivor audiences loved to hate, is still playing the villain - and relishing every minute. She wanted to be famous; now she is. Survivor took care of that.

"I'm not going to lie to you and tell you that this attention I'm getting from the show isn't something that I enjoy, because I'm having a real good time."

Asked how she feels about being America's most hated woman? She says she's over it.

"I don't have any qualms about what people say about me for that," she says.

It seems that being mean and nasty has its advantages. She's appeared as herself on a soap opera. Now, she's playing a manipulative gold digger in a play.

And she's still willing to offend people. She's mulling over an offer to pose for "Playboy." The magazine says they would love to have her, and give her close to the million she could have won on Survivor.

"I'm willing to negotiate, that's all I can say about that," says the former bartender.

These days Jerri, who got what she really wanted, is content, and confident about her future.
---
Interview with Jerri Mathey conducted by CBS News Correspondent Manuel Gallegus
---
CBS
Amber Brkich
---
Amber Brkich
At 22, Amber was the youngest of the contestants and was remembered by audiences as Jerri's friend. There is one other thing that sets her apart from her fellow castaways. She's the only one to say "never again."

"It was miserable at times, so depressing at times, my energy level was unbelievably low. I was so hungry. I'm so glad I got to do it, but please don't send me back there."

And she admits that she's not sorry she didn't win the million dollars. "I was relieved. I was not sad at all," she told CBS News.

Back home in Beaver, Pa., the administrative assistant is contemplating posing for "Playboy" - if the price is right.

But for now, she's kicking back and just enjoying her free time. She doesn't know how her future will play out, but she'll always be a big star in her hometown.
---
Interview with Amber Brkich conducted by CBS News Correspondent Manurel Gallegus
---
CBS
Alicia Calaway
---
Alicia Calaway
Fitness trainer Alicia Calaway is hoping to muscle her way into a variety of new career opportunities. "The fitness arena is where I am comfortable - it's my niche in all of this," she says.

She's posed for an upcoming issue of "Muscle and Fitness" magazine. And while no big announcements can be made until after Survivor finishes, the 32-year-old New Yorker can dream.

"I would probably like to put out a fitness video and a book to go with it, you know, maybe an infomercial."

Like all the other contestants, Alicia Calaway was a virtual unknown before the reality series. In the Outback for 24 days, she claims it was a life changing experience. And no matter what she chooses to do, she admits it will be tough to top the Outback.

"I'm still young and I know there's something out there, I'll find it. I don't what it is, but I'll find it."

She didn't win the game, but when it comes to survival of the fittest, she's as tough as they come.

---
Interview with Alicia Calway conducted by CBS News Correspondent Gretchen Carlson
---
CBS
Nick Brown
---
Nick Brown
Nick Brown, the quiet Harvard Law student, has gone back to life in the academic lane. But his time in the Outback could still be useful. Once he graduates, he's headed for a stint in the military.

"I want to be a student. I want to graduate with a law degree. I'm looking forward to serving my time in he military, and then, who knows?" he says.

He, too, has appeared on Letterman's show, and is enjoying his newfound fame. "I go on the fan Web sites and search all the stuff that people say about me.

The 10th player to get the boot; Nick lasted 30 days. He is reflective about his participation. "I don't think I've changed as a person, but I learned what my limits are," he explains. "It's interesting now that the game is over really confronting those things you were weak here, and couldn't deal with this here, and didn't stay focused here"

"Playing the game reminded me that life is precious." He goes on, "Life is short and if you don't go out and push yourself and take the chance to have this opportunity, then you're not living life like you should."
---
Interview with Nick Brown conducted by CBS News Correspondent Manuel Gallegus
---
CBS
Maralyn Hershey
---
Maralyn Hershey
Maralyn Hershey didn't last long in the Outback - she was the third person kicked out. But since she's been back in the U.S., she's telling everyone she's a whole new Maralyn.

For her, life after Survivor has been quite a ride.

The former Washington, D.C., police officer, nicknamed "Mad Dog" because of her aggressive approach to policing, is making the most of her 15 minutes in the limelight. She's made a string of public appearances and has a TV deal in the works.

She says that while short, her experience in the Outback taught her something she never knew about herself. "I'm capable of doing almost anything. Whatever I do, I don't do it halfway. I do it all or nothing."

And while we're sure to see more of Maralyn, this 52-year-old knows it's better to let certain things unfold.

"I find I'm better when things happen spontaneously."

---
Interview with Maralyn Hershey conducted by CBS News Correspondent Teri Okita
---
CBS
Michael Skupin
---
Michael Skupin
Michael Skupin's time in the Outback could have been scripted by Hollywood writers. But they were for real. He killed a wild pig and suffered severe burns from a fall into a campfire.

Some fans of the show felt his burns were karmic payback for slaughtering the pig. But Mike, an evangelical Christian, defends his actions and says prayer got him through the tough times.

"I played the game, got through the challenges. I have no regrets."

Mike says the show has changed his life for good, and helped him reshape his priorities.

His third-degree burns have healed, and he's enjoying everyday life with his family.
---
Interview with Michael Skupin conducted by CBS News Correspondent Manuel Gallegus
---
CBS
Kimmi Kappenberg
---
Kimmi Kappenberg
And finally, remember Kimmi, the animal loving vegetarian?

She's back in civilization, kicking back and enjoying being famous.

She has done the radio and TV talk show circuits and made numerous personal appearances throughout the country. And while she's learning to cash in on fame - when it comes to her Outback behavior - she has no regrets.

Fame may be fleeting, but strong convictions last a lifetime. When the rift between hungry survivors and the vocal vegetarian Kimmi grew too wide, she knew her goose was cooked. But she stayed firm and paid the price.

"I wish I was there longer, but I got out when I needed to," she says.

Her animal rights' stance hasn't opened any career doors, but Kimmi is riding the Survivor wave and enjoying life minute by minute.
---
Interview with Kimmi Kappenberg conducted by CBS News Correspondent Gretchen Carlson
---
© MMI Viacom Internet Services Inc. All Rights Reserved
Thanks for reading CBS NEWS.
Create your free account or log in
for more features.