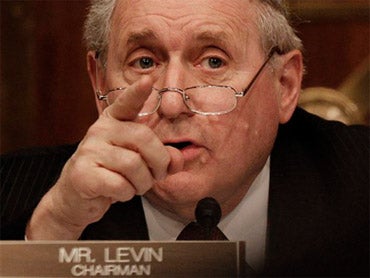 Levin Repeatedly References "Sh**ty Deal" at Goldman Hearing
Updated 12: 51 p.m. Eastern
Sen. Carl Levin (D-Mich.) channeled his frustrations with Goldman Sachs witnesses at a Senate Permanent Subcommittee on Investigations hearing today by repeatedly invoking an e-mail containing the phrase "shitty deal" over a ten minute period.

Levin was questioning Daniel Sparks on whether Goldman Sachs was pushing investments it knew were bad for clients. He referenced an e-mail sent to Sparks from his superior on a deal called Timberwolf.
"Quoting a Goldman e-mail: 'boy that Timberwolf was one shitty deal,' Levin said. "How much of that shitty deal did you sell?"
He added: "You didn't tell them that you thought this was a shitty deal?"
Levin grew increasingly frustrated with what he saw as non-answers from Sparks, a former head of Goldman's mortgages department, and vowed to keep Goldman executives there "as long as it takes to get the answers...to the public."
"You knew it was a shitty deal and that's what your e-mails show," he said. "How much of this shitty deal did you continue to sell to your clients?"
He added: "Should Goldman Sachs be trying to sell the shitty deal, can you answer that one yes or no?"
Levin also made reference to "the shitty deal assessment." Later, an angry Sen. Claire McCaskill also invoked the Goldman reference to the "shitty deal."

Such language is rare in the halls of the Senate, but not unheard of. In February, when Sen. Jim Bunning (R-Ky.) held up action in the chamber, he reportedly told frustrated and complaining Democrats: "tough shit."
And in 2004, Sen. Patrick Leahy walked over to the Republican side of the Senate chamber, where then-Vice President Dick Cheney was chatting with Republicans. The two men got into a confrontation over Leahy's criticisms of Cheney and the White House's portrayal of Democrats; Cheney famously eventually said Leahy, "go f*** yourself."
Thanks for reading CBS NEWS.
Create your free account or log in
for more features.