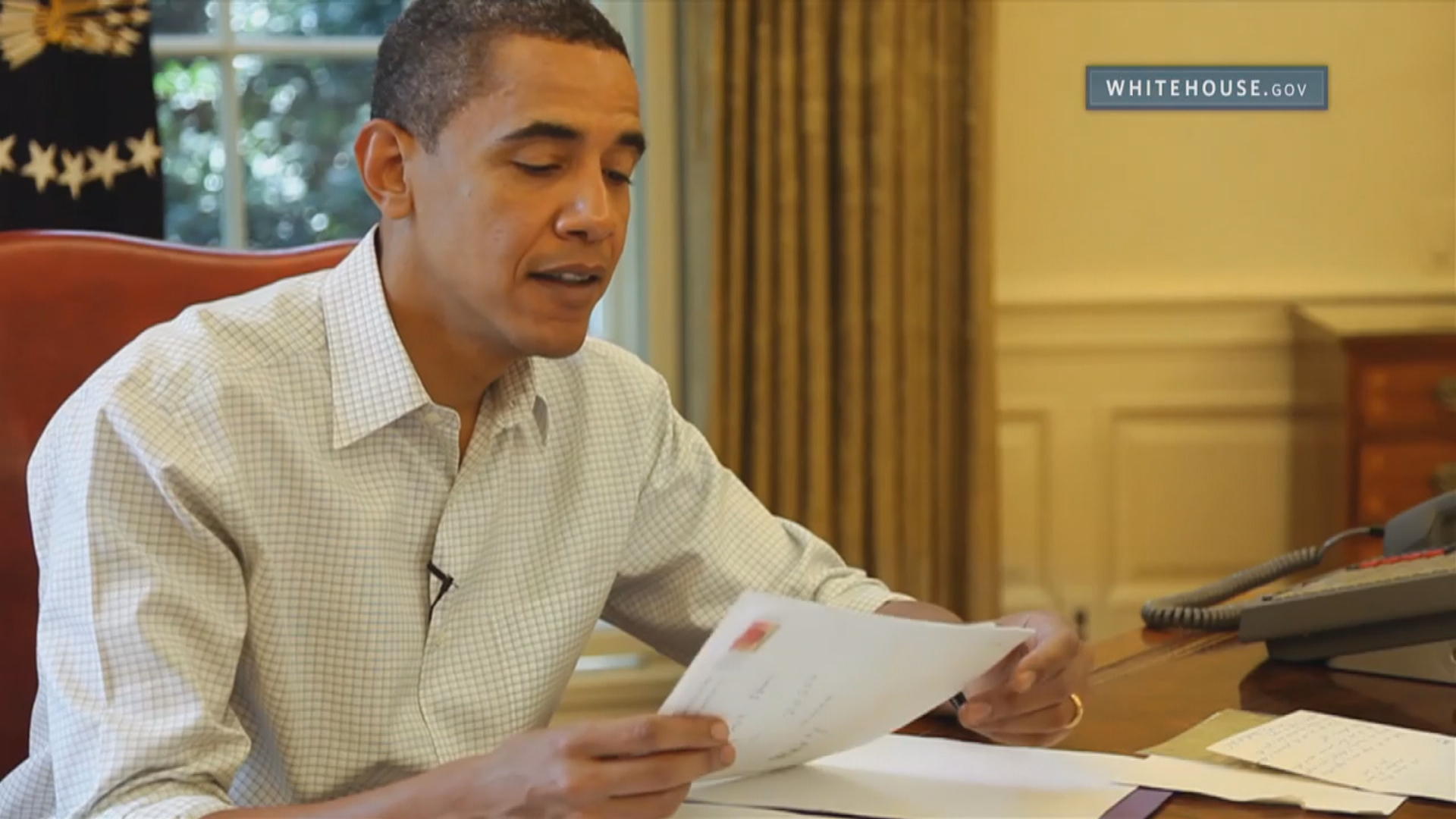 A look at Americans' letters to President Obama
The United States Postal Service handles more than 150 billion pieces of mail each year. And millions of them wind up at one of the most recognizable addresses: 1600 Pennsylvania Avenue in Washington, D.C.
The inside story of Washington is always full of intrigue. But President Obama has asked his staff to bring him a daily dose of the outside story – the thoughts, feelings and ideas of the rest of America. They do it by reading what a lot of people assume gets thrown away: letters to the president, reports CBS News correspondent Tony Dokoupil.
For the past eight years, one of those somebodies has been Fiona Reeves.
"You know I get a lot of letters from constituents. I get about 40,000 every day. And I don't read all 40,000. But somebody does," Obama said in 2010.
For the past eight years, one of those somebodies has been Fiona Reeves.
"I read one a few months ago where it said on the envelope, 'Alert: cutest baby photo ever inside,'" Reeves recalled.
As director of presidential correspondence, she runs the team that looks at every single letter, email, and Facebook message sent to the White House -- about 10 million a year.
"All those people who self-identify as 'little ole me,' this is sort of their entry point," Reeves said, holding up one letter.
But in his first week, President Obama asked for something other presidents have not: to read some of the letters every night.
"The ask was for 10 that were representative and he was really clear about the point that it shouldn't be 10 fan letters," Reeves said.
Reeves herself reads 200 to 400 finalists a day before selecting 10 for the president's nightly briefing book.
"That's not an easy thing to do when the content of the letters is often searing and personal," Dokoupil said.
"Yeah, it can be... emotionally draining. People are often reaching out to the president as a last resort," Reeves said.

The letters aren't fact checked, but in this tradition, feelings matter more.
"It's powerful because of what it conveys about your voice or what you've been through," Reeves said. "We've received letters from veterans who are writing in a writing style that can be sort of stream of consciousness, but that makes it so much more powerful."

Over the years, some of the letters have been sweet.
"She set up a vegetable garden and she sent me a picture," President Obama shared one letter in a White House video, with a picture of the garden.
Others have been funny.
"One was, 'I'm retired and I've got some advice for you: Ride your bike a lot. Spend some time with your wife. Draw.' And then it said: 'Don't be afraid to day drink,'" Reeves said, laughing. "And I just thought that was pretty good."
But many are critical.
"Sometimes the letters say, you are an idiot and the worst president ever," President Obama shared.
"Do you ever feel like, he's had a bad few days, he needs some uplifting letters?" Dokoupil asked.
"We do often feel like when we've given him a bunch of letters that have some tough stuff in them, particularly if it's a Friday, we should throw in a 10th letter that we sometimes refer to as a chaser. And that will be, like, a kid letter," Reeves said.
"A chaser to make the hard stuff go down easier?" Dokoupil asked.
"Yeah," Reeves said.
President Obama not only reads his letters -- he often responds. Philadelphia native Stefan Johnson is a graduate student in public policy at England Oxford University in England.
"Dear Stefan, thank you so much for your letter. We're so proud of you, so keep up the great work," Johnson read from his letter from the president.

In high school, Johnson wrote the president a letter, thanking him for being an inspiration. The president's reply inspired him even more.
"Even though the letter was short and a number of words, it's probably the most profound words that have been addressed to me before," Johnson said.
Reeves said she's seen an uptick in praise for the president as more people write to say goodbye.
"Thank you for standing up for women!" Reeves read from one letter.
"I will always regard you as my president because you were the president who believed in me," she read from another.
Later today, she will select the final 10 that President Obama will read in office.

"What do you hope the president walks away with?" Dokoupil asked.
"I hope that he and the country walk away with all of these people continuing to feel engaged, like their government hears them, like they can shape their government," Reeves said. "I think that's what he leaves in our country. So I hope he walks away feeling pretty good about that."
It is too late to send a letter to President Obama, but the White House will be accepting emails throughout Thursday. Who knows? If you get yours in early, it may end up in the hands of Fiona Reeves, then the president himself.
In 2010, the White House staff began scanning the letters, and they will be archived.
Thanks for reading CBS NEWS.
Create your free account or log in
for more features.