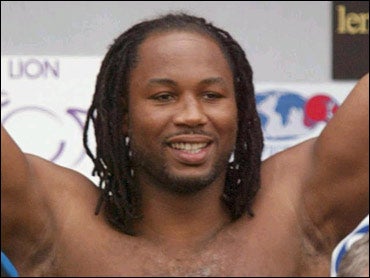 As a 6-foot-5 heavyweight with a punishing, long-range jab, Lennox Lewis had little in common with the crouching, bustling Rocky Marciano.
Until now.
The 38-year-old Lewis held a news conference Friday in London to confirm reports that he will retire rather than risk his World Boxing Council title in a rematch against Vitali Klitschko.
Lewis is the first active world heavyweight champion to retire since Rocky Marciano quit in 1956 while still holding the title. Muhammad Ali retired with the WBA title in 1978, but came back to lose fights to Larry Holmes and Trevor Berbick.
After just two fights in 26 months, including an eight-round demolition of former champion Mike Tyson, Lewis appears set to call an end to his professional boxing career.
Secretive to the end, Lewis kept his decision to himself until making his announcement in London Friday. Lewis had made no effort to meet a March 1 deadline set by the WBC to set up a fight with Klitschko, and the consensus among the boxing fraternity was that he would retire.
Lewis hadn't even told HBO what he planned to do. The television network paid him tens of millions to fight and was waiting for months for him to commit one way or another to a second Klitschko fight.
"We have had no contact with Lennox or his representatives," said HBO Sports president Ross Greenburg, a short time before the news conference. "We're standing by."
Lewis will leave a legacy of big wins over Tyson and Evander Holyfield, but also a reputation for aloofness that never allowed him to connect with boxing fans outside of Britain and Canada, where he grew up.
A heavyweight who had the boxing skills of a smaller man, Lewis won an Olympic gold medal for Canada and went on to win the heavyweight title three times.
Lewis, though, fought infrequently in recent years, winning a huge fight with Tyson in June 2002, and stopping Klitschko on cuts last June in Los Angeles.
Lewis looked ragged against Klitschko. The champion took some big shots to the head and trailed on all three scorecards before the ring doctor ordered the fight stopped at the end of the sixth round because Klitschko was bleeding badly.
Lewis' retirement means that Klitschko will meet No. 2 contender Corrie Sanders for the WBC title.
Steward said recently he wanted Lewis to beat Klitschko one more time, but would understand if he didn't want the fight.
"If you hesitate about making up your mind, that is not good," Steward said. "If he feels he can go back to the training it is going to take, and the grind it is going to take, he should do it. If he wants to go back up the mountain for this one final war, yes, but if he doesn't, my suggestion is just to leave and rest on your laurels."
Despite an impressive record (41-2-1) and the victories over Tyson and Holyfield, Lewis' performances tended to be plodding rather than inspiring.
His two knockout losses - to Oliver McCall and Hasim Rahman - were huge upsets, but he went on to beat both in rematches. His one draw came against Holyfield in a fight most observers felt Lewis won. He later beat Holyfield on points to become undisputed world champion.
Former manager Frank Maloney, who guided Lewis through most of his career, said the loss to Rahman in South Africa in April 2001 was a sign he was losing his spark.
"I'm surprised he's gone on this long," Maloney said. "He should have gone after the Tyson fight because there was nothing else for him to prove then."
By Robert Millward
Thanks for reading CBS NEWS.
Create your free account or log in
for more features.