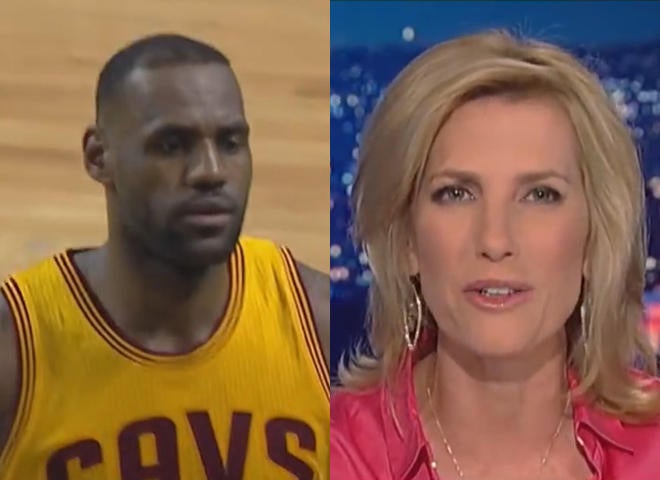 After NBA All-Star game, LeBron James fires back at Fox News host
LeBron James has never shied away from making political statements. He campaigned with Hillary Clinton, and last year he called President Trump a "bum" for feuding with NBA star Stephen Curry. Last week, James' profane comments about President Donald Trump drew criticism from Fox News host Laura Ingraham.
On the web series "Rolling With the Champion" last Thursday, NBA superstar LeBron James offered an unfiltered opinion of Mr. Trump.
"The number one job in America, the point-of person, is someone who doesn't understand the people, and really don't give a f*** about the people," James said. "While we cannot change what comes out of that man's mouth, we can continue to alert the people that watch us, that listen to us that this is not the way."
Ingraham called James' comments "barely intelligible" and "ungrammatical."
"Must they run their mouths like that?" she said. "This is what happens when you attempt to leave high school a year early to join the NBA. Keep the political commentary to yourself. Or as someone once said, shut up and dribble."
James' reaction?
"I will definitely not do that," he said on Saturday. "I mean too much to the youth. I mean too much to so many kids who feel like they don't have a way out."
Critics called Igraham's comments racially-charged. Current and former NBA stars spoke out, like Golden State's Stephen Curry. "That's the tone, that people try to put athletes, and black athletes, in a box," he said.
CBSN anchor Vladimir Duthiers reports that after an MVP performance in last night's NBA All-Star Game, the three-time NBA champion addressed the issue.
"It'd been the same as telling Jackie Robinson to shut up and slide into home base, or Jesse Owens to shut up and just go triple jump," James said. "I can't do that, because of so many people that's looking up to me, and so many that's going to come after me."
In a statement, Ingraham defended her comments, saying "In 2003, I wrote a New York Times bestseller called 'Shut Up & Sing' … I have used a variation of that title for more than 15 years to respond to performers who sound off on politics … There was no racial intent in my remarks."
In December, she used the same expression to criticize comedian Jimmy Kimmel for making political remarks on his talk show: "Shut up and make us laugh every now and then."
NBA Commissioner Adam Silver said that he was proud of the way James handled the criticism, and how he speaks out on social issues.
James said he will continue to do so.
And in a tweet, Ingraham invited James to come "play on her court" and be a guest on her show.
Thanks for reading CBS NEWS.
Create your free account or log in
for more features.