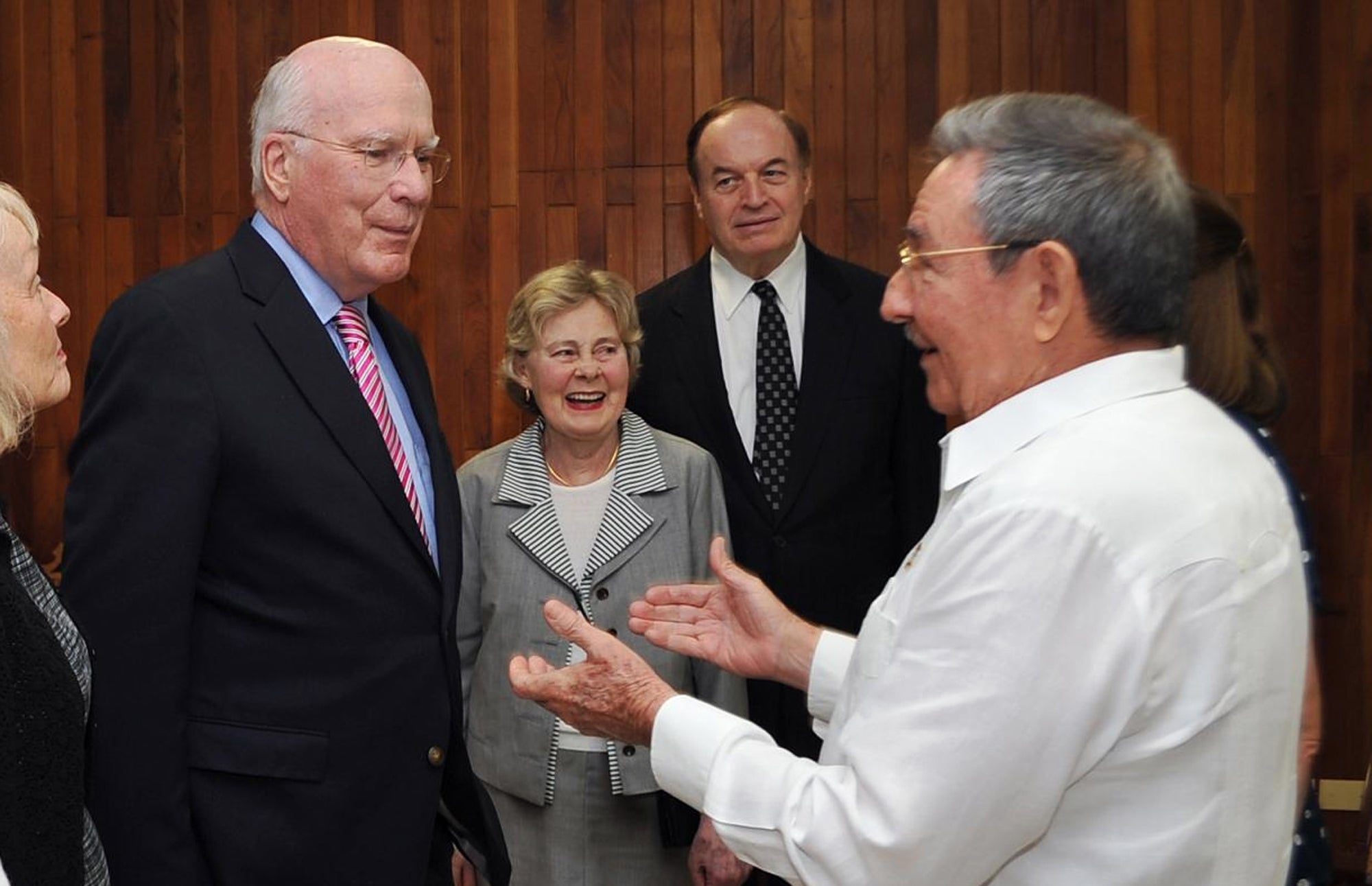 Leahy and Shelby meet with Raul Castro in Cuba
HAVANA -- Sen. Patrick Leahy met with Cuban President Raul Castro Thursday, but the Vermont Democrat was unable to convince the Cuban leader to release jailed U.S. contractor Alan Gross currently serving a 15 year sentence in Havana for smuggling in illegal communications equipment and attempting to set up an Internet network that could escape government detection.
"I told him I had a plane and could take Gross out with me," Leahy told CBS News by phone after what he said was a "very active give and take" with Castro.
Leahy said he was told something to the effect of "nice try" for his effort to get Gross released.
Leahy and Delaware Sen. Christopher A. Coons, a fellow Democrat, met earlier in the day for an hour with Gross at the military hospital where he is being held.
The younger brother of longtime leader Fidel Castro "conceded that Gross wasn't a spy but when I spoke about releasing him for humanitarian reasons, Castro raised the case of the so-called Cuban Five" who were convicted of spying in the United States, Leahy said. The Cubans insist that the five men were only trying to gather information on terrorist activities by Miami-based anti-Castro groups.
The Vermont senator, who along with his wife once dined with the former president and even maintained, he says, a correspondence with the elder Castro, says he told Raul Castro he should release Gross because "it's the right thing to do" without asking for a quid pro quo.
Leahy told CBS he asked Castro if he could bring Sen. Richard Shelby of Alabama along with their wives to their Thursday night meeting because he wanted to have a conservative Republican along so that the discussion would be more broad based. The topics discussed ranged from outstanding issues between the two countries to grandchildren.
Also present at the meeting was Cuban Foreign Minister Bruno Rodriguez.
The two senators also raised the issue of Cuba's drilling for oil in the Gulf of Mexico, according to Leahy who says Castro was receptive to his suggestion that the two countries take steps to cooperate in the event of an oil spill. Leahy recognized that there are obstacles to this happening. Restrictions under the U.S. economic and trade embargo against the island inhibit cooperation in this area.
President Castro, Leahy says, referred to steps taken along the border between the U.S. and Cuban military bases in Guantanamo where there is regular contact military to military contacts that both men agreed should be expanded to other areas."
"They are going to be drilling for oil," said Leahy, "and I hope they find it and will not be dependent on Venezuela for oil," and that's also why he's encouraging cooperation between the two countries.
Leahy said he would be meeting with President Obama on his return to Washington and asked Castro if he had any objection to his sharing the contents of their conversation with the him.
"Absolutely not," was his response, said Leahy.
The delegation goes to Haiti later today.
Thanks for reading CBS NEWS.
Create your free account or log in
for more features.