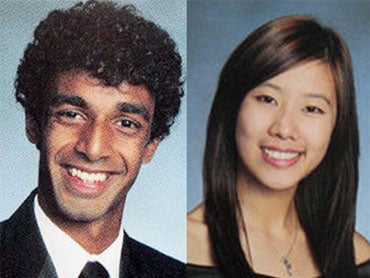 Lawyers: Nobody Saw Tyler Clementi Video
It's been almost six weeks since Rutgers freshman Tyler Clementi committed suicide after two classmates allegedly spied on him via webcam during a sexual encounter he was having with another man. The story has gained international interest as a horrible example of cyberbullying, and until now, the two accused of spying have kept a low profile.
CBS News National Correspondent Jeff Glor reported on "The Early Show" Monday Dharun Ravi and Molly Wei have remained silent about the entire incident surrounding fellow classmate Tyler Clementi's death -- but attorneys for both students are now speaking out, disputing allegations against their clients.
Ravi and Wei face are charged with invasion of privacy. They're accused of using a webcam to spy on classmate Clementi during his sexual encounter with another man September 19. But Ravi and Wei's lawyers tell the Newark Star Ledger their clients didn't see anything sexual.
Tyler Clementi Suicide Result of Hate Crime?
Tyler Clementi, Taped Having Sex, Kills Self
Rubin Sinins, Wei's attorney, told the newspaper, "The statue of defining sexual contact refers to nudity and private parts, and, to my knowledge, nothing like that was seen."
The lawyers also contend their clients did nothing with the small amount of video they did see.
Steve Altman, Ravi's attorney, told the paper, "Nothing was transmitted beyond one computer and what was seen was only viewed for a matter of seconds."
Ravi did use his Twitter account, followed by 150 people, to say that Wei had seen Clementi, "making out with a dude."
But no matter who saw it, Glor reported, legal experts say it may only matter whether or not Clementi believed the video made it to the Internet.
Tim Wu, a law professor at Columbia University, said, "This question of whether in fact the video was disseminated on the Internet is of very little legal relevance. … What I think we have to think about is whether the victim thought this film was being put on the Internet, because that may have been why he killed himself."
On September 22, Clementi jumped to his death off New York's George Washington Bridge.
Wu said, "It's not just a prank, it's not a joke. People do things like kill themselves when you invade their privacy for their most important secrets."
Ravi and Wei, both 18, have withdrawn from Rutgers and are now facing up to five years in prison.
But prosecutors are considering whether to upgrade the charges to bias, or so-called "hate" crimes.
Glor added Ravi and Wei, who were high school friends before Rutgers, are both free for the time being, Ravi on $25,000 bail.
On "The Early Show" CBS News Legal Analyst Jack Ford discussed the possible legal ramifications of the assertions being made by the awyers for Ravi and Wei:
Thanks for reading CBS NEWS.
Create your free account or log in
for more features.