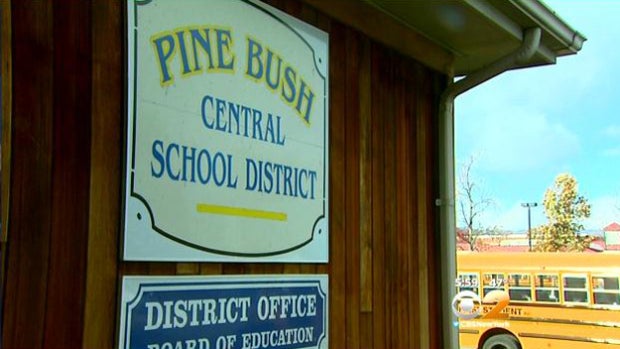 NY school district settles suit over Nazi salutes, racial epithets
PINE BUSH, N.Y. -- An upstate New York school district will pay $4.48 million and pass curriculum and training reforms to settle a lawsuit filed by five current and former Jewish students who claimed they were victims of anti-Semitism in the schools.
The suit accused Pine Bush Central School District officials of failing to take action to protect the students from anti-Semitic bullying from other students for years, The New York Times reported.
The Jewish students said they were subjected to racial epithets, physical violence, Nazi salutes and other forms of intimidation. In 2013, the Justice Department joined the investigation into the allegations of anti-Semitic harassment at the school, CBS New York reported.
"Anti-Semitic harassment is wrong," the school district and plaintiffs said in a joint statement posted on the Pine Bush website. "The district will never condone anti-Semitic slurs or graffiti, Holocaust 'jokes' or physical violence. No family should have to experience the hurt and pain that bullying and name-calling can cause children to endure because of their religious, national or cultural identity."
The settlement called for mandatory training for faculty and staff on recognizing and reporting anti-Semitic harassment. The district will also maintain an anti-bullying curriculum developed with the Anti-Defamation League.
"The purpose of the required reforms is simple: to ensure that no student in the district has to endure such horrific anti-Semitic or racist harassment ever again," said Ilann Maazel, an attorney for the plaintiffs.
Monday's agreement is subject to approval by a federal judge. It would provide the students with two-thirds of the $4.48 million settlement. The rest will be used for attorney's fees.
Last year, students from the school were given a lesson in tolerance, CBS New York reported. Several student leaders took a unique trip to hear personally from Holocaust survivors, hoping to spread the message of acceptance back on campus.
Thanks for reading CBS NEWS.
Create your free account or log in
for more features.