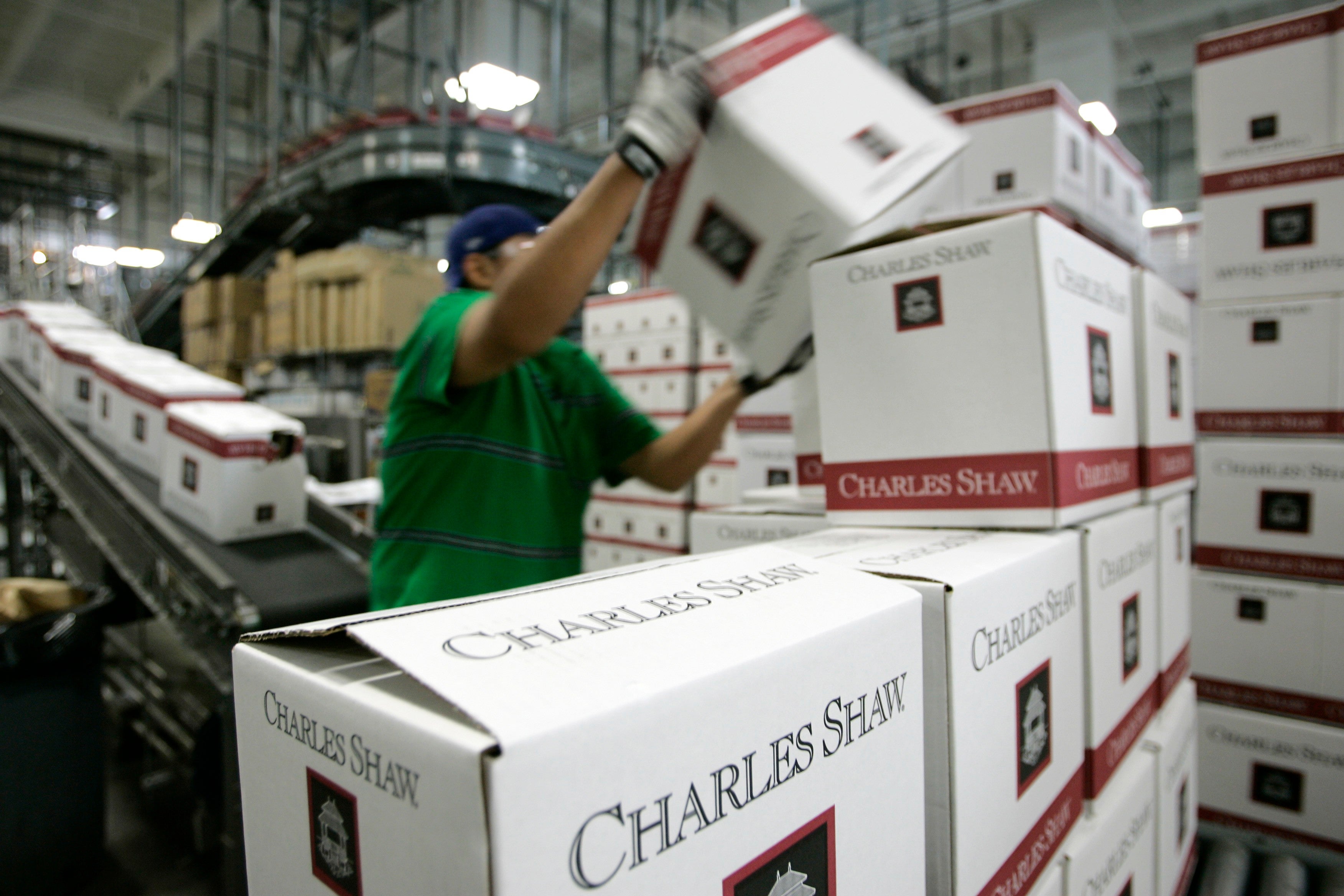 "Very high levels of arsenic" in top-selling wines
Editor's Note: After this story was broadcast, one of the winemakers named in the lawsuit gave a statement to CBS News, which can be found at the bottom of this article.
---
Following recent warnings about the amount of arsenic in apple juice and rice, a proposed class action lawsuit is being filed Thursday in California that claims some of the country's top selling wines have high levels of the element: up to four and five times the maximum amount the Environmental Protection Agency (EPA) allows for drinking water, reports CBS News correspondent Carter Evans.
There are almost no federal labeling requirements to tell you what's really in wine, that's why a Denver laboratory started running tests to find out.
After 15 years working in the wine distribution business, Kevin Hicks started BeverageGrades, a laboratory that analyzes wine. What he discovered shocked him.
"Some very, very high levels of arsenic," Hicks said.
He tested more than 1,300 bottles of wine. Almost a quarter of them had levels higher than the EPA's maximum allowable amount of arsenic in drinking water: 10 parts per billion. No one can say for sure why, but Hicks noticed a pattern.
"The lower the price of wine on a per-liter basis, the higher the amount of arsenic," he said.
They included Trader Joe's famed Two-Buck Chuck White Zinfandel, which came in at three times the limit, a bottle of Ménage à Trois Moscato was four times the limit and a Franzia White Grenache had five times the EPA limit for drinking water.
He took the test results to some of those wine companies.
"Most wine companies, when I mention arsenic and wine in the same sentence, literally almost hung up the phone on me," he said.
The next step, he said, was to supply the data to a law firm.
"He was trying to get their attention; he was trying to blow the whistle on them," attorney Brian Kabateck said.
Thursday, he plans to file a class action lawsuit in California accusing more than 24 California winemakers and sellers of misrepresenting their wine as safe.
"We've done testing with two separate labs," Kabateck said.
He said they've checked Hicks' results and they "absolutely" stand up.
CBS News took those results to epidemiologist Allan Smith, associate director of the Arsenic Health Effects research program at U.C. Berkeley.
"These are about two to three times in this particular sample, the drinking water standard, and they vary, they fluctuated, but some of them were up to three, four or five times the drinking water standard," Smith said.
Smith said 50 parts per billion of arsenic -- the highest level found in one of the bottles Hicks tested -- can be deadly over time.
Even though "parts per billion" seems like a very small amount, Smith said "Arsenic is highly toxic; it's astonishing."
"It has as many effects inside the body as cigarette smoking does," Smith said.
But he based that on studies of drinking water, which is the only beverage with an arsenic limit set by the U.S. government.
"We estimate that approximately 1 in 100 people who drink water like that throughout their life will die from the arsenic, ultimately, due to mostly cancers from it," Smith said.
The federal government doesn't regulate wine like it does water, and a spokesperson for The Wine Group, one of the companies named in the lawsuit, told CBS News, "It would not be accurate or responsible to use the water standard as the baseline" because people generally drink more water than wine. He also pointed out that the highest level of arsenic cited in the lawsuit is "only half of Canada's standard for wine, of 100 parts per billion."
The FDA said it only handles contaminates in food and beverages on a "case-by-case basis."
"The industry, we believe, is not properly regulated, but the state of California has recognized the 10 parts per billion is a dangerous amount," Kabateck said.
He's interpreting a California law that requires businesses to warn consumers if their products contain "a chemical known to the state to cause cancer." California's threshold for arsenic is 10 parts per billion, the same as the EPA's water standard, but The Wine Institute, an advocacy group for California winemakers, said the industry already provides warning signs to be posted in retail stores.
The California attorney general's office confirmed that's all the law requires, but some think that's not enough.
"I think that all beverages should aim to meet the drinking water standard of 10 parts per billion," Smith said.
Two other defendants named in the lawsuit responded to CBS News' request for comment. Treasury Wine estates said its "brands are fully compliant with all relevant federal and state guidelines," and Trader Joe's, which sells Two Buck Chuck, said "the concerns raised in your inquiry are serious and are being treated as such. We are investigating the matter with several of our wine producing suppliers."
Kabateck said his ultimate goal is "to get the winemakers to recall these wines, to get them to refund the money that people paid for these wines, and ultimately to clean up the wine industry in California."
Smith said wine makers need to determine where the arsenic is coming from, but in the meantime, "it ought to have on the wine, 'this wine contains arsenic.'"
"To most consumers, that may or may not help them, but it would sure be a big incentive for the wine producer to get down to the drinking water standard," he said.
CBS News also spot-checked and tested the four wines listed in the lawsuit. They were not the same vintages, but the arsenic levels were all considerably lower than BeverageGrades' results. One of them, the Wine Group's Flip Flop Pinot Grigio, came in within the acceptable federal arsenic levels for water.
The others were at or above that limit, including Trader Joe's Two Buck Chuck White Zinfandel, which tested at more than twice that standard.
---
Editor's Note: An earlier version of this story incorrectly identified The Wine Group's Franzia Blush as the wine that the plaintiffs tested at over five times the EPA's limit for arsenic in drinking water. In fact, the wine that the plaintiffs tested at that level was The Wine Group's Franzia White Grenache.
---
Trinchero Family Estates Media Statement
Over the past few days there has been considerable media attention resulting from claims regarding possible health and safety concerns with a number of California wines, including some produced by our company. We have been working very closely with the California Wine Institute and other wineries to quickly assess and resolve this situation which has created unnecessary fear among wine drinkers. This is an industry wide issue, and we take it very seriously and intend to dispute it aggressively.

As a family-owned company for over 60 years, the quality of our products and the health of our consumers is our first priority. Trinchero has always employed sustainability practices and stringent quality assurance testing across the company in our vineyard, winemaking, and production practices to ensure that our products are safe.

The U.S. Tax and Trade Bureau (TTB), the agency that regulates wine, beer and spirits, monitors wines for compounds, including arsenic, as part of its testing program.

In addition to the TTB testing, all of our wines and spirits are subject to comprehensive quality and food safety management systems to further ensure the safety of our products. Our company has been awarded industry certifications including the esteemed SQF (Safe Quality Food Certification), the ISO 9001 (Quality Management System Certification), and the CCOF (California Certified Organic Farming Certification).

All of our wines are below all of these well-established global consumer wine safety standards.

Please be assured that the Trinchero family, as well as the California Wine Institute, dispute these claims and are actively pursuing all remedies to defend against the defamatory statements about our company and our products. We look forward to addressing the situation as quickly as possible so our consumers can confidently continue to enjoy the safe, quality California wines that the company has produced for generations.
Thanks for reading CBS NEWS.
Create your free account or log in
for more features.