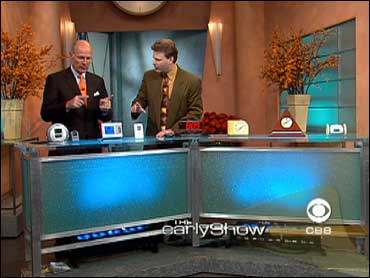 Latest Technology To Get You Out Of Bed
We "fall back" this weekend, setting our clocks back an hour with daylight-saving time ending.
That gives us all an extra hour's sleep, but BestStuff.com Senior Editor David Gregg, who also serves as The Early Show's gadget guy, felt it would be timely to look at some of the newest alarm clocks to help get us wake up.
Homedics SS-5000 Sound Spa Projection Clock Radio with Atomic Clock and Indoor/Outdoor Temperature
Now you can wake up every morning feeling rested and invigorated. The Homedics SS-5000 Sound Spa Projection Clock Radio with Atomic Clock and Indoor/Outdoor Temperature lets you create your perfect sleep environment, while also helping you to ease into your day. At night, set the sound machine to emit a soothing level of white noise to help you relax and slip into a restful night's sleep.
When it's time to wake up, you can set traditional beeping or radio wake-up alarms, or choose from six gentle nature sounds, including ocean, waterfall, summer night, rainforest, thunder, and rain. MSRP: $49.99; homedics.com
Oregon Scientific Color Weather Forecaster with Alarm Clock
Not only does this weather station have a full-color display, it's also easy to operate. Photo image animations are brilliantly displayed with accompanying sound effects. This multi-channel station monitors temperature, humidity, and automatically sets itself to the U.S. Atomic Clock. Advanced settings such as photosensitive dimmer and weekend alarm settings included.
Features include:

3.8 inch Color LCD display

Temperature, time, humidity, barometric pressure readings

Automatically sets itself to the U.S. Atomic Clock

Settings for English, Spanish, French, German and Italian

Five channel capability for remote sensors

Weather forecasts are displayed in animated, color photo images with sound effects

Remote sensor reception range is 165 feet
MSRP: $129.95; oregonscientific.com

Wake & Shake UltraClear Sound Shaping Alarm Clock

Ensuring that you never sleep through an alarm again, this clock uses a strobe light, a vibration pad and high decibel sound to awake even the soundest of sleepers. The large wired vibrating pad can be placed under the mattress or pillow to provide an insistent buzz that works in tandem with your choice of several loud alarm tones (up to 95 dB) and a small strobe light.

An invaluable aid for those with hearing loss, the clock can be used in vibrate-only mode and placed on one side of the bed, allowing one person to sleep while the other is gently awakened at the pre-selected time. The unit can also be attached to a phone jack to alert you to calls when the telephone's ring may be hard to hear.

The clock includes an easy-to-read oversized LC D display, and volume, tone, and vibration controls. Requires one 9-volt battery for power-loss backup. MSRP: $69.95; clearsounds.com

Big Ben Moon Beam Alarm Clock

Is the obnoxious and incessant beeping of your alarm clock leaving you a little grumpy in the morning? Imagine a soft, gentle blinking light waking you up instead. The Big Ben Moon Beam Alarm Clock does just that. If you're worried that won't do the trick, you can rest assured that there's a backup plan. This alarm clock will sound a pleasant and cheery bell in case you don't respond to the blinking light. This retro-styled clock is a replica of the original from the 1940s. Operates on 110v AC electric. MSRP: $42.50; esalton.com

The Zen Alarm Clock

The Zen Alarm Clock's long-resonating Tibetan bell-like chime makes waking up a beautiful experience because its progressive chimes begin your day with grace. When the clock's alarm is triggered, the acoustic chime bar is struck just once … 3 1/2 minutes later it strikes again … chime strikes become more frequent over 10 minutes … eventually striking every 5 seconds until shut off. As they become more frequent, the gentle chimes will always wake you up — your body really doesn't need to be awakened harshly. With a Zen Clock, you're awakened more gradually and thus more naturally. MSRP: $109.95; now-zen.com

Clocky

Clocky is an alarm clock that runs away and hides if you don't get out of bed on time. The alarm sounds, you press the snooze, and Clocky will roll off of the bedside table, jump to the floor, and wheel away, bumping mindlessly into objects until he finds a spot to rest. When the alarm sounds again, you must awaken to search for him. Clocky will find new spots everyday, kind of like a hide-and-seek game. Clocky alarm clocks were designed to reinterpret the common alarm clock into something that is not stressful and obnoxious but amusing and a better fit between humans and technology. MSRP: $49.99; clocky.net

NeverLate 7-Day Alarm Clock

The NeverLate 7-Day Alarm Clock is for college students. This tableside clock radio is designed with a class schedule in mind: 9 a.m. class Monday-Wednesday-Friday? Late lab on Tuesday? No classes on Thursday? No problem! The NeverLate 7-day Alarm Clock accommodates your schedule.

Set it once and forget about it all semester. Never sleep through class again! Seven (one for each day of the week) individual alarms allow you to enter your weekly schedule once — days of fussing with alarm settings very night before bed are over! Class canceled just this Friday? No problem. Turn the alarm off for just that day without affecting the rest of your wake schedule. MSRP: $79.99; americaninnovative.com

Audiovox Thunder Clock Radio (Model#: CE609CR)
Audiovox's latest offering caters to the iPod obsessed masses with an alarm clock that features a universal docking station to accommodate all makes and models of MP3 players. The integrated AM/FM tuner also offers the option of waking to your favorite radio station. Impressive digital sound is enhanced with an enhancement aptly named, Thunder Bass. Features Include:
Docking Port: Shuffle and USB

SD, CF, MS, MMS, Card Slot

Backlit LCD Display

AC:110/220 volt and Battery Backup
MSRP: $79.99; audiovox.com
Thanks for reading CBS NEWS.
Create your free account or log in
for more features.