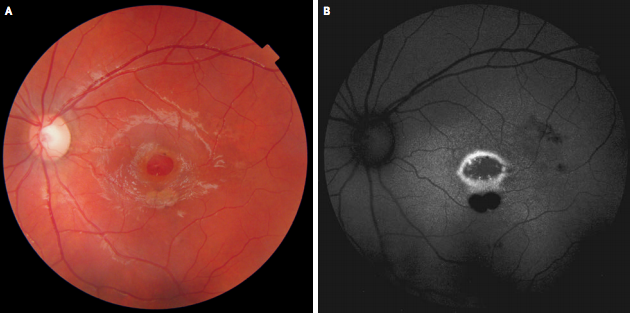 Laser pointer burns hole in young boy's eye
A 9-year-old boy in Greece was left with damaged vision after staring into a laser pointer. His doctors describe the case in a paper published in the New England Journal of Medicine.
The boy's parents brought him to an ophthalmology clinic for evaluation after he complained of decreased vision in his left eye. An examination showed the vision in his left eye was 20/100, compared to 20/20 vision in his right eye.
The doctors also found a "large macular hole" in the retina of his left eye.
"The child reported playing with a green laser pointer and repeatedly gazing into the laser beam," they write. Because of the large size of the hole, the doctors decided on a conservative approach rather than surgery.
They note that while many national health agencies have warned about the potential dangers of handheld laser pointers, and the sale of these devices with greater than 1 milliwatts (mW) of power is restricted in many areas, more powerful laser pointers remain available and are widely sold on the internet.
According to the U.S. Food and Drug Administration, laser pointers pose minimal risk if they meet laser power limits and are used properly. In the U.S., regulations allow laser pointers with outbeam power below 5 milliwatts, while more powerful lasers may not be marketed as laser pointers.
The FDA warns against misusing these devices by pointing them at the eyes or treating them as toys. In fact, the light energy from a laser pointer directed into the eye can be more damaging than looking directly into the sun.
"The FDA is concerned about the increased availability of a variety of laser products that may be used unsafely. Green, blue and violet laser pointers have the agency particularly concerned," the agency said in a statement. "While there are legitimate uses for these laser pointers, they may be altered to become more powerful and unsafe if not used responsibly."
In 2010, a similar case study, also published in the New England Journal of Medicine, documented the case of a 15-year-old boy who suffered severe eye damage after purchasing a high-powered handheld laser pointer on the internet and playing with it in front of the mirror.
At the time, the American Academy of Ophthalmology issued a statement cautioning consumers about the dangers of such powerful devices -- well over the legal limit for laser pointers -- and alerting parents to the harm they can cause.
"Laser pointers of any kind should not be pointed anywhere near the eye or near reflective surfaces where the light can be re-directed," Dr. Rahul Khurana, clinical spokesperson for the American Academy of Ophthalmology, told CBS News. "Eye damage and vision loss can occur when appropriate care is not taken in handling these devices."
He notes that vision loss and damage to the eyes from lasers can be permanent and irreversible.
"Lasers can damage the eyes in several ways, from burning the cornea to causing macular holes, which can lead to permanent vision loss," Khurana said. "Some of these effects are immediate and others can occur years after the initial insult. It is important to see an ophthalmologist or more specifically a retina specialist -- an ophthalmologist with more additional training in diseases of the retina -- to ensure you are not at risk for additional loss of vision."
Anyone who experiences symptoms of pain, burning, redness, tearing or sensitivity to light after using a handheld laser pointer should see an ophthalmologist right away.
The FDA urges consumers to take the following precautions to protect themselves and children from potential hazards associated with laser pointers:
Never aim or shine a laser pointer at anyone.
Only activate the laser pointer when you are using it to point at a nearby object.
Do not buy laser pointers for children. Lasers are not toys.
Before purchasing a laser pointer, make sure it has the following information on the label: a statement that it complies with Chapter 21 CFR (the Code of Federal Regulations); the manufacturer or distributor's name and the date of manufacture; a warning to avoid exposure to laser radiation; the class designation, ranging from Class I to IIIa. Class IIIb and IV products should be used only by individuals with proper training and in applications where there is a legitimate need for these high-powered products.
Thanks for reading CBS NEWS.
Create your free account or log in
for more features.