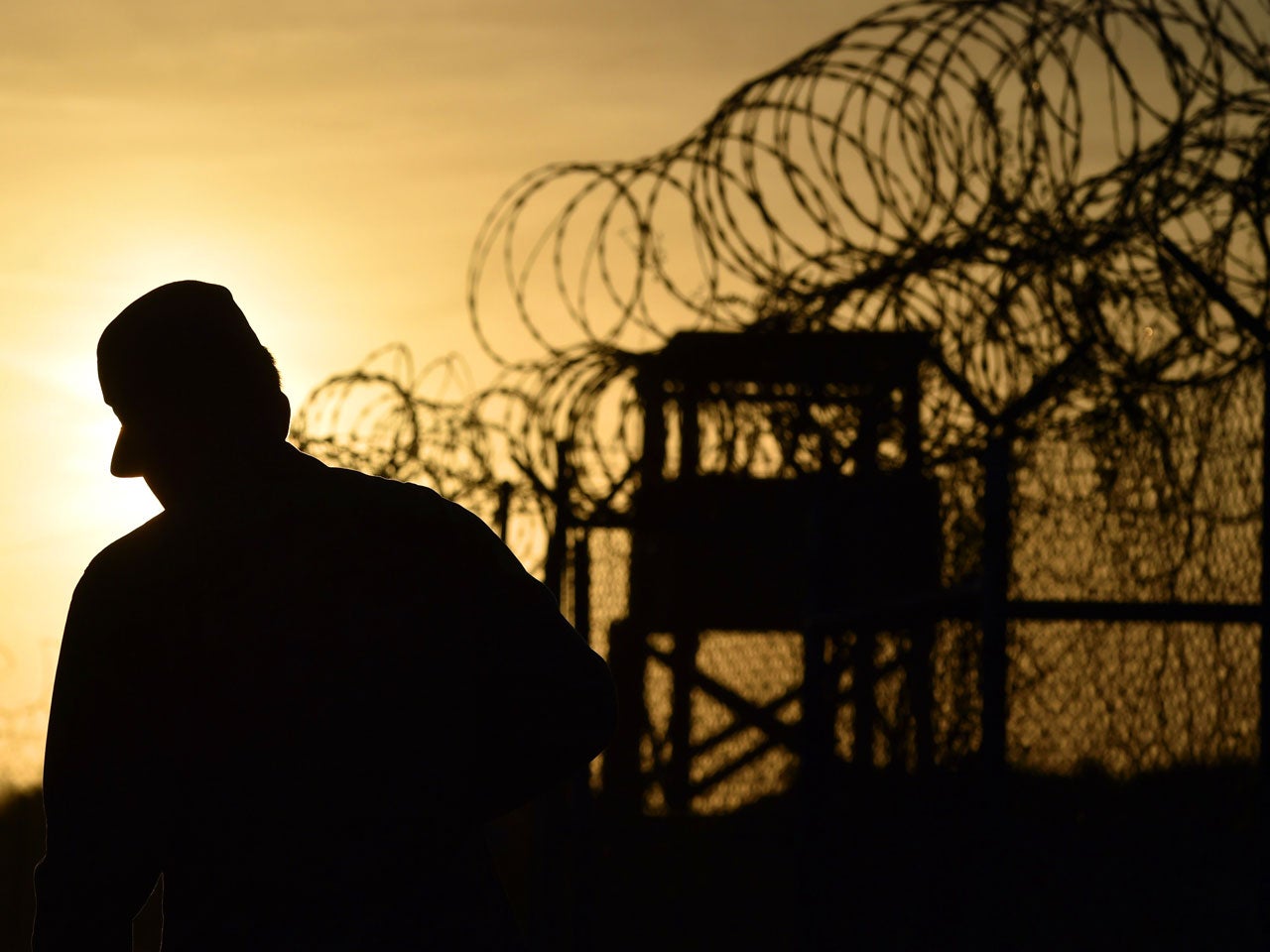 Guantanamo Bay closure effort gets large boost
Early Sunday morning, six Guantanamo Bay detainees will walk out of the military prison to freedom to begin new lives in Uruguay. This is the largest single transfer of detainees out of the prison since President Obama pledged to close down the prison camp after he took office in 2009. It is also the first time that a South American country has agreed to resettle Guantanamo detainees.
The six detainees include four Syrians, a lone Palestinian and a single Tunisian national. None of the prisoners had ever been charged with a crime. Most had been held for more than a decade without trial, and have all been cleared for transfer for some time.
The detainees that the federal government said are being transferred are Ahmed Adnan Ahjam, Ali Hussain Shaabaan, Omar Mahmoud Faraj, Abdul Bin Mohammed Abis Ourgy, Mohammed Tahanmatan, and Jihad Diyab.
There are now 136 detainees remaining at Guantanamo Bay, according to a Department of Defense press release.
In a statement, Cliff Sloan, the U.S. Special Envoy for Guantanamo Closure, thanked the government of Uruguay for taking in the former prisoners.
"The support we are receiving from our friends and allies is critical to achieving our shared goal of closing Guantanamo, and this transfer is a major milestone in our efforts to close the facility," Sloan said.
Among those being transferred is Jihad Ahmed Mustafa Diyab, a Syrian who had been held for 12 years without a trial. He had undergone a hunger strike, and is now party to a federal lawsuit demanding the public disclosure of 28 classified videotapes showing forced cell extraction and forced feedings of some of the detainees. His lawyers contend that the military is using unnecessarily painful procedures in order to coerce them to end their protest.
Uruguay had already offered to resettle Diyab earlier this year but that transfer was halted due in part to domestic political issues. While Uruguayan President Jose Mujica had formally agreed to the transfer, Defense Secretary Chuck Hagel let the paperwork sit on his desk from March until July. According to a US official, it took nearly four months before he finally signed off. That perceived "slow-walking" of releasing low-level detainees became a sore point between Pentagon and the White House. In May, National Security Adviser Susan Rice sent a three-page memo to Hagel ordering him to report on progress every two weeks.
By that time Hagel signed off, it had become politically difficult to accept these detainees because the Uruguayan presidential campaign was in full swing. Mujica, who was not on the ballot, leaves office in the beginning of March next year, and he is honoring the pledge he made, in part due to his own personal history as a former guerilla and political prisoner in his own country.
As for these six Guantanamo detainees, the unstable political conditions in their native countries mean none of them are able to go home, although President Mujica's administration has pledged to find and reunite the prisoners with their families. Many of their family members are living in refugee camps because of the ongoing war in Syria.
Choosing where to resettle detainees cleared for release has been tasked to a small team of lawyers and diplomats at the U.S. State Department who have spent years courting, cajoling and convincing other countries to accept these detainees. That job is particularly difficult because the Obama administration is asking other governments to do what it cannot. Congress has prohibited the transfer of any Gitmo detainees to U.S. soil even if they have never been charged.
The Obama administration would like those prisoners who could face trial to do so in the U.S. federal courts and potentially serve time in supermax prisons on American soil. The administration says that it costs U.S. taxpayers around $3 million a year per prisoner to keep them at the Guantanamo Bay facility. In comparison, it costs tens of thousands of dollars to keep them in a supermax prison.
Thanks for reading CBS NEWS.
Create your free account or log in
for more features.