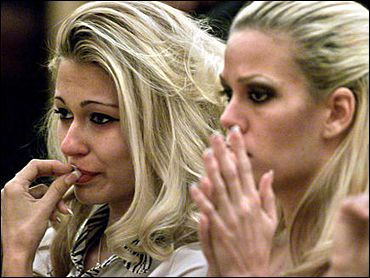 Lap Dance Law Riles Strippers
Exotic dancers and strip club supporters are up in arms over a new ordinance restricting lap dance gyrations and barring customers from stuffing bills in G-strings at clubs outside Las Vegas.
"It's the image of Vegas," strip club customer Tony Anziano, 25, said Wednesday before the Clark County Commission voted 5-1 to adopt lap dance restrictions. "Now they're trying to make it like it's some sort of Disneyland."
Lap dances are illegal in Clark County, where Las Vegas is, but the law is so vague that it's rarely enforced in the clubs in the county outside the city.
Things are looser in Las Vegas itself. Lap dances are permitted in six clubs in the city, and tips may be slipped into G-strings -- though fondling is off-limits. The new county rules will not apply within Las Vegas.
An 18-month undercover police investigation had found lap dancing led to simulated sex acts, "excessive grinding" and, in some cases, prostitution. County Commissioner Yvonne Atkinson Gates wanted to change that, so she proposed banning dancers and customers from touching each other's buttocks, genitals or breasts during lap dances.
As of Sept. 1, lap dances will be legal, but dancers won't be able to touch or sit on the customer's genital area. They are allowed to touch and dance on a customer's legs. Stuffing dollar bills in G-strings will be prohibited.
Most people attending the commission's meeting were displeased with the new rules.
"You're confusing sex with titillation," Dr. Jeffrey Arenswald told the commission. "You have some repressed sexual ideas."
At that, Gates banged her gavel.
"I'm not doing this because of my sexual anything," Gates said. "I'm doing this because I think it's right."
Commission members viewed two surveillance tapes of undercover activity at strip clubs before voting. The public watched the racy videos, too, in a separate room.

Thanks for reading CBS NEWS.
Create your free account or log in
for more features.