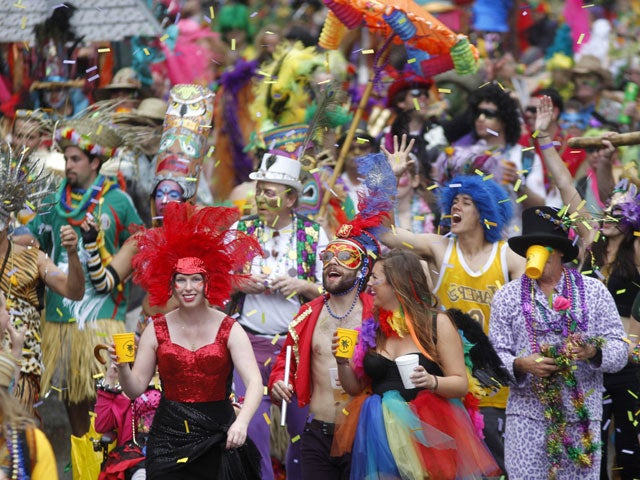 Laissez les bon temps rouler!: Learn your Mardi Gras history
(CBS) It's Mardi Gras! The annual bacchanalia that caps off weeks of Carnival festivals is in full swing. Take a moment to brush up on your Mardi Gras history with our easy primer. And don't forget: Let the good times roll!
The start of Carnival goes all the way back to 1582, when Pope Gregory XIII made it an official holiday. When the weather's chilly and people have nothing but Lent to look forward to, they need a way to cut loose, right? That's what Mardi Gras is all about.
New Orleans started celebrating almost as soon as it was established. By the 19th century, Carnival balls and parties were major events. By 1838, parades were introduced as well, as the Times Picayune explains.
Mardi Gras itself means "Fat Tuesday" and is always the day before Ash Wednesday, the official start of Lent. "Fat" in this case means jolly and indulgent - but there's plenty of king cake around to help out as well.
King cake? It's one of many Mardi Gras necessities. King cake is a tradition for several Christian celebrations, but in New Orleans it's all about Carnival. The gooey, sugary treat holds a surprise: a plastic baby. Depending on who you ask, the baby is a symbol of good luck or a sign that you're the one buying the next cake.
When picking your favorite Mardi Gras parade, make sure you're looking for "Krewes," not crews. New Orleans is eccentric if nothing else. The first Krewe was Comus in 1857. The second Krewe didn't come along until 1870, but today there are more than 50.
Don't worry if your Cajun French is rusty: "laissez les bon temps rouler" (pronounced "Lay-say le bon tom roo-lay") just means "let the good times roll." Now you know.
Thanks for reading CBS NEWS.
Create your free account or log in
for more features.