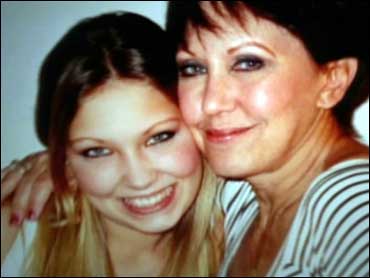 Produced by Ira Sutow and Allen Alter
This story originally aired Jan. 24, 2009. It was updated on June 6.
On Sept. 13, 2006, police in the upscale community of Newport Beach, Calif., were called to the Newport Harbor Yacht Club after a report of a body in the water. The victim, a woman, had been brutally murdered, stabbed 52 times.
Identifying the victim was no easy task - investigators had to resort to using serial numbers found on her breast implants to come up with a name: Barbara Mullenix, age 56.
Why would somebody want Barbara dead?
Nineteen-year-old Rachael Mullenix lights up when she recalls her childhood. "I had a lot of fun with my mom. She had a wild and free spirit, fun to be around," she tells 48 Hours Mystery correspondent Erin Moriarty. "I was spoiled. I was. It was like Disneyland. My life was really, really, really good."
The only child of Bruce and Barbara Mullenix, Rachael says she always felt a special connection to her mom. "We were closer than most mothers and daughters."
It was Barbara's outgoing personality that had caught the attention of Bruce back in the mid 1980s. "She was very opinionated. She wasn't afraid to tell somebody what she thought. To me, that was attractive. It was different. You know, I kind of liked it," he remembers. "I was taken by her."
The couple married in November 1987. Bruce was nearly 28 at the time. Barbara was nine-and-a-half years older. It was her third marriage; her first two had failed. The couple were living in Oklahoma City, Okla., and within a short time they had Rachael.
Bruce says the marriage began to crumble when Barbara began drinking more heavily. "Barbara had a problem," he says. "When she got more and more into the drinking, things started to get bad."
The couple divorced in 2002. Bruce moved to California, free of Barbara - or so he thought. "The alimony and the child support my dad was giving her was not enough to support herself," Rachael says.
So in 2005, three years after the divorce and against his better judgment, Bruce helped his ex-wife and daughter move cross-country and into his small apartment.
Bruce acknowledges it was a bad living situation. But it wasn't all bad: they were living near Hollywood, and Barbara was star struck. She soon found part-time work as an extra in Hollywood movies and TV shows. She landed small roles in shows like "CSI."
Whoever murdered Barbara not only stabbed her dozens of times, they also dumped her body in a taped-up cardboard box, which had fallen apart in Newport Harbor.
Once the victim was identified, Detectives Steve Mack and Joe Cartwright were wondering why no one had reported her missing. They were eager to get over to Bruce and Barbara's Huntington Beach apartment.
"She was wrapped in bedding. It appeared to me that she had been killed on a bed and simply wrapped up in those sheets," Cartwright remembers.
No one was home when police arrived, but detectives got a search warrant and went in. "There was nothing immediately noticed when you walked in," Mack remembers.
But they did find something strange in an upstairs bedroom: a collapsed bed frame with no bed, and on closer inspection, some blood spatter on a wall that Mack says was ultimately discovered by the forensic lab.
Detectives realized that someone had tried hard to clean up the scene in that room. "I think that the reason that the mattress and the box spring were missing is because they were saturated in blood," Mack says.
Police were now convinced that the apartment is where Barbara was murdered. That fact, and the ferociousness of the attack, helped confirm for detectives that this was no random killing and that Barbara knew her assailant.
Attention immediately focused on Bruce. "No, I understand. I'm the ex-husband. We're living in the same condo," he tells Moriarty. "I have watched crime shows. I've watched '48 Hours.' …The ex is usually the first person you go to."
The detectives urgently wanted to speak with Bruce, but as far as they knew, he was missing, which made them even more suspicious.
But one day after Barbara's body was discovered, Bruce did show up at the condo, telling detectives that he'd been out of town on business and that he became worried when he couldn't reach Barbara or Rachael.
And so he says he rushed home, only to be horrified at what he discovered.
But Steve Mack, the lead detective, says Bruce reacted calmly when told his ex-wife had been murdered. Too calmly.
Three years after a painful divorce, Bruce and Barbara, now just roommates, along with their teenage daughter Rachael, were all living under one rather dysfunctional roof. Rachael says there were arguments, mostly about money.
"She would say somethin' to Rachael, like, 'Well, you know, your dad is spending too much money. So he's gonna whore you out on the streets so he can pay the bills,'" Bruce says.
Asked why he let Barbara move in with him in the first place, Bruce tells Moriarty, "Rachael begged me, Rachael asked me."
But, Rachael says, things went way beyond that. "I was known at school as the girl with alcoholic parents."
Both parents, but her mother was what they call a "mean drunk."
So it was no shock that Rachael turned to alcohol to escape her parents' divorce. "I started drinking. I didn't know what else to do, where else to turn."
She turned on herself, cutting her body with razor blades.
Rachael's friend Kelsey Douglas was often around the Mullenix household in those tense teenage years. "She tried really hard to please her mom. And when she couldn't she just cried. It just made her really upset. I never heard her say anything bad about her mom. She loved her mom. She really did."
Kelsey says she would have described Barbara's behavior toward Rachael as mentally abusive.
But Rachael says she never really blamed her mother. "My mom had a really difficult life ever since she was born. She had a really difficult life."
For example, Rachael knew that when her mother was a teenager she had been raped. Perhaps that's why Barbara was so understanding when at 15, Rachael herself became pregnant and eventually had an abortion.
But little things would send Barbara into a rage. Detective Mack wondered: did Barbara's drinking cause Bruce to snap and kill her?
There was one problem with that theory: Bruce's story that he was out of town the night of Barbara's murder checked out. That left investigators at square one. They took a closer look at what was going on inside the Mullenix home and learned Rachael had a new boyfriend, Ian Allen, and Barbara was feeling left out.
"She began to get a little more worried about being alone at some point and that's why she was trying to control Rachael," Mack says. "And I think that was the big source of the friction between the two."
Ian Allen, 21, was four years older than Rachael. "He was a great catch," Rachael says. "I fell hard and fast."
Early in the budding relationship, Ian would do chores for Barbara, then hang around their house. But the atmosphere soon changed. "As things became more intense and Ian and Barbara started to compete, if you will, for control of Rachael, then that's when Ian started to get a taste of who Barbara really was," Bruce says. "Barbara was very intimidating."
Within a few short months, Rachael, then 17, and Ian, 21, announced their engagement, and Rachael pushed her parents into signing a very unusual document. "In July of 2006, they wrote a note to whom it may concern - I give permission to Ian Allen to date our daughter," Detective Mack explains.
Ian carried it in his wallet, not wanting to risk arrest for statutory rape.
Bruce says Ian was adding to Barbara's anxiety over losing Rachael. "The more serious that Rachael was getting with Ian, Barbara thought that this idea that she's gonna kind of have Rachael to help her survive after Rachael turns 18 or when my money stops, I think that was, now, being threatened. And the threat was Ian," Bruce says.
Then late one summer night in 2006, when Rachael failed to meet her strict 1:00 a.m. curfew after a date with Ian, her mother exploded.
"My mom shows up at his house. And just humiliating," Rachael remembers.
She says her mom was angry and making a scene. Asked how Ian felt about Barbara showing up, Rachael says, "Ian was livid. He was livid."
Just ¬four days later, Barbara's body was found floating in Newport Harbor. Police wanted to question Rachael and Ian, but they were nowhere to be found.
"If Ian did this, then Rachael's in danger. And that's why she didn't call me. That's the first thing I thought. 'Where is Rachael?'" Bruce says.
Detective Mack says they couldn't find Ian. "I put out an all points bulletin to be on the lookout for Ian and Rachael and their pickup truck."
Even veteran detectives were shocked by the brutality of Barbara's murder. Just as disturbing is where the clues were leading. With Barbara's ex-husband Bruce cleared, Det. Mack began looking at two other suspects: Rachael and Ian.
"And he said, 'I think Rachael and Ian did it,'" Bruce remembers. "I couldn't process that."
He says he doesn't know where Rachael was at that moment, and that she had not tried to call him.
Both Rachael and Ian had been missing since Barbara's body had been found. The detectives believed that wherever they were, they were together.
Investigators got a break when they checked the computer at Ian's home. They discovered that just hours after the crime someone had printed driving directions to Tampa, Fla.
Cops got another break when they learned that Ian's credit card had been used at a gas station in Sulphur, La. - about 1,700 miles from home. Surveillance cameras there recorded his truck pulling up to a gas pump. Authorities began moving in.
"So we called the next town over, which is Lafayette Parish, and they set up on the I-10, looking for Ian's truck. And he was stopped," says Orange County, Calif., prosecutor Sonia Balleste.
"I was thrown on the ground, handcuffs on," Rachael remembers. "That was a very scary situation, treating me like I'm some criminal."
Forty-eight hours later, detectives Cartwright and Mack were in Louisiana to question Rachael and Ian.
"You are under arrest for the murder of your mother," Det. Mack told Rachael in a recorded interrogation.
"Do you know that I was kidnapped? Do you know that?'" she replied.
Rachael says she was shocked she was going to be charged with murder, and insists she didn't kill her own mother. "She claimed that Ian Allen had murdered her mother," Mack says.
"I was asleep. It was the middle of the night. I heard my mom scream my name. I ran into her room and I saw Ian standing there on top of her, stabbing her. I tried to push him off and he pushed me off and knocked me out," Rachael told investigators during her interrogation.
Rachael claimed she remembered nothing after that until she regained consciousness in a nearby motel, bound and gagged by Ian. But when police checked out her story, Mack says there was no record of them being there.
"She doesn't have a single wound to be consistent with even being shoved against furniture," Balleste says.
By now authorities were beginning to believe Rachael had made up the entire story. She continued to insist that she was only a bystander to murder, that Ian forced her to help clean up the crime scene, dispose of her mother's car and body, along with several bags of her mother's personal belongings. Rachael says Ian's plan was to make it appear as if Barbara had suddenly moved away.
"And you had a woman who actually wouldn't be missed. …She didn't have a job that she had to go report to every day. She didn't have that sort of interaction with her neighbors," Balleste says.
The prosecutor says Rachael was no kidnap victim. In a surveillance video taken at the Louisiana gas station, Ian is seen using an ATM, while Rachael is be seen freely roaming about the store. "And then, going about her way, meeting up with Ian again, sort of in a very loving manner," Balleste explains.
Asked why she was so calm, and didn't ask anyone for help or leave a note for someone, Rachael says, "Nobody knows what they're gonna do in this situation. Nobody. And I was scared.' …I didn't know what he was gonna do next."
But Detective Mack doesn't believe Rachael was just trying to keep Ian comfortable and prevent him from getting angry.
Rachael says that she was only cooperating with Ian because he had threatened her with a gun he'd taken from his home. But that's another claim, the prosecutor says, that doesn't hold up.
"When you examine the gun for DNA, the major contributor is Rachael Mullenix," Balleste says.
But when Ian Allen meets with California detectives, incredibly, he backs up Rachael's story. "Ian told me that he was, in fact, totally responsible for the attack on Barbara Mullenix," Mack says.
"I was going there intending to threaten her. To scare her. And it got out of control very quickly," Ian told police in a taped confession. "I held the knife right to her throat and she started screaming: 'Rachael, Rachael, help me! He's trying to kill me.'"
"Why would Ian kill Barbara Mullenix?" Moriarty asks Mack.
"Ian was being fed part truth and mostly lies by Rachael that her mother was out to ruin his life and his family's life," the detective says.
Ian refused to talk to 48 Hours, but authorities believe he continued lying to them to protect Rachael.
"She didn't need to be locked up or anything. I made her come with me, so if I can get her back home to her dad, where she belongs," he told police.
"She didn't care what happened to Ian Allen anymore. Because he's no use to her. Now she's been caught," prosecutor Sonia Balleste says. "Rachael Mullenix thinks that people are disposable to her."
Asked how she'd describe Rachael, Balleste says, "A sociopath. One of the most manipulative people I've ever met."
Not only does Balleste think Rachael participated in the murder, she believes the sweet-looking teenager planned it. But Rachael - even after being caught in a lie about the kidnapping - insists she would never kill her mother.
"But if you would lie to the police then why should people believe you now?" Moriarty asks.
"Really look and evaluate the evidence," Rachael replies. "They have no proof that I killed my mom, because I didn't."
But is Rachael lying? Is it possible this teenage girl helped murder the mother she claims was the most important person in her life? Rachael will get a chance to tell her story to a jury. She and Ian will both face trial, separately, for first degree murder.
Nearly two years after both Rachael Mullenix and Ian Allen were arrested for murdering her mother Barbara, Rachael is the first to go on trial.
Still a teenager at 19, is Rachael a cold-blooded killer or a battered girlfriend who watched helplessly as her boyfriend committed murder?
"Ian was the biggest mistake of my life," Rachael says. "He was abusive. …It was like I was property and somebody was hurting his property or threatening to take his property away. It just was not gonna happen."
"I'm behind her 100 percent. I have been from the day she was born up until now. None of that's changed," her father Bruce says.
But prosecutor Sonia Balleste describes a very different young woman. "Rachael Mullenix is an active participant in her mother's murder. …She's no typical 17-year-old. This one's 17, going on 42."
While Rachael's attorney David Cohn insists that Ian Allen - and only Ian Allen - murdered Barbara Mullenix, he knows convincing the jury won't be easy. "Well I went into this case hoping she wasn't guilty of anything. I realized that technically, my client is guilty of accessory after the fact," he explains. "And that definitely hurts in this case."
Cohn has to explain to that jury why Rachael helped Ian clean up after the murder. "Just like a minefield there were many landmines laid in front of me in this case," he admits.
Start with the crime scene itself. "The cleanup involves getting rid of the bed, which had to be a complete mess, and burning that mattress, getting that mattress and box spring out of the house," Balleste says.
The prosecutor says it took two people to get rid of the evidence: Ian and Rachael. The bed's burning remains were found not far from the condo. And there's more: "She cleaned up her mother's blood, as evidenced by a sponge that contains her mother's blood and her DNA," Balleste tells the jury.
Police found that sponge on a nightstand in Barbara's bedroom. Still, police could find no hard physical evidence that directly links Rachael to the murder of her mom, either planning it or carrying it out.
"Isn't it possible that Ian planned this whole thing on his own and carried it all out?" Moriarty asks Det. Steve Mack.
"Not if you read all the text messages, no," he replies. "In the three days leading up to the murder there were over 464 text messages from Rachael to Ian's phone."
Mack says one text message, in particular, points directly at Rachael's involvement. "We have two options. Run or Tuesday," he reads, "or there's another option, you come over and apologize to my mother."
"Run or Tuesday" - Mack says the words are part of a code. "Tuesday could've been their word for murder. We either run or we kill my mother," he says.
Barbara was murdered on a Tuesday.
But Rachael insists the word "or" in "run or Tuesday" is just a typo. She says the message should have read "run on Tuesday." There was a plan, she says, but it wasn't to murder her mom. "My plan was to run away. That was my plan. If he had another ulterior motive, I didn't know about it."
Rachael's fate may hinge on how jurors view that one word in her message to Ian. Was it part of a code for murder, or just a simple typing error?
"Jurors, for them to believe that she was not guilty of conspiring to kill her mother or killing her mother, they were gonna have to hear it from her," Cohn says.
So Rachael takes the stand to try to explain what happened on that horrendous night of the murder. "I was gonna wait until my mom was asleep," she tells the jury.
"I would call him and tell him to come get me. That was the plan," Rachael tells Moriarty. "He literally shows up outside my bedroom door."
"It freaked me out. My mom had woken up," Rachael says. "She opened the door. She said, 'What are you doing here? I'm gonna call the police and say you're trying to kidnap my daughter.'"
On the stand, Rachael tells jurors, "She turned around, walked back into her bedroom. I just assumed he was gonna go in there and just try to calm her down before anything happened. But I heard a struggle. So I went in there, and I walk in, and I see my mom on her bed, and Ian is stabbing her in the legs 'cause she's trying to kick him off."
That's Rachael's version, but does her story match the evidence? Pathologist Sean Enloe, who did the autopsy on Barbara Mullenix, says Rachael's mom was stabbed more than 50 times, and that at least three knives were used in the murder, including a folding pocket knife that belonged to Ian, a longer knife that was never recovered, and a butter knife penetrating deep into Barbara's skull.
"I believe it is more likely that it was two assailants than one and that it could have been as few as maybe five minutes for the whole encounter, but I don't know for sure," Enloe says.
Rachael insists she was not involved, but claims she can't remember the actual stabbing. Asked how one person used all these knives, Rachael tells Moriarty, "I couldn't tell you. …The only thing I thought about was getting him away from her. I tried pushing him. I tried pulling him away. I tried."
"How did you manage not to have one single cut on you if you're really trying to fight him?" Moriarty asks.
"He wasn't trying to stab me. He was trying to stab her," Rachael says.
Rachael told the court she assumed her mother was dead when she stopped moving and that she didn't consider that her mom might just be unconscious due to the loss of blood.
"You don't know that she's dead. Maybe there's a chance to save her? Did you try to call 911?" Moriarty asks.
"No," Rachael says.
Asked if she took her mother's pulse to see if she was dead, Rachael says, "no."
She says she didn't run out for help because she was scared. "It's like I freeze in fear."
"Was there a time after her mother was murdered that she could've either gone for help, called for help?" Moriarty asks prosecutor Sonia Balleste.
"Numerous. Endless opportunities," she says.
Some four hours after her mother's murder, left alone in the condo while Ian was getting rid of evidence, Rachael finally picked up the telephone. But she didn't call her dad or the authorities. She called Ian. Rachael also admitted in court she texted Ian "I LOVE YOU."
With no physical evidence tying Rachael to the actual murder of her mom, she hoped the jury would never be able to convict her of first degree murder. "I was hoping they were going to the evidence and really trying to understand the case," she says. "I had hopes. I had small hopes."
So did her high school friend Kelsey Douglas. Kelsey cannot believe Rachael could help kill the mother she had always loved. She doesn't think Rachael might be involved. "Not at all. Didn't even cross my mind when he said it. In fact I stood up and I'm, 'No way.'"
If Rachael did love her mother, why would she stand by and allow someone else to kill her? And then help him clean up and run away with him?
At 48 Hours' request, Dr. Al Ravitz, a child psychiatrist, reviewed documents from Rachael's trial, including testimony of a defense expert who told the jury Rachael suffered from a borderline personality disorder.
"When she said to me she really loved her mom, she meant it at that moment?" Moriarty asks.
"Yes, absolutely. She meant it. She loves her mother. But she also hates her mother when her mother frustrates her," Dr. Ravitz explains. "People with borderline personality disorders engage in impulsive, typically self-destructive behaviors, but destructive behaviors as well."
While Ravitz has not treated Rachael, he says that typically those with a borderline personality disorder are unable to plan for the long term. "She may have been the instigator in the moment, but I don't think was the mastermind. She wasn't Lex Luthor here," the doctor explains.
And, like others with the disorder, Rachael was terrified of being abandoned. "And that terror drives the great majority of their behavior. And they're gonna do anything they can to keep you around," Ravitz says.
"Including murder. If she wanted to keep Ian. If, in fact," Moriarty remarks.
"Right. Yes," Ravitz agrees.
But Det. Mack says you don't need fancy psychological terms to describe Rachael. "She's evil. She's the most evil 17-year-old girl I've ever spoken to in my life."
What really matters is what the jurors believe, and it took them three long days to reach a decision: guilty of first degree murder in the brutal stabbing of her mother, Barbara.
"I heard him say 'guilty of first-degree murder.' And I heard my grandma scream out. That's pretty much all I heard," Rachael remembers.
Prosecutor Sonia Balleste, on this case for two years, felt relief. "What's really scary about Rachael is how young she is, and how in a way, criminally sophisticated she is."
But Rachael, who is appealing the verdict, insists the jury got it all wrong. "I'm just a young girl that dated the wrong guy," she says. "I didn't do it. I know I didn't do it. My mom knows I didn't do it."
Nearly three months after trial, Rachael was sentenced to 25 years to life in prison. Her first chance at parole will be in 2030, when she's at least 41 years old. Her father says nothing can change how he feels about her.
Asked if he still loves his daughter, Bruce says, "Completely. And I always will. I'm very proud that she's my daughter. Very proud."
And as Rachael's future stretches before her, it's not her broken-hearted father she seems worried about, or even the terrible tragedy of her mother's death. Rachael remains focused on herself. "What do I have to look forward to?" she asks. "The dreams of me wanting to have a family and getting married and going to college, they're gone.
"I'll be an inmate now," she adds.
Ian Allen was also convicted of first-degree murder, and sentenced to 25 years to life in prison.
Both Ian Allen and Rachael Mullenix are appealing their convictions.
Thanks for reading CBS NEWS.
Create your free account or log in
for more features.