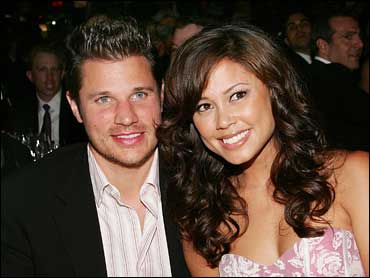 Lachey And Minnillo Open Up About Photos
Nick Lachey and Vanessa Minnillo are talking about risqué photos of them that have surfaced in a tabloid magazine.
Shutterbugs snapped photos of the pair making out in a hot tub while on a private vacation in Mexico.
"This is the girl that I love," Lachey says. "It's tough to see someone you care about be unfairly judged. It's hard for me as a man to see my girl go through that. Everybody said it was a scandal. Where's the scandal? I was in Mexico with my girlfriend of a year, celebrating our anniversary on a private vacation. It's not like I was caught with a Mexican hooker."
Adds Minnillo: "It was embarrassing. But we have done nothing wrong."
On the relationship front, Lachey, whose divorce from ex-wife Jessica Simpson was finalized this time last year, tells the magazine that he and Minnillo are in a "real relationship" with "real feelings." Lachey also tells OK! that he and his ex haven't kept in touch.
As for marriage, Lachey says he and Minnillo aren't looking too far ahead. "The 'M' word has been mischief lately! No, we¹re enjoying each other's company and we're very happy, but we¹re not looking too far ahead. The future will be what it will be. We'll see where it goes," he says.
Lachey says he learned a lot from his failed marriage.
"Now, I'm extremely happy with where my life and my relationship are going. You can't let what happened in a previous chapter of your life dictate what happens in the next chapter of your life," he says.
Minnillo also opened up about the other photo scandal that she was involved in recently in which she and Lindsay Lohan were shown playing around with knives.
"It was a tough time. I want people to see me for who I am. When a photo like that gets more press than what you do, it's sad," she says. "Nick said to me, 'This is one bad chapter in a book of your life.' It was a period of seconds, over a year ago. Yes, of course, it was bad judgment. Yes, of course I was embarrassed."

Thanks for reading CBS NEWS.
Create your free account or log in
for more features.