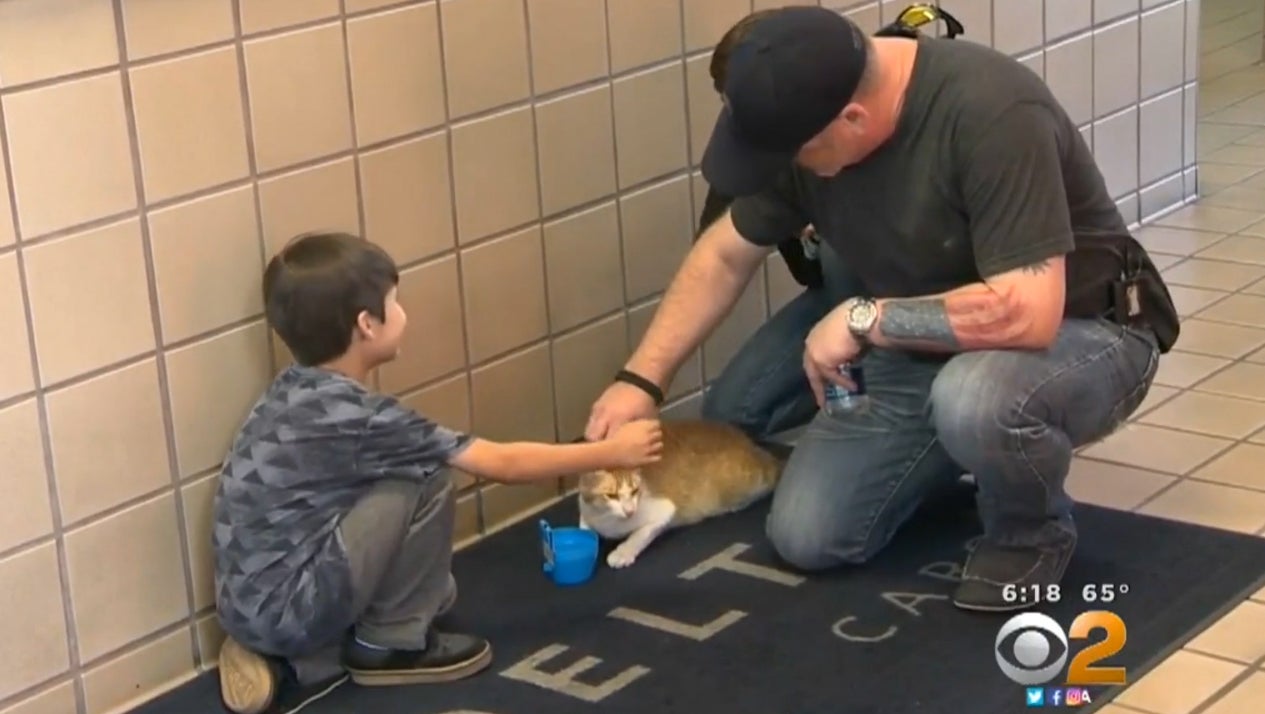 LA veteran reunited with cat he left behind in Iraq
LOS ANGELES -- CBS affiliate Los Angeles had cameras rolling when a local veteran was reunited with the little kitty he had to leave behind in Iraq.
As baggage handlers carried him to his old friend, the tabby meow-ed up a storm, and that's fitting. His name is Mr. Meowgi.
"Every morning, when we could pull up, he would run up from his little shelter and he would just meow his head off," said Brad VanCleave.
Mr. Meowgi arrived at the Delta LAX cargo area to be reunited with the man who helped rescue him in Baghdad.
"In July of 2015 I saw a baby kitten and he stuck his head out from one of the shipping containers. And we started feeding it and his mom."
VanCleave, a Navy reservist from Murrieta, was working as a government contractor at the Baghdad International Airport when the two became fast friends.
"It's kind of a neat little feeling to know that you're arriving at your work site and you're greeting by this meowing little baby, and he's chasing after you."
Mr Meowgi's mom abandoned the kitten but VanCleave couldn't do the same. When it was time for him to return home to his family, the kitten stayed on his mind.
"I knew if I left him there and didn't bring him back" says VanCleave, "the chances of him being alive when I got back were pretty slim."
The SPCA International and Operation Baghdad: Pups made this reunion possible. It was by no means a fast journey. Mr. Meowgi left Baghdad back on March 27, he headed to Erbil, Iraq, then it was on to Frankfurt, Germany. Then New York before arriving in Los Angeles to meet his new extended family.
"Im pretty excited," said one of VanCleave's sons.
Mr. Meowgi will now head home where there is more fur company -- another cat and a dog.
VanCleave expects peace among the critter VanCleaves.
"No, wasn't worried at all," he says.
He's already captured the human hearts.
Mr Meowgi may have come from a war zone but he was and always will be surrounded by love.
"People who care for cats, whether they're on deployment, when they're that attached to an animal, I wouldn't do anything less than bring him back. "
Thanks for reading CBS NEWS.
Create your free account or log in
for more features.