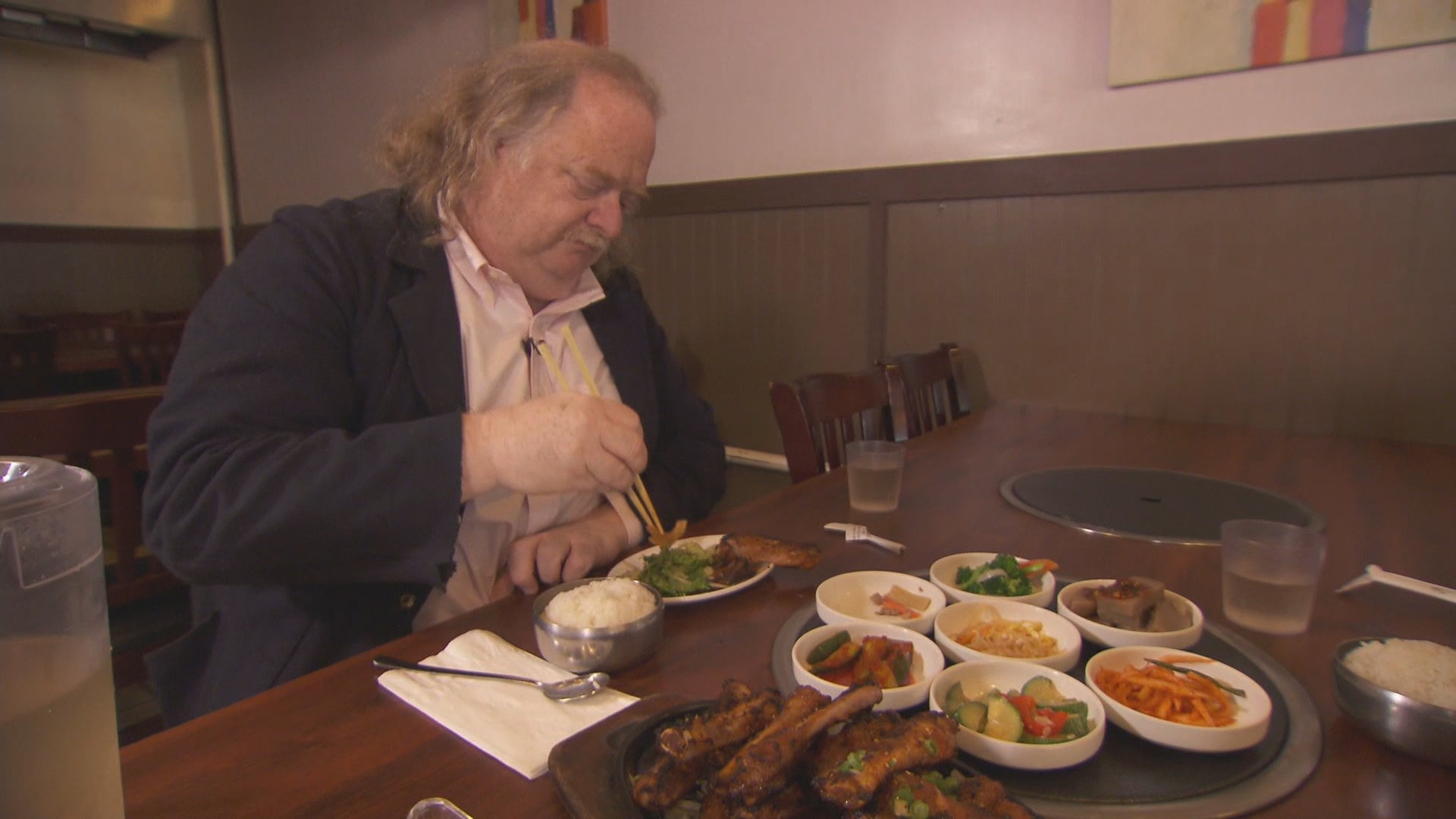 Digest the "City of Gold" with L.A. Times food critic Jonathan Gold
Jonathon Gold looks the way you'd expect a food critic to look - happily plump, at home with a knife and a fork.
"Well, I've had to be on a diet, but it's not like I've done it," Gold said, laughing.
His passion for food is infectious. If you follow him on his restaurant rounds, you'll find yourself eating just about anything. The Los Angeles Times writer has been exploring food for 30 years, but still finds something interesting every day, reports CBS News correspondent Lee Cowan.
"I still get surprised, and I will continue to get surprised, I think," Gold said.
His reviews are like nothing you've ever read. He once compared the loose contents of a taco to Beyoncé spilling out of a tight jumpsuit.
He grew up in south Los Angeles and sees the city's food as its connective tissue - the spiritual fabric on which he draws for his readers the cultural map of his hometown.
"I try to give people the tools to look at their entire city the way that I do," Gold said.
Gold celebrates the good that few others do. In fact, you're most apt to find him at a food truck or a strip mall.
Regional cuisine, he said, is more gritty, more authentic and interesting to write about. And he should know -- he's the only food critic to ever win a Pulitzer Prize. He's also currently starring in his very own documentary, "City of Gold," which documents how his arrival in some restaurants can strike fear in the hearts of chefs. Although he is rarely mean, if he doesn't like the food, he generally just does not write about it.
When Gold is not eating, he's driving, crisscrossing his vast gastronomic territory in a green pickup truck. But it was years ago in a metro bus where Gold's food fascination took a turn. He was fresh out of UCLA when he decided to see if he could eat at every restaurant along Pico Boulevard.
"Everybody's got to have a hobby, right?" Gold said.
Pico is a ribbon of concrete that cuts straight through a vast array of L.A.'s ethnic pockets. Here he could experience the world, one bus stop and one dish at a time.
"You drive down the streets and you see neighborhoods that look pretty monolithic and when you start observing them on a block by block or business by business level, it turns out to be much more of an interesting mosaic," Gold said. "I mean, Pico is L.A.'s back porch."
One of those Pico back porch restaurants is a Guatemalan seafood place. A good word from Gold can put an unknown hideaway like this on the culinary map overnight.
"Wonders for us ... for everybody!" said the owner of La Cevicheria restaurant.
But Gold said he tries not to think about the power he has to make or break a restaurant.
"I get to make people who do their jobs so superbly well, a little bit more prosperous, and that's a nice thing," Gold said.
Gold is also as much a food critic as an anthropologist on a quest to search out the foods that define us.
"I can't think of anything more enjoyable than sinking into a new restaurant in a new part of town for the first time, and just seeing what's going on," Gold said.
And he enjoys it so much, he said he'd probably do his job without getting paid.
"Don't tell my boss," he joked.
Thanks for reading CBS NEWS.
Create your free account or log in
for more features.