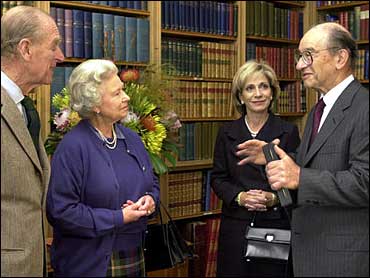 Knighted, But Not 'Sir Alan'
U.S. Federal Reserve Chairman Alan Greenspan received an honorary knighthood from Queen Elizabeth II on Thursday and said he would always cherish the honor.
Greenspan, who has steered the U.S. economy through four presidencies, was given the honor in recognition of his contribution to global economic stability.
The 76-year-old economist, accompanied by his wife, NBC-TV correspondent Andrea Mitchell, at the queen's Balmoral estate in the Scottish Highlands, said, "I am deeply appreciative of this honor which I shall always cherish."
"It's a very unusual day for an economist," he said, as he received the honorary knighthood in the softly lit library of Balmoral Castle, which looks out onto the royal rose garden and the valley of the River Dee.
He joked with the queen and her husband, Prince Philip, grumbling that he was tired because the "British government put me to work yesterday."
The economist, who arrived in London on Wednesday, made a series of speeches to business leaders and dignitaries at both the Treasury and the Bank of England. Treasury chief Gordon Brown and Sir Edward George, governor of the Bank of England, gave a dinner for Greenspan on Wednesday night.
"I made three speeches and Gordon Brown had me at the seminar on international development," Greenspan said. "I argued very strenuously for the Bank of England to find a room for me to sleep."
Before the presentation, Greenspan spoke of a close friendship with Brown and George, and the gratitude the United States owed to its British ancestors.
"This is an extraordinary event," he said. "We in the international community are especially grateful to our British forbears who several hundred years ago created so much of the financial infrastructure - and I suspect we probably take it for granted when we shouldn't."
"We have very close relationships with British monetary authorities," he said. "I've personally enjoyed the insight and friendship of my colleagues from the Treasury and Bank of England who serve you and the people of the United Kingdom as well."
Because he is not a British citizen, Greenspan cannot use "Sir" in front of his name, but he can put the letters KBE after it. The initials stand for Knight Commander of the British Empire.
Others Americans who have received honorary knighthoods include former New York City Mayor Rudolph Giuliani, former presidents George Bush and Ronald Reagan, and entertainer Bob Hope.

Thanks for reading CBS NEWS.
Create your free account or log in
for more features.