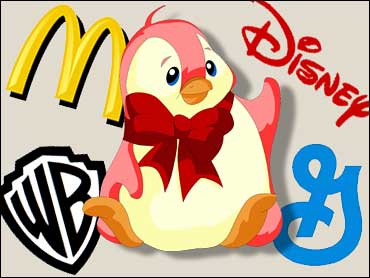 Kids And Neopets: Who's Getting Fed?
This story was written By CBSNews.com's Gina Pace
---

Every day when 10-year-old Lucia Urbanic gets home from school, she visits a world where she can play with her blue elephant, find a free omelette in the middle of the desert, and go on a magical quest for a faerie.

It is way more fun than homework.

She does it all on Neopets.com, one of the most popular sites for children on the Internet, where kids nurture cartoon pets and play a variety of computer games.

But while children like Lucia navigate through a virtual game world, they come in contact with lots of marketing of real-world merchandise, which has drawn the ire of some parents, media watchdogs and child psychologists.

"The whole purpose of this site at this point is to keep kids in front of products," said Susan Linn, author of "Consuming Kids: The Hostile Takeover of Childhood," and a psychologist. "They are very up on what's appealing to kids, but they are not thinking about what's good for kids, and parents get to think it's not as bad as Grand Theft Auto."

The site appeals to kids, especially the girls that comprise 60 percent of Neopets' audience, because it focuses on animals and has cute graphics, Linn said.

And the appeal seems to be growing. During November 2005, 3.4 million unique users signed on, with users staying on the site for an average of three hours and 45 minutes a month, according to Nielsen//Netratings. The company claims 30 million people have signed up for Neopets across the globe, and in June, Viacom, which counts MTV and Nickelodeon in its holdings, bought the Web site for $160 million.

Lucia has four Neopets – the limit for one account – and they all vaguely resemble real animals. Rosieposie is her oldest Neopet, an "Elephante" that Lucia has named after her real-life pet, a shy cat. But while the real Rosieposie hides from Lucia and her mom, Lucia checks in on her Neopets almost every day to make sure her pets have enough virtual food and haven't gotten sick.

"I play every day if I have time," says Lucia, a fifth grade student who lives in Brooklyn, N.Y. "But, if I have lots of homework, I don't get to play."

Part of the fun of Neopets, Lucia explains, is being able to explore the different lands in Neopia. Her favorite area is Mystery Island, a tropical paradise off the coast of Neopia, or she likes to go to the Haunted Woods, and complete challenges presented to her by the "brain tree," a scary looking part-tree, part-brain creature that rewards Neopets who answer his questions correctly.

To feed Neopets, players must earn Neopoints, the official currency of Neopia, by playing games on the site. But feeding a pet is just the beginning. There are shops full of virtual merchandise for pets, from paintbrushes to change one's color to medical supplies like Neoflu Jelly Pills, and even a lodge where you can send your pet on a holiday.

This virtual marketplace has tie-ins to real-life products. Neopets.com has coined the term "immersive advertising," which unlike banner or pop-up ads, integrates a company's name and products directly into the entertainment content of the site.

Children can play "Limited Too Mix and Match" which is like the old-fashioned game Memory, but each item on the virtual cards is from the current collection from the 'tween clothing store.

Another option is "Berry Lucky Charms Triple Track" where players navigate Lucky the Leprechaun up a rainbow track collecting Lucky Charms cereal bits to earn points. If kids are sick of playing games, they can head over to the Disney Theater to watch trailers of Disney movies.

"The entire site is designed to put you face to face with advertising," said Douglas Gentile, the director of research at the National Institute on Media and the Family and a professor of psychology at Iowa State University. "It's a Web site that's cute and happy with lots of games. If you show them these ads in a fun context, they will start associating these products with that enjoyment."

Rik Kinney, an executive vice president of Neopets, defended the site's use of advertising. He said that that less than one percent of the site's pages have advertisements on them in which children interact with the paid content.

Kinney also said that all of the advertising on the site complies with standards set forth by the Children's Advertising Review Unit, part of the Council Of Better Business Bureaus, which are voluntary guidelines to promote honest and non-manipulative advertising to children aged 12 and under.

"We have never required a user to play a sponsor game or view a sponsor message before allowing them to experience the vast majority of unbranded entertainment on Neopets.com," Kinney wrote in an e-mail. "Players who prefer not to experience branded content can choose not to click on it."

The demographics of Neopets is nearly ideal for the targeted advertising of children – 39 percent of users are under the age of 12, according to the site. Children are one of the hardest demographics to reach, and one of the trickiest, because a lot of children's food is associated with the childhood obesity, said David Card, an analyst with JupiterResearch in New York City.

"They are a tough audience to advertise to," Card said. "But they have quite a bit of buying influence."

The Children's Online Privacy Protection Act (COPPA) of 1998 requires sites that target kids to take special precautions to make sure parents are in control of what information about children is available online.

"Sites that build programming for kids have to bend over backwards to avoid breaking privacy laws," Card said. "Neopets is so valuable because it's an environment that engages that audience that doesn't violate any of the strict rules of COPPA legislation."

The problem is that COPPA doesn't mandate that special advertising be used for children, who often have a hard time even identifying advertising. The ability to identify messages that intend to sell a product emerges during the second or third grade, said Sandra Calvert, a professor of psychology and Director of the Children's Media Center at Georgetown University.

Most of the marketing in Neopets is implicit, Calvert said, because it uses games to make children aware of certain products.

"It's self marketing, selling to kids that don't know they are seeing anything," Calvert said. "It's going underneath the radar."

Calvert said parents can talk to their children and raise awareness that advertising content is different.

The product placement on the site initially raised red flags for Hannes Charen, whose 8-year-old daughter Carmin uses the site.

"When she first started going on the site, I would see Disney and McDonalds," said Charen, who lives in Manhattan. "I don't like all the sponsored stuff, but it's a mix. They are not all crap games. Some are PBS Kids-type learning games and memory games. It's a mishmash of stuff."

Now, virtual Neopets products are becoming ones children and their parents can purchase in the real world. All the children interviewed for this article had heard about Neopets by word of mouth from their friends, but the Neopets brand will soon be recognizable to those who do not have children.

There are Neopets toys, a General Mills Neopets cereal, a Neopets game for Sony Playstation — even a Neopets magazine. In March, Neopets signed a deal with Warner Bros. Pictures to create animated feature films.

Calvert said the marketing is a price to be paid for good Web content.

"It doesn't miraculously appear. You don't get games and fun things to do without someone paying a programmer to do it," Calvert said. "Do we want to pay for good content for our kids on the Internet or do we want our kids exposed to marketed material? There has to be revenues. We have to figure out where it's going to come from."

Gina Pace
Thanks for reading CBS NEWS.
Create your free account or log in
for more features.