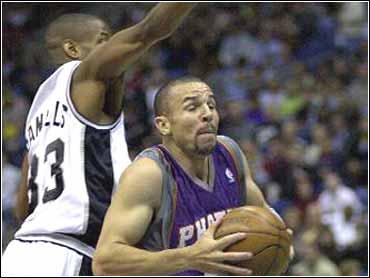 Kidd Faces Assault Charge
Joumana and Jason Kidd have been the first couple of Phoenix sports. Outgoing and friendly, she appears regularly on local television.
Kidd, a member of the U.S. Olympic team that won the gold medal in Sydney, has credited their partnership as a big factor in his rise to NBA superstardom. He said the kisses he blows before free throws are for her.
Now, Kidd is accused of striking her during an argument at their home in Paradise Valley on Thursday evening. A misdemeanor assault charge was filed by town attorney Andrew Miller on Friday. Arraignment is scheduled for Wednesday.
"There's just a bad history here," Joumana Kidd told police on a 911 call. "I told him this would be the last time, and he popped me right in the mouth."
Kidd appeared alongside Phoenix Suns owner Jerry Colangelo and made a brief statement to reporters Friday.
"I love my wife. I love my family," Kidd said. "This is a situation that is embarrassing to me, to my family, my friends and also to the Phoenix Suns. I apologize for that and at this time that is pretty much all I can say."
Police who responded to the call from the Kidds' home in Paradise Valley, an affluent suburb, said Joumana Kidd had a swollen lip and was bleeding inside her mouth.
Police said Kidd admitted striking her. He was arrested on suspicion of domestic abuse, appeared before a magistrate Thursday night and was released to the custody of his attorney.
The incident occurred just days after Paradise Valley town attorney Andrew Miller decided to drop an intimidation charge against Kidd's backcourt mate, Penny Hardaway. Hardaway had been accused by the mother of his 8-year-old daughter of intimidating her by carrying a gun during an argument outside his Paradise Valley home. The charge was dropped when the woman declined to cooperate further in the case.
Kidd was not in uniform for Friday night's game against Golden State. Colangelo said Kidd would sit out the game "due to the circumstances at hand."
"It should be noted that Joumana, Jason and the Phoenix Suns agree that the focus should be on their personal family issues," Colangelo said.
Colangelo, who has dealt with other cases involving alleged domestic abuse by his athletes, has described such incidents as part of a serious societal problem.
Kidd's arrest was a shock because the pair had been held up as a model pro sports couple. Together they had been hosts of a local telecast of the annual New Year's Eve celebration in Tempe.
"Joumana and Jason arvery special people as far as the Phoenix Suns are concerned," Colangelo said. "Joumana has been a very big part of the Phoenix Suns family and we care about them both very much. We know they love each other. We know there are issues to be worked out. They need time to make that happen."
In the 911 call, Joumana Kidd said she didn't need medical attention.
"Don't worry about me," she said. "This is minor compared to what I usually go through."
Kidd said he couldn't comment on whether anything like this had happened before, but said, "I have issues that I have to work on."
Kidd had a run-in with police while a student at California, and he had a turbulent early career with the Dallas Mavericks, but had been a model citizen publicly since he came to the Suns.
He and his wife operate the Jason Kidd Foundation, which contributes to the Phoenix Children's Hospital and Phoenix Boys and Girls Club, among other causes.
But the 911 tape and subsequent police report shows a far from docile relationship.
On the 911 tape, Kidd can be heard shouting in the background.
Police said that Joumana Kidd was crying when they arrived following the 5:44 p.m. MST 911 call. She said she and her husband had been arguing since he got home.
About 5 p.m., Joumana Kidd said, she decided to go to the gym and asked Jason if he would watch and feed their 2-year-old son, T.J. Police said Kidd took a french fry from the boy's plate, and his wife told him not to eat the child's food.
"Jason then turns towards Mrs. Kidd and spits the french fry at Mrs. Kidd, striking her in the face," the police report said. "Mrs. Kidd turns away from Jason. Jason then strikes Mrs. Kidd in the face while holding a container of yogurt in his hand"
Police said Joumana Kidd ran upstairs to her bedroom and locked the door, but her husband kicked the door open. She said she went to the bathroom and locked the door again.
Mrs. Kidd called police, but hung up before authorities could answer. Paradise Valley police called the number, and talked to Jason Kidd first, then his wife.
He offered no resistance when informed of the arrest.
Kidd, considered perhaps the best point guard in the NBA, has five triple-doubles this season and 36 in his career. He likely will be voted as a starter in the All-Star game.
©2001 The Associated Press. All Rights Reserved. This material may not be published, broadcast, rewritten, or redistributed
Thanks for reading CBS NEWS.
Create your free account or log in
for more features.