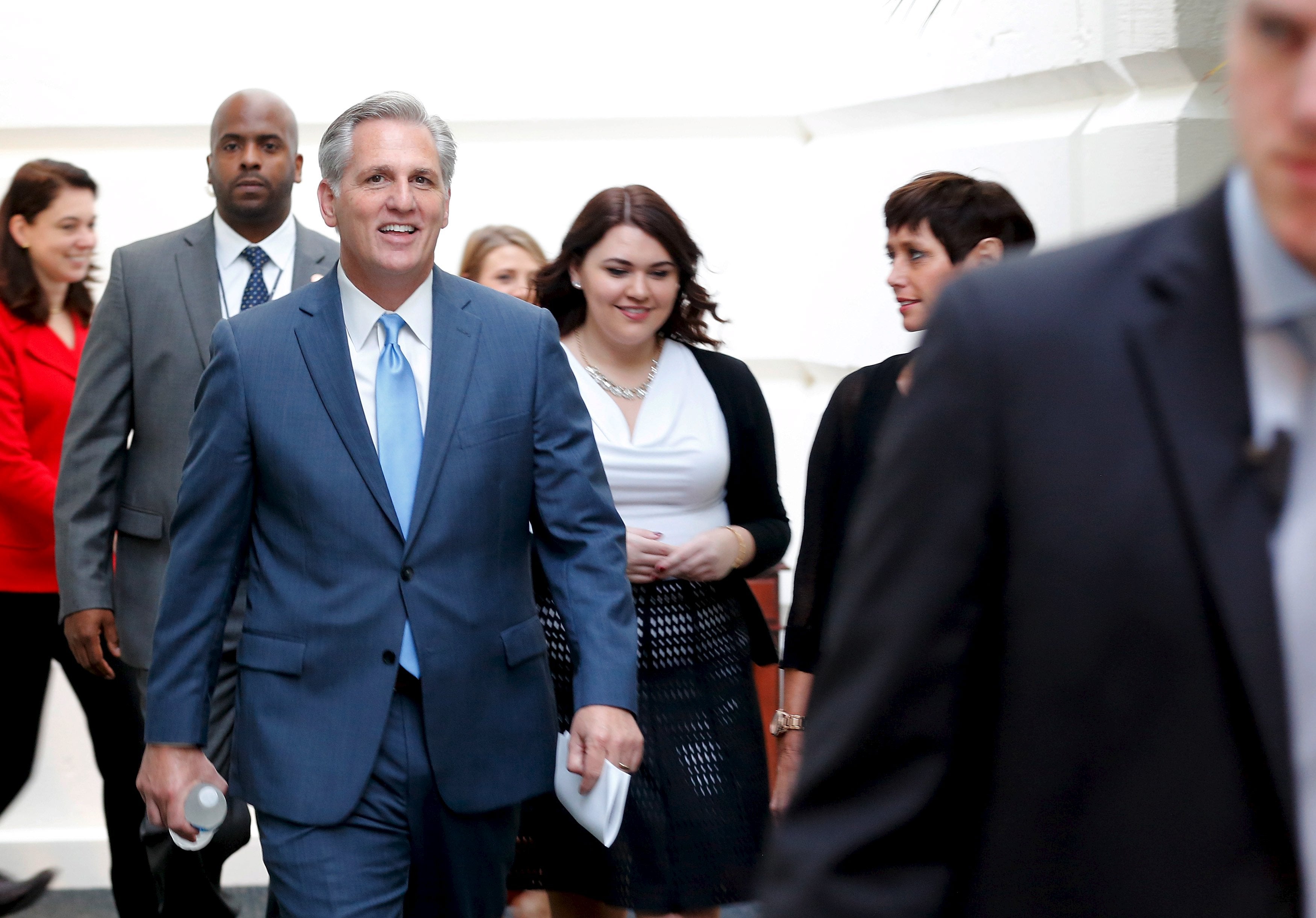 Kevin McCarthy drops bid for speaker, says GOP needs a "fresh face"
In a stunning development, House Majority Leader Kevin McCarthy on Thursday dropped his bid to serve as speaker of the House after coming under intense scrutiny from anti-establishment conservatives.
"For us to unite, we probably need a fresh face," McCarthy said of the House Republican conference on Thursday afternoon. "I don't want to make voting for speaker a tough one... If we're going to be strong, we've got to be 100 percent united."
The House Republican conference was scheduled on Thursday to vote by secret ballot for their nominee for speaker. The full House was slated to vote for the speaker on Oct. 29. It's now unclear when the votes will be held.
Current House Speaker John Boehner announced last month that he would step down and leave office on Oct. 31. Now that McCarthy, currently No. 2 in the House, is out of the running for speaker, Boehner said he will stay on the job for the time being.
"As I have said previously, I will serve as Speaker until the House votes to elect a new Speaker," Boehner said. "We will announce the date for this election at a later date, and I'm confident we will elect a new Speaker in the coming weeks."
As part of the House GOP's leadership team, McCarthy always had a strike against him with anti-establishment conservatives. However, he came under further scrutiny recently when he suggested in a televised interview that the House Republicans' Benghazi investigation is politically-motivated. McCarthy on Wednesday acknowledged that his comments about the Benghazi investigation were a mistake, but he insisted he could effectively serve as the most public face of the House GOP.
Two other conservatives -- House Oversight Committee Chairman Jason Chaffetz of Utah and Rep. Daniel Webster of Florida -- were challenging McCarthy for the GOP speaker nomination, and Thursday's vote clearly would have divided the House GOP.
A bloc of about 40 conservatives -- known as the House Freedom Caucus -- announced Wednesday they would stick together and vote for Webster as Boehner's replacement. With 247 Republicans in the House, McCarthy didn't need the House Freedom Caucus' support to win the GOP nomination for speaker. However, he would have needed the support of at least some anti-establishment members to get 218 votes -- the number of votes needed to win he full House vote for speaker on October 29. That meant conservatives would have spent the next month pressuring McCarthy to move to the right.
McCarthy stressed on Thursday that he didn't want the GOP to appear fractured on October 29.
"I don't want to go to the vote and get 220 votes," he told reporters.
Chaffetz told reporters that he was "absolutely stunned" by McCarthy's decision but added that he and McCarthy "stand shoulder to shoulder" in their desire to unite the party.
"We need to find somebody that our whole body can unite behind and do what we were elected to do," he said. "Our conference is going to have to do a lot of deep soul searching."
It's unclear whether the House GOP would coalesce around one of the other candidates for speaker.
"I don't believe that any of the candidates declared could get to 218," Rep. Darrell Issa, R-California, told reporters. "No other candidate came close to having the 200-plus votes that Kevin McCarthy had."
Rep. Mick Mulvaney, R-South Carolina, a member of the conservative House Freedom Caucus, told CNN that McCarthy's withdrawal was "not a victory" for the Freedom Caucus. Asked who could be a strong candidate for speaker, Mulvaney said, "Right now, nobody jumps out at us."
Reaction to McCarthy's decision was mixed.
The next speaker of the House "should not appease those that make unreasonable demands," or the conservatives in the House, moderate Rep. Charlie Dent, R-Pennsylvania, told CNN. "I suspect in order to govern around here, we have to have a bipartisan coalition on all of the major bills."
House Ways and Means Committee Chairman Paul Ryan, R-Wisconsin, expressed his disappointment with McCarthy's decision and reiterated that he is not interested in running for speaker himself.
"Kevin McCarthy is best person to lead the House, and so I'm disappointed in this decision. Now it is important that we, as a Conference, take time to deliberate and seek new candidates for the speakership." Ryan said in a statement. "While I am grateful for the encouragement I've received, I will not be a candidate."
Rep. Trent Franks, R-Arizona, one of the House conservatives, told CNN, said that McCarthy's decision was "selfless." He added, "I don't know if it will be best for the country or not."
Reaction from outside of the House was also mixed.
Some anti-establishment Republicans like Donald Trump hailed the news.
Meanwhile, Democrats warned that the GOP's internal strife shouldn't keep the House from conducting serious business -- like raising the debt limit before Nov. 5, when the nation risks defaulting on its loans.
"The utter chaos of the Republican party must not threaten the full faith and credit of the United States and the American people," Senate Majority Leader Harry Reid, D-Nevada, said in a statement. "Responsible Republican leaders should bring a clean debt ceiling increase to the floors of the House and Senate immediately and let it pass with a bipartisan coalition, as it certainly would."
White House spokesman Josh Earnest said Thursday that it was "hard to say" what the impact of McCarthy's announcement would be on looming issues like the need to raise the debt ceiling. However, he warned that the next speaker will have a tough job.
"It's easy to poke fun at the chaos, but the fact is the challenge that is facing the next Republican speaker of the House, regardless of who it is, is the same challenge that John Boehner faced... and that is simply to unite a divided Republican caucus," Earnest said. "Somebody within the House Republicans will have to step forward and demonstrate an ability to either tame the forces of that small but vocal group of extreme ideologues, or buck up the mainstream -- or at least more mainstream majority within the House Republican conference -- that will also include a willingness to work in bipartisan fashion."
Thanks for reading CBS NEWS.
Create your free account or log in
for more features.