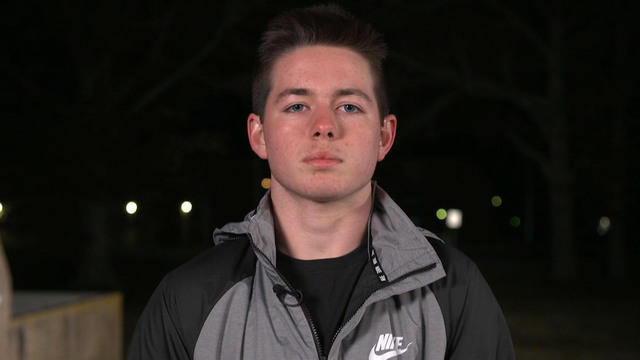 Kentucky school shooting: Student recounts rushing wounded friend to hospital amid chaos
A small community in western Kentucky is mourning the loss of two teenagers after a 15-year-old student opened fire at a crowded high school on Tuesday. Fourteen other students were shot and four more were injured at the school after they were trampled while trying to escape.
Tristan Cline, a junior at Marshall County High School, had just arrived at school on Tuesday when the shooting was unfolding.
"I saw everybody rush out in a panic. I mean, it had to have been 400 kids, and I started to flee in my car and that's when I saw my friend Danny. He was laying in the field. He had been shot and he was surrounded by some teachers, and they didn't know what to do, so I put him in my car as fast as I could," Tristan told "CBS This Morning."
Along with the help of a teacher and an assistant principal, Tristan was able to get his friend into his car and take him to the hospital.
"He was shot in the shoulder and he was scared and he didn't – no one really knew what to do, so I just put him in my car and drove as fast as I could," Tristan said.
When he leapt into action, Tristan still didn't know where the shooter was or much about what was happening.
"Terror. Fear. I was scared. I mean I didn't know if the shooter was behind us," Tristan said. "I just saw so many kids running. I mean, there were people that were shot running. Danny, he made it about 50 yards outside the school before he collapsed."
What his community needs right now, Tristan says, is "each other."
"There's a lot of people that this affected. I mean everybody in our county is feeling this. I've been called – I was called probably 30 times before 9 o'clock that morning checking if I was okay and that was just close friends and relatives," he said.
The suspect, arrested at the scene, has not been identified. A county attorney says the student will be charged with two counts of murder and multiple counts of attempted murder, probably in the next 48 hours. The plan is to try him as an adult.
"A lot of people aren't talking about it," Tristan said of the shooter's motives. "We're trying to stick to the positives, you know, be together and just be there for the people that need us instead of really thinking about the whole shooter situation."
Despite the pain this shooting has caused Tristan's community, he said they'll have to find forgiveness eventually.
"Somehow we're going to have to get over it. God is love and in perfect love, there is no fear. So we'll get over it eventually. It just takes time. He was a person, too."
Thanks for reading CBS NEWS.
Create your free account or log in
for more features.