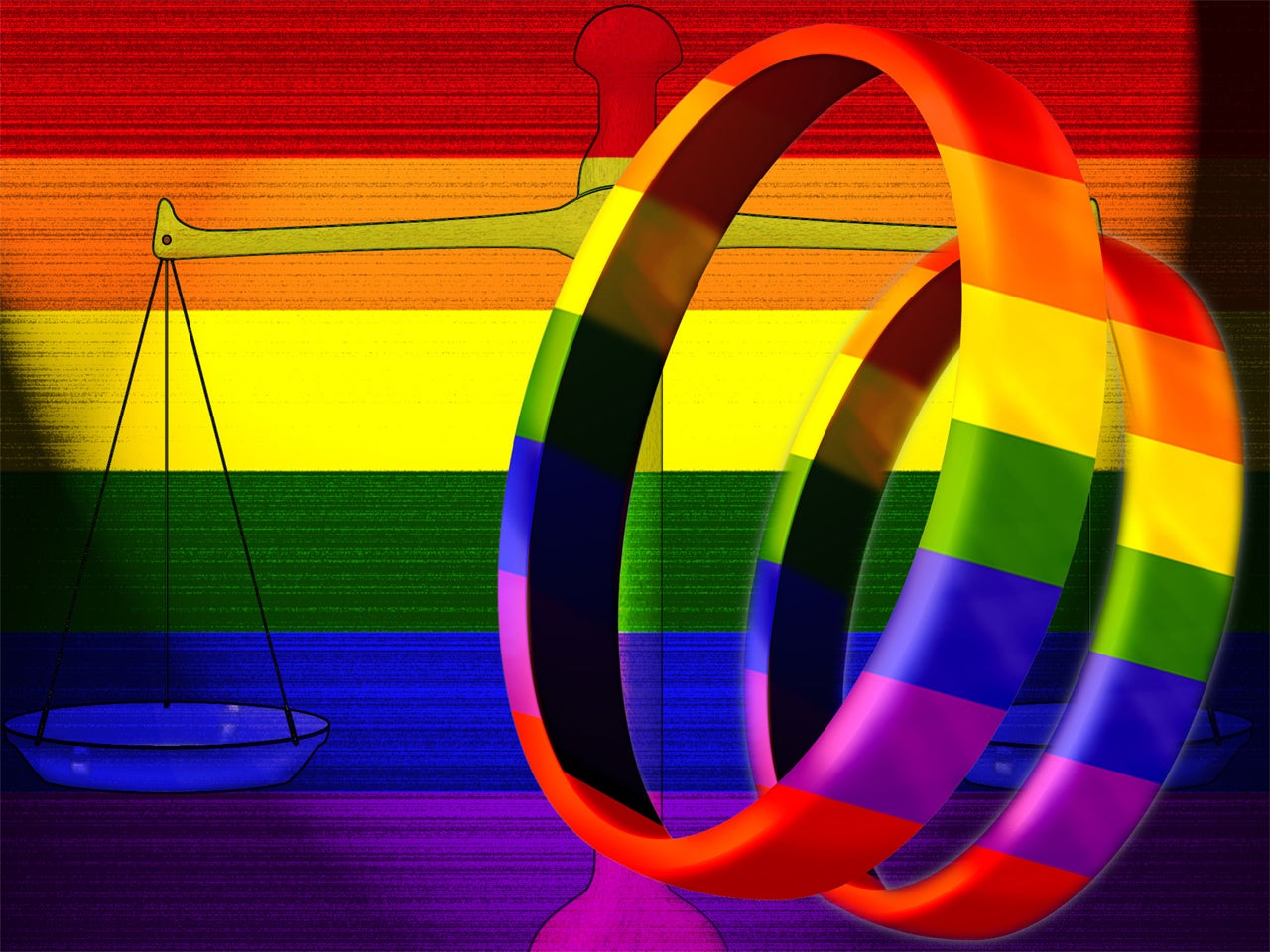 Kentucky governor warns of "legal chaos" in same-sex marriage case
LOUISVILLE, Ky. -- Kentucky Gov. Steve Beshear said Tuesday that the state will hire outside attorneys to appeal a judge's decision granting legal recognition to same-sex couples married in other states and countries after the attorney general announced that he would not pursue the case further.
The split legal decisions from two Democrats come four days after a federal judge in Louisville gave the state 21 days to implement a ruling overturning a voter-imposed ban on recognizing same-sex unions.
Attorney General Jack Conway said at a news conference that he decided he would not appeal the case because "I would be defending discrimination. That I will not do."
Minutes later, Beshear said in a written statement that the potential for "legal chaos is real" if a delay is not issued in the case while it is appealed.
"Other Kentucky courts may reach different and conflicting decisions," Beshear said. "Employers, health care providers, governmental agencies and others faced with changing rules need a clear and certain roadmap. Also, people may take action based on this decision only to be placed at a disadvantage should a higher court reverse the decision."
U.S. District Judge John G. Heyburn issued a Feb. 12 opinion that Kentucky's ban on recognizing same-sex marriages violated the Constitution's equal-protection clause in the 14th Amendment because it treated "gay and lesbian persons differently in a way that demeans them."
The decision arose from a lawsuit filed by two couples who were married in other states or countries over the past 10 years. The couples sought to force the state to recognize their unions as legal. Heyburn's ruling does not require the state to issue marriage licenses to same-sex couples; that is the subject of a separate, but related lawsuit. Heyburn expects to rule on that issue by summer.
Unless a higher court steps in and stops enforcement of the ruling, the state will have to allow same-sex couples married outside the state to change their names on official identifications and documents and obtain any other benefits of a married couple in Kentucky.
The decision in the socially conservative state comes against the backdrop of similar rulings or actions in other states where same-sex couples have long fought for the right to marry. Kentucky's constitutional ban was approved by voters in 2004 and included the out-of-state clause.
A federal judge in Texas last week struck down that state's gay marriage ban but immediately delayed the implementation of his ruling pending appeals by the state. In January, the U.S. Supreme Court put a hold on a decision in Utah recognizing same-sex marriages.
Thanks for reading CBS NEWS.
Create your free account or log in
for more features.