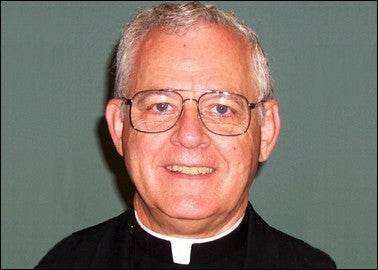 The Pope accepted the resignation of Lexington, Ky. Bishop J. Kendrick Williams Tuesday. Williams stands accused in several sex abuse cases.
The bishop, who has denied the charges, has been on administrative leave.
The announcement of his resignation comes two days before American bishops meet in Dallas to decide on proposals to deal with sexual abuse in the clergy.
The Vatican said the pope accepted the resignation submitted under church law for "illness or some other grave reason."
Archbishop Thomas C. Kelly of the Louisville archdiocese in Kentucky said Williams will be missed, and called his resignation "a personal loss for me as well." Williams served as a priest in Louisville under Kelly for about two years.
"He has been a brother, counselor and friend to me for 20 years," Kelly said.
In lawsuits against the archdiocese, three plaintiffs alleged abuse by Williams.
James W. Bennett alleged Williams abused him in 1981 while Bennett was a 12-year-old altar boy. David Hall alleged Williams fondled him when Hall was an 18-year-old high school senior. A third plaintiff, who filed suit last week, also accuses Williams of molesting him when Williams was a priest in Louisville.
In a statement last week, Williams said, "I have never sexually abused anyone at any time in my life."
Williams is the third bishop brought down in the sex abuse scandal rocking the Roman Catholic Church in the United States since January.
The 65-year-old Williams went on leave voluntarily under a diocesan policy that requires clergy to be removed from public duties while an accusation is pending.
Earlier this year, the bishop of Palm Beach, Fla., resigned in a sex abuse case.
Last month, the Vatican ended Archbishop Rembert Weakland's term as archbishop of Milwaukee, accepting his resignation a day after he acknowledged paying a man $450,000 to settle a sexual misconduct allegation against him.
At least 225 of the nation's more than 46,000 Roman Catholic priests have either been dismissed from their duties or resigned since the scandal began in January.
Bishops in Poland and Ireland were also forced to resign this year in sex abuse scandals.
As for the upcoming bishops' conference in Dallas, several American leaders in the Roman Catholic church said the sexual abuse policy proposal that will be discussed this week needs to be strengthened.
The proposed policy that the U.S. Conference of Catholic Bishops is expected to focus on calls for zero-tolerance for priests who molest children in the future and a two-strikes-you're-out policy for those guilty of past abuse.
Under the proposal, the Vatican would be asked to defrock those who violate the policy, and all abuse of minors would be reported to civil authorities.
"What we have before us is a draft, and I think it needs to be strengthened," Cardinal Adam Maida of Detroit told parishioners attending Sunday Mass at St. Kenneth Catholic.
The draft has come under fire from victims for not being tough enough on abusive priests. Bishop William Lori, of Bridgeport, Conn., said he plans to present specific changes to strengthen the proposal.
"We will have a chance to amend the document and submit alternative language. I will be participating in that amendment process," he said.
Archbishop Harry Flynn of Minneapolis-St. Paul, Minn., one of the architects of the policy, said he expected changes before the plan faced the full body of bishops.
"I hope something will happen in Dallas that will speak to the people and say to the people, 'We've got it, we know that we mishandled this, and we've got it,'" Flynn said Sunday on ABC's ``This Week''.
Other U.S. bishops were less definitive in their hopes for the conference. In Boston, Cardinal Bernard Law asked parishioners to pray for the bishops.
"We will be attempting to respond nationally to what we have responded to locally in terms of our policy in handling cases of sexual abuse by clergy," Law said during Mass at Boston's Holy Cross Cathedral.
Cardinal Roger Mahony, head of the Los Angeles Archdiocese the nation's largest kept a low profile on Sunday, but said last week he will urge bishops to adopt a zero-tolerance policy, in which "one infraction and they will never again serve in any ministry."
The bishops have been struggling to restore trust in church leadership following revelations that some priests who victimized young people were allowed to continue working in the church.
Bishops will not be the only ones in Dallas. City authorities have been preparing for the expected arrival of thousands of demonstrators and journalists during the meeting, Thursday through Saturday.
Thanks for reading CBS NEWS.
Create your free account or log in
for more features.