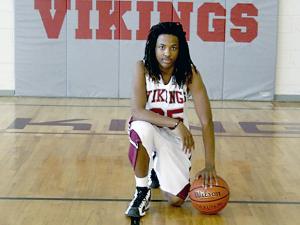 Kendrick Johnson Update: "It's a real-life murder mystery," atty Benjamin Crump says of Ga. teen's gym mat death
(CBS) SAVANNAH, Ga. - Benjamin Crump, the lawyer representing the family of a Georgia teen who was found dead inside a rolled-up wrestling mat in his high school gym in January, says thejudge's decision to release school surveillance video connected to the case is a "major victory."
"That was a major victory for Kendrick Johnson's family and for the community who stood on corners [protesting] for nine months," Crump, the high-profile attorney who represented Trayvon Martin's family, told CBS News' Crimesider on Wednesday.
Crump explained that, despite an objection by the sheriff, the judge made the decision to release not only video surveillance from inside the gym on the day Johnson was found dead, but also the video surveillance of the whole school from Jan. 10, 2013, the day Johnson went missing, until Jan. 11, when he was found.
The sheriff's attorney, Jim Elliott, has said Sheriff Chris Prine was trying to protect the privacy of minor students shown in the footage.
The judge also said Wednesday that a decision will be made on Monday regarding the Johnson family's request for a coroner's inquest, according to Crump.

Crump said he expects the release of the surveillance video to show who was in the gymnasium at the same time Johnson was.
"We're hoping to see someone who entered that gym who shouldn't have been coming into that gym," Crump told Crimesider.
"It's really about trying to show two things. Number one, that Kendrick did not crawl into that wrestling mat and get stuck as the sheriff concluded. ... And number two, we want to find out who went in and out of that gym in that 24 hour period" that the teen was missing.
Johnson was found dead Jan. 11 and Lowndes County sheriff's investigators concluded that the 17-year-old died in a freak accident, falling headfirst into an upright mat and becoming trapped. But Johnson's family believes he was killed and has been pressuring authorities into taking a second look at the case.
A judge agreed in May to exhume Johnson's body, and the teen's parents hired a private pathologist to provide a second opinion.
The pathologist discovered Johnson's organs were missingand newspaper had been used to fill the body cavity. He also concluded the teenager died from blunt force trauma near his carotid artery and that the fatal blow appeared to be non-accidental.
"It's a real-life murder mystery," Crump said. "It defies all logic, the rules of science and common sense that a 17-year-old athlete would climb into a wrestling mat and get stuck trying to get a tennis shoe and stop breathing. What's more likely is that someone rolled him up in that mat."
He said the fact that Johnson's organs were determined to be missing just adds to the mystery. Crump said he has not received any explanation as to what happened to the teen's organs.
"That's a part of the murder mystery, too," Crump said. "The fact that his organs are missing, his clothes that had DNA and blood evidence are missing, his fingernails are missing. All of this is missing and it just substantiates the belief that this was not an accident."
Thanks for reading CBS NEWS.
Create your free account or log in
for more features.