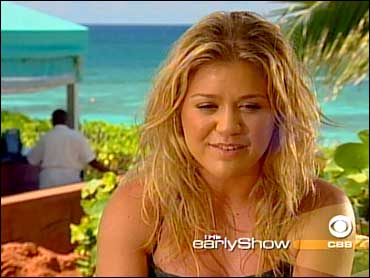 Kelly Clarkson: Idol And Beyond
Kelly Clarkson sang her way to stardom, winning the top prize on "American Idol" in 2002.
Since that triumph, she has become a top recording artist, performing non-stop around the world. Pausing for some much needed rest and relaxation in the Bahamas, Clarkson shared her outlook on life, love and career with The Early Show national correspondent Hattie Kauffman.
"I'm in the Bahamas so it's not too bad, not too rough," she told Kauffman. It's her first vacation in years, but Clarkson still can't quite turn off the song-writing machine. Even while soaking up the sun and surf, she's finding inspiration for future hits.
"I write all the time. I think I've written four or five just in the time that we've been in the Bahamas," she told Kauffman. "At night time I'll always have an idea that I thought of during the day, and I'll kind of mess with it."
Her songs are very personal. Hits such as "Because of You" have a wounded sound that Clarkson says many fans can identify with.
"In America, I think that's almost every kid," she said. "Like, just because nowadays people take divorce lightly. People take marriage lightly. I just think people don't put enough value in family anymore, and people don't realize what that does to everybody involved."
Clarkson's triumph on American Idol was just the beginning. She went on to capture numerous awards, including two Grammys this year, and her album "Breakaway" has launched five hit singles. As her music evolves, so does her image, appearing frequently on the glossy pages.
And although success is sweet, she admits one thing could make it even better: "I could find him. Is he around here anywhere?" she laughed, glancing around Paradise Island. As for what she's looking for in a man: "I look for humor. I like funny guys. I need a Christian guy. I need a family guy," she told Kauffman.
For the moment, her schedule doesn't allow much time for that. Next month Clarkson will perform at the Academy of Country Music Awards. Then she'll hit the road with her "Addicted" tour.
"I called it 'Addicted' because this is literally my ninth tour in the past two years," she said. "I just keep touring — but I love it!"
And while Clarkson, who turns 24 on April 24, has gone from Southern girl to cover girl, she has definitely not become a diva.
"I love making music and getting paid for it. I've had so many jobs and just been down so many wrong roads and I know this road is good," she said. "I know that obviously there's more to this world than being famous or being Kelly Clarkson."
Clarkson will be performing with Rascal Flatts on the Academy of Country Music Awards, which can be seen on CBS on May 23. Her "Addicted" tour kicks off on June 30 in West Palm Beach, Fla.

Thanks for reading CBS NEWS.
Create your free account or log in
for more features.