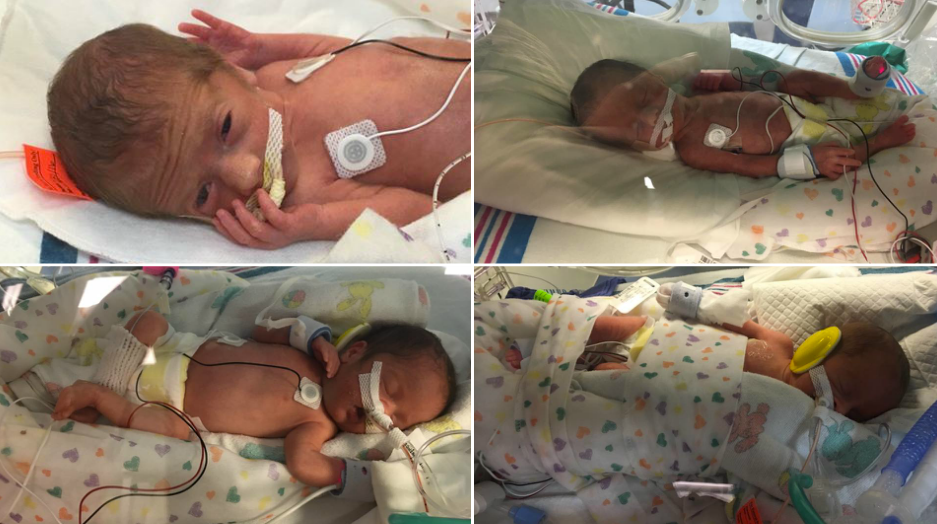 Kentucky woman battling cancer gives birth to quadruplets
As a cancer patient, Kayla Gaytan has had her fair share of ups and downs.
But finding out she was pregnant with quadruplets in May — just a month after going into remission from Hodgkin's lymphoma — was definitely a high point in her life.
The mother of two from Fort Campbell, Kentucky didn't think it was possible. She was diagnosed with the blood cancer in January. For three months straight, the 29-year-old had been undergoing chemotherapy treatments.
"It was more than a complete shock, but also such a blessing," Gaytan told CBS News. "I can remember in the doctor's office, seeing the four gestational sacs and just being in awe. There before me [were] four healthy babies with four heart beats."
Gaytan did everything possible to ensure her babies stayed healthy, and everything seemed perfect — until November. At the six-month mark of her pregnancy, Gaytan was told her cancer was back.
Her goal was to make it to 34 weeks before having a C-section.
"It was best to take the babies earlier so that I could begin treatment as soon as possible," Gaytan explained.
At 30 weeks, it was time for the babies to come out. On Dec. 30., Gaytan gave birth to four babies — Michael, Victoria, Charles and Lillian— each weighing between 2 and 3 pounds at Vanderbilt University Medical Center in Nashville, Tennessee.
"The quads are currently doing well," Gaytan said. "Being a week old, I think we've gotten most of the scares out of the way."
The babies can all breathe on their own, but occasionally need supplemental oxygen.
"It's awesome to see them grow and to see their little bodies fight to stay strong," Gaytan said. "I definitely admire their strength already as their mom, it makes me proud."
When the children get older Gaytan hopes they will see her strength as well.
"I want my kids to understand when they get older that I fought as hard as I could for them. No matter the outcome at the end," she said.
On Jan. 18, seven days before her 30th birthday, Gaytan will start a new kind of chemotherapy. Then she will undergo a stem cell transplant.
"I'm a very stubborn person. I believe that's part of what has gotten me this far," Gaytan said. "My advice to other moms, or anyone really facing cancer or any other challenges in life, is to just have faith. Even when it's tested, continue to believe that things will work themselves out."
Thanks for reading CBS NEWS.
Create your free account or log in
for more features.