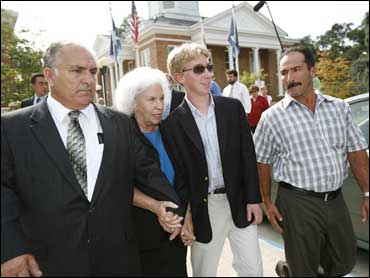 Katrina Nursing Home Owners Acquitted
The owners of a nursing home where 35 patients died after Hurricane Katrina were acquitted Friday of negligent homicide and cruelty charges for not evacuating the facility as the storm approached.
The jury took about four hours to acquit Sal and Mabel Mangano, the husband-and-wife owners of St. Rita's Nursing Home in St. Bernard Parish, just outside of New Orleans.
"I can't tell you how good this feels, how good those people are," Mabel Mangano said outside the courthouse in St. Francisville, the town about 112 northwest of New Orleans where the trial was moved. "This has been a very rough road."
They had faced 35 counts of negligent homicide and 24 counts of cruelty to the elderly or infirm after the patients drowned — some in their beds — when the monster hurricane swept through the area in 2005.
Judge Jerome Winsberg asked the defendants to stand when the verdicts were read. When Mabel Mangano did so, she buried her face in her husband's shoulder.
Afterward, the Manganos sat back down and hugged each other. Their daughter, Tammy White, sobbed quietly.
"I'm very gratified that the two-year ordeal they've been through is finally over," defense attorney John Reed said.
The victims' family and friends — all wearing black, some with buttons with a picture of the person who died at St. Rita's — sat stoically. None cried.
Assistant Attorney General Burton Guidry read a statement from his boss, Louisiana Attorney General Charles Foti: "I feel for the victims of this tragedy, and my heart goes out to them. I hope they will be able to put this behind them."
Yolanda Hubert's 72-year-old mother, Zerelda Delatte, died when the home flooded; her aunt, Gilda Raklen, 90, survived. Hubert said she traveled from Texas to attend the trial.
"The jury may not have found them guilty, but our savior says they are. When they face our maker, they'll have to answer then," she said. "They still have never said they were sorry. They haven't said 'I'm sorry I let your mother drown like a rat.' They're guilty as hell," she said.
The prosecution maintained that the Manganos should have heeded warnings and evacuated before the massive storm roared ashore. Failing to do so led directly to the patients' death and suffering, prosecutor Paul Knight had argued.
The defense argued that the Manganos had safely sheltered in their brick facility for 20 years, and that if the levees had not broken, the home would have been safe.
The trial lasted three weeks. The prosecution put on 40 witnesses, including Gov. Kathleen Blanco, who testified that she left the decision on mandatory evacuations to local officials. St. Bernard Parish never called a mandatory evacuation.
The defense featured five people and took just three days. Neither defendant testified.
The defense was prohibited from using testimony or documents showing that the majority of nursing homes in the path of the storm
36 of 57 — did not evacuate, or that there were deaths at other homes, including 22 at a New Orleans nursing home.
The prosecution, however, did show that three other nursing homes in St. Bernard evacuated.
More than 30 lawsuits have been filed against the Manganos by patients injured at the nursing home and the families of people who died there.
The couple were the only people in Louisiana to face criminal charges stemming directly from Hurricane Katrina, and jurors said that played a key role in their decision.
"We talked about that," said juror Kim Maxwell, 46. "There were a lot of mistakes made, and it should have been a lot of people answering for it. So why just these two people?"
Said juror Michael Cavalier, 39: "The state was responsible for the safety of nursing home residents. They didn't do what they should have. They didn't make the decisions they should have. So when the Manganos made their decision, why should they try to crucify them for it? That isn't right."
Dane Ciolino, a professor at Loyola University's College of Law in New Orleans, said the verdict was not surprising, "given the state was trying to characterize as gross negligence something that tens of thousands of others in south Louisiana did."
"To say what they did was grossly different than what others did, it really raised the question of, 'Why were the Manganos singled out?"' he said.
The only other criminal charges connected to Katrina deaths are against six former or current New Orleans police officers who face murder or attempted murder counts from a shooting after the storm. But the case is not tied to flooding or a direct impact of Katrina.
At one time, Foti's office said investigations into scores of patient deaths at nursing homes and hospitals during and after Katrina were likely to lead to more arrests. Six hospitals and 13 nursing homes in Louisiana were investigated. At least 140 patients died in the storm and its aftermath.
No fewer than 34 people died at Memorial Medical Center in New Orleans after the hurricane, but three women arrested by the attorney general's office will not stand trial. A grand jury refused to indict Dr. Anna Pou. Charges against nurses Lori Budo and Cheri Landry were dropped.
Twenty-two people died at Lafon Nursing Home, run by nuns of the Holy Family order in eastern New Orleans. Residents were moved to the second floor as flooding began, but the home lost electricity. Rescuers did not arrive at Lafon until days later amid a heat wave that had gripped the city.
Foti investigated the deaths at Memorial Medical Center, St. Rita's and LaFon. The results of the LaFon investigation were turned over to the New Orleans district attorney a year ago, but no action has been taken. A spokesman for Orleans Parish District Attorney Eddie Jordan said the case remains under investigation.
Thanks for reading CBS NEWS.
Create your free account or log in
for more features.